Commentary
Bennett ready to build on Gator Bowl success
ATLANTA -- Taylor Bennett finished his first preseason practice as Georgia Tech's starting quarterback Friday morning by banging his left thumb on a defender's helmet.
Bennett's thumb was a little sore, but it's still better than having a quarterback with too many thumbs, which is how the Yellow Jackets must have felt during the last four seasons with former starter Reggie Ball.
Bennett, a left-handed passer from St. Louis, has been waiting seven months to prove his unexpected performance in the 2007 Gator Bowl wasn't a fluke. Last December, Bennett was suddenly named Georgia Tech's starter when the much-maligned Ball was declared academically ineligible.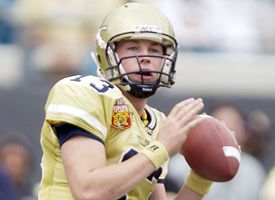 AP Photo/Stephen MortonTaylor Bennett's ready to take control of the Jackets' offense.
Bennett, who had made one previous start when Ball was ill during the 2005 season, responded by throwing for 326 yards on 19-for-29 passing with three touchdowns and one interception in a 38-35 loss to West Virginia in the bowl game.
Immediately, many Yellow Jackets fans wondered: "Where has this guy been?"
If Bennett was capable of playing like that, they wondered, why hadn't he supplanted Ball, who completed more than 50 percent of his passes in only one of his four seasons as a starter and threw only two more touchdowns than interceptions in his career.
"I think people mature at different stages," said new Georgia Tech offensive coordinator John Bond, who was hired during the offseason from Northern Illinois. "I think he matured late as a high school player and kind of matured late in college. From talking to people here, I think it kind of clicked for him the last two or three weeks of the season."
Better late than never for Georgia Tech, which goes into this season trying to replace record-setting receiver Calvin Johnson (the No. 2 choice in the NFL draft after leaving Georgia Tech as a junior).
Bennett, a 6-foot-3, 215-pound junior, gives the Yellow Jackets more options in the passing game. Because Bennett is at least four inches taller than Ball, he'll be able to throw over the middle more often. Bond said Bennett also is capable of making a variety of throws, allowing the Yellow Jackets to install more pass routes.
"We've got more routes and different routes," said freshman receiver Demaryius Thomas, who has earned the moniker "Baby Calvin" from his teammates because of his ability to make spectacular catches. "We've got routes over the middle and on the sideline and more deep routes."
Georgia Tech coach Chan Gailey, whose team won the ACC's Coastal Division last season, said he's anxious to see how Bennett plays during preseason camp.
"I was somewhat surprised by his play [in the Gator Bowl]," Gailey said last week, at the ACC Kickoff news conference in Pinehurst, N.C. "I knew he was capable of doing that, but I didn't know how quick. Being a quarterback in those situations is a lot easier. You're new. Everything is new. Everybody is excited. When you've been around for four years, it's, 'What have you done for me lately?'
"When you're the backup quarterback, everybody loves you and everybody is pulling for you. When the weight of the season is on you, can you handle that?"
Even Bennett wonders how he'll handle the pressures of playing every game.
"When you've got 30 days to prepare for a bowl game, you've got an imprint in your head," Bennett said. "When you watch film of a team for 30 straight days, you know them."
Bennett, who has 29 more days to prepare for the Yellow Jackets' Sept. 1 opener at Notre Dame, said he's more prepared to play than he was a year ago.
"Anytime you can get a game under your belt, you can't exchange that experience for anything," Bennett said.
Mark Schlabach covers college football and men's college basketball for ESPN.com. You can contact him at schlabachma@yahoo.com.
College Football and Basketball
College football writer for ESPN.com
Author of seven books on college football
Formerly at the Washington Post and the Atlanta Journal-Constitution
SPONSORED HEADLINES
MORE COLLEGE FOOTBALL HEADLINES
MOST SENT STORIES ON ESPN.COM
2007 College Football Preview
The long wait for the start of the 2007 college football season is finally over. Get ready for the season with an in-depth look at the teams, trends, players and coaches. Index

Features
• Forde: Arkansas' favorite son also rising
• Forde: Welcome to Trickeration Nation
• Albright: Glanville has Portland State all shook up
• Maisel: Boise State part of quiet revolution
• Edwards: BCS system needs update


• Forde: QBs face burden of proof in '07
• Schlabach: Biggest shoes to fill this season
• Maisel: (Southern) State of the Game
• Schlabach: Hot or Not for 2007
Awards Watch
•
Ivan Maisel's preseason All-America team
•
Heisman Watch: Voters go Hog wild
•
SportsNation: Rank the Heisman contenders
Fearless Forecasts
•
Experts: Conference title projections
•
Maisel/Schlabach: Bowl predictions
•
McShay: Don't sleep on these teams

•
Games to watch:
National
|
Conference
Campus Confidential
•
Forde: Woodson stepping out of the shadow
•
Schlabach: Shhhh! Uncovering 2007's secrets
•
McShay: Seven secrets from the film room

•
Feldman: Saturday's secret agents revealed
•
EA Sports: Trick play simulations
•
Arkansas: Wildhog formation
•
Boise State: Statue of Liberty
•
LSU: Flea flicker
•
Texas: Wide receiver pass
•
USC: Halfback pass
ACC Features
•
Schlabach: ACC needs quality Miami, FSU
•
Schlabach: Wright, Freeman still battling at Miami
•
Schlabach: Wake sets bar high for encore
•
Schlabach: Five ACC predictions
Big East Features
•
Maisel: What's next for the Big East?
•
Maisel: USF's QB exudes old school cool
•
Maisel: Five Big East predictions
Big Ten Features
•
Schlabach: Michigan seniors return on a mission
•
Schlabach: Downsized Hill means supersized play
•
Schlabach: Big Ten at the crossroads
•
Schlabach: Five Big Ten predictions
Pac-10 Features
•
Forde: Now is the time for UCLA
•
Forde: Five Pac-10 predictions
•
Maisel: After long wait, Turner ready for stardom
•
Maisel: Ten Little Trojans running backs
•
Feldman: DeSean Jackson's born identity

SEC Features
•
Maisel: Saban snapshot reveals double feature
•
Higgins: Spurrier, Gamecocks thinking big
•
Schlabach: SEC balance of power shifts East
•
Schlabach: Five SEC predictions
Coaching Corner
•
Schlabach: Coaches on the hot seat
•
Schlabach: Rise of the assistants
•
McShay: Assistant coaches on the rise

•
McShay: Position coaches who deliver

Rule Changes
•
Kickoffs, timing rules highlight changes
•
McShay: Changes put premium on specialists

•
College Football Live: Impact of kickoff rule

•
Joe Tiller: Kickoff changes raise safety issues

•
College Football Live: Matter of time

Campus Call
ESPN.com will hit eight practice sessions to get an early pulse on the season. Check out what's happening on campus.
•
Aug. 7:
Gators looking for bite on D
•
Aug. 6:
ND's Weis plays respect card
|
McKnight makes USC debut
•
Aug. 5: Brown resolute in face of Texas' troubles
•
Aug. 4: WVU has speed to burn
•
Aug. 3: Taylor made Jacket
•
Aug. 2: Hokies begin road back to normalcy
•
Aug. 1: Report day is still a thrill for Tuberville