Commentary
A new twist on Kentucky-South Carolina: It's a big game
Steve Spurrier's preseason proclamation that South Carolina was ready to compete with Florida, Georgia and Tennessee in the rugged SEC East sounded outrageous at the time.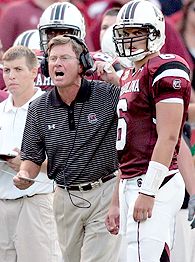 Rex Brown/Getty ImagesNot many people believed Steve Spurrier when he said that the Gamecocks would be in the SEC title mix this season.
But Spurrier's prediction didn't fall on deaf ears. After all, the Ol' Ball Coach knows the recipe for SEC success. He led the Gators to six outright SEC titles and the 1996 national championship in 12 seasons at his alma mater.
At the time, Spurrier certainly sounded much more believable than Keenan Burton. The Kentucky receiver suggested during the preseason that the Wildcats were not only ready to compete in the SEC East, but also to play in a BCS bowl game. Burton's prognostication was met with laughs, more than anything else.
Who knew both predictions would still have life as we near the midpoint of the college football season?
Kentucky is the only unbeaten team left in the SEC East with a 5-0 record. The Wildcats are ranked No. 8 in The Associated Press poll, their highest ranking since the end of the 1977 season. They've already beaten rival Louisville for the first time in five years and won at defending SEC West champion Arkansas two weeks ago.
Meanwhile, South Carolina is 4-1, its only loss on Sept. 22 to then-No. 2 LSU (28-16). The No. 11 Gamecocks are 2-1 in SEC play, after upsetting Georgia on the road Sept. 8 and beating Mississippi State at home last week.
One team can extend its improbable championship hopes for another week, at least, when South Carolina hosts Kentucky in a surprisingly important SEC game at Williams-Brice Stadium on Thursday night (ESPN, 7:30 p.m.).
"South Carolina and Kentucky are playing for the lead in the SEC East," Wildcats coach Rich Brooks said. "How many times has that happened?"
Uh, try never.
Since joining the SEC in 1992, the Gamecocks have never finished better than 5-3 in SEC play. In fact, South Carolina has won only one conference championship (the 1969 ACC title) and four bowl games (the most recent one was last season, a 44-36 victory over Houston in the AutoZone Liberty Bowl) in more than 100 years of football.
Showdown At A Glance
• Since South Carolina joined the SEC in 1992, these 2 teams have never met as ranked teams.
• Steve Spurrier's 14-0 record against Kentucky (12-0 as Florida coach) equals his best mark against any school. He is also 14-0 against Vanderbilt.
• Spurrier is just 1-4 vs. ranked teams at home and has lost 4 straight such games.
• Gamecocks have seven straight wins against Kentucky; the Wildcats last win in Columbia was in 1999.
• South Carolina defense is 5th in the country in 3rd-down defense allowing teams to convert just 25.7 percent of the time. This week they face a Kentucky offense converting 53.7 percent of the time on 3rd downs (4th best in the nation).
• The Wildcats are averaging 268.6 passing yards per game (28th in nation); South Carolina is allowing just 106.4 pass yards per game (1st in nation).
• This is No. 8 Kentucky's first appearance in the top 10 since finishing the 1977 season 10-1 and No. 6. Even that season had a bit of a taint around it, considering UK was on probation and couldn't even play in a bowl game.
• No. 11 South Carolina has its best ranking since the Lou Holtz-led Gamecocks rose to No. 9 on Oct. 7, 2001.
• Kentucky (5-0) has not been 6-0 since Bear Bryant was prowling the sidelines in 1950 (went 10-0 and won SEC title).
• Kentucky QB Andre' Woodson needs 40 more passing yards to become the third QB in Kentucky history to pass for 7,000 yards (Jared Lorenzen and Tim Couch).
-- Source: ESPN Research
Kentucky has climbed out of an even bigger hole. The Wildcats haven't won an outright SEC championship since 1950 and haven't finished better than .500 in SEC play since 1977. Since 2000, Kentucky lost eight games or more in five of seven seasons.
"We know some people still consider us the doormat of the SEC," Wildcats quarterback Andre' Woodson said.
Not anymore. Kentucky has an explosive offense and its much-maligned defense even showed improvement during the first month of the season.
Woodson is a legitimate Heisman Trophy candidate after throwing for 1,309 yards with an SEC-high 16 touchdown passes and only one interception in five games. Tailback Rafael Little is third in the league with 109.4 rushing yards per game, and Burton is second with 30 catches. Kentucky leads the SEC with 46.6 points per game and ranks second with 492.2 yards of offense per game.
"We knew we had the players to play in this conference," Woodson said. "Right now, I think we're playing at a high level. The defense is playing well and the offense is playing well. All of the players are clicking right now. We have a great opportunity to hopefully get ourselves an SEC title and accomplish some big goals this year."
Kentucky's championship hopes will either be bolstered or extinguished during the next three weeks. After playing at South Carolina, the Wildcats host No. 9 Florida and No. 1 LSU at Commonwealth Stadium in Lexington, Ky.
"Our goal at the start of the season was to be a factor in the race, and it's very early since we have seven games left," Brooks said. "But I will say it again, as I said it in the preseason, I'll be very disappointed if we're not a factor in the conference race."
The Wildcats haven't known anything but disappointment for too long. Since 1946, only two of 10 Kentucky football coaches won more games than they lost. Paul "Bear" Bryant won 60 games in eight seasons from 1946 to '53, before he left for greater success at Texas A&M and then, of course, Alabama. Bill Curry lost twice as many games as he won during seven seasons at Kentucky. Hal Mumme twice led the Wildcats to a .500 finish in SEC play over four seasons, but then NCAA sanctions ran him out of town.
The Wildcats were even the butt of Spurrier's jokes -- after he arrived at South Carolina. Before this season, Spurrier suggested the Gamecocks' season-ending win over rival Clemson last season didn't mean as much because the Tigers lost to Kentucky in the Gaylord Hotels Music City Bowl.
"We thought we did something big, beating Clemson -- then Kentucky beat them also," Spurrier said at the time.
Spurrier has never lost in 14 games against Kentucky.
"For all those long-suffering UK fans, I guess it would be [special to beat Spurrier]," Brooks said. "I've been hearing that from a lot of people."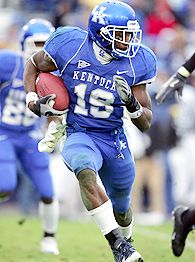 Andy Lyons/Getty ImagesKeenan Burton has helped his predictions come true by leading the Wildcats in catches, yards and touchdowns.
Kentucky never had a chance to beat Spurrier -- or any other team of consequence -- in the recent past. Besides being the red-headed stepchild to Kentucky's ultra-successful basketball program, the football team also has battled recruiting and geographical disadvantages.
"Kentucky's a great place and they've got great fans," said Mumme, who's now the coach at New Mexico State. "I always thought every six to eight years, you could be good enough to challenge in the SEC and could probably go to a bowl game once every three or four years. I thought that was about as good as you could do."
Mumme said Kentucky's location -- it is the northernmost school in the 12-team SEC -- made recruiting more difficult. Mumme said there were usually five or six blue-chip recruits from high schools in Kentucky each year and as many as 10 in-state prospects who could become SEC starters.
"There aren't a lot of good players in Kentucky," Mumme said. "You've got to try to get those top guys and everybody else wants them, too. The best players in the state get recruited by everybody: the Big Ten schools, Notre Dame and Louisville. So you've got to go elsewhere to find players. When you go down to Georgia, Florida or Alabama to get players, those kids are driving by a bunch of SEC schools to come to your place. You really have to convince them you're going to do something different."
Brooks has done something different at Kentucky, mainly win games. But even Brooks, who led Oregon to the 1994 Rose Bowl and coached the St. Louis Rams for two years, labored through three consecutive losing seasons. Last year, the Wildcats finally turned the corner and finished 8-5.
"To be where we are, based on where we had to come from, I feel pretty good about it," Brooks said. "But if we want to continue to do what we'd like to do, we have to keep getting better."
Now Brooks has the Wildcats on the verge of unprecedented success. And perhaps no one saw it coming -- except Burton, of course.
"We believed it," Burton said. "But it's one thing to believe it and talk about it, and it's an entirely different thing to go out and do it. It's like a dream. If you dream about something, the only thing you can do is go out and put yourself in position to make it happen. We've got to go out and win games."
The Wildcats are nearly halfway there.
Mark Schlabach covers college football and men's college basketball for ESPN.com. You can contact him at schlabachma@yahoo.com.
College Football and Basketball
College football writer for ESPN.com
Author of seven books on college football
Formerly at the Washington Post and the Atlanta Journal-Constitution
EDITORS' PICKS
Who are the players who have the most to prove this spring?
Low »

Top highlights from Miami, Orlando and Las Vegas camps.
Story

What are the 10 burning questions as spring practice kicks off?
Schlabach »
MORE COLLEGE FOOTBALL HEADLINES

MOST SENT STORIES ON ESPN.COM