Commentary
With a point to prove, Sooners pack on plenty of points
KANSAS CITY, Mo. -- A couple of hours before Saturday night's kickoff of the Big 12 championship game, an airplane dragging a banner flew high above Arrowhead Stadium.
The banner read: "Enjoy the BeatByTexas.com Bowl."
Sometime next week, a banner figures to soar over the Texas state capital again.
It should read something like, "Right now, we'd beat the hell out of you." While Oklahoma fans are at it, they might want to lease a plane in Gainesville, Fla., too. Because after hearing for a week that they were unworthy of playing Missouri for the Big 12 championship, the No. 2 Sooners routed the No. 20 Tigers 62-21 in a game that wasn't even that close. "I just think there was a lot of talk this week about how we didn't deserve to be in this game," Oklahoma quarterback
Sam Bradford
said. "We didn't get a lot of credit for what we accomplished this year. So I think there was a lot of motivation for us to come out and play well tonight and prove to everyone in the country that we belonged in this game."
The Sooners certainly did that and much, much more.
By winning its third consecutive Big 12 title, Oklahoma all but punched its ticket to the Jan. 8 BCS Championship Game in Miami. After finishing the regular season with a 12-1 record, the Sooners figure to climb to No. 1 in the final BCS standings released Sunday.
To win their eighth national title, the Sooners probably will have to beat SEC champion Florida, which upset No. 1 Alabama 31-20 in Saturday's SEC championship game in Atlanta's Georgia Dome.
[+] Enlarge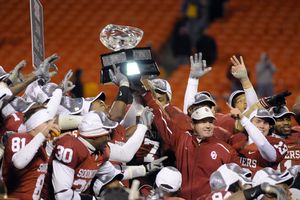 Jeff Curry/US PresswireBob Stoops and the Sooners made their case that they belonged in the BCS Championship Game in resounding fashion against Missouri.
And just in case some voters still wondered whether the No. 3 Longhorns are better than Oklahoma, Sooners coach Bob Stoops made sure his team presented a very lopsided score in Sunday morning's newspapers. With Oklahoma leading 55-21 with less than four minutes to play, Stoops had quarterback Sam Bradford throw deep to senior receiver
Juaquin Iglesias
.
Bradford's pass into the end zone was incomplete, but the Sooners scored a few plays later on Mossis Madu's 38-yard touchdown run to make it 62-21. With its last score, Oklahoma became the first team in college football history to score 60 points or more in five consecutive games.
So much for sportsmanship.
"I think it's fair to say that enough has been said about us in the last week or two through different entities or from whoever is doing it," Stoops said. "You know, Sam Bradford has sat out a total of two games, if you want to count up possession time over the entire year. Two games. Down the stretch there, he sat out the third quarter of probably three of our last four games. So if you can't get to a championship game and play to the end -- after all that's been talked about this week about us -- then I'm sorry. We're going to play to the end."
Stoops clearly was peeved that some college football analysts suggested Texas -- not Oklahoma -- should have represented the Big 12 South in the title game. The Longhorns beat the Sooners 45-35 in Dallas on Oct. 11.
But Oklahoma, Texas and Texas Tech finished in a three-way tie for first place in the Big 12 South -- after Texas Tech beat Texas and Oklahoma beat Texas Tech. The Sooners won the tiebreaker because they were the highest-rated team in last week's BCS standings.
Stoops was mad. The overmatched Tigers paid for it.
"I'll let you guys decide that," Stoops told reporters when asked whether his team made a statement. "Again, I don't know what you're looking for. Again, everybody has their opinions. Some people are different than others. That's a pretty convincing win in a championship game when you have to have it against a ranked team. I think that's our fifth ranked team that we've been able to beat this year. So if that doesn't make a statement, then you don't want it to. If you want it to, you can."
But why Bradford was still in the game is a mystery in itself. The sophomore already was playing with torn ligaments in his left thumb and is scheduled to undergo surgery Sunday. With what's potentially at stake for Oklahoma in the BCS Championship Game, Bradford would have been better off on the bench in the second half.
Star tailback DeMarco Murray had been there since the game's first play, even though he bruised his knee on the opening kickoff return.
Not surprisingly, Bradford picked apart Missouri's defense, which came into the game ranked 116th nationally in pass defense. Clearly, the Tigers would have problems stopping even Notre Dame's offense.
Oklahoma had 627 yards of offense and 39 first downs. The Sooners were 12-for-16 on third down and 9-for-9 in the red zone. They scored on 10 of their 11 possessions and led 38-7 at the half.
Somehow, Missouri's defense forced a punt (and even a three-and-out!) on Oklahoma's second possession of the game.
[+] Enlarge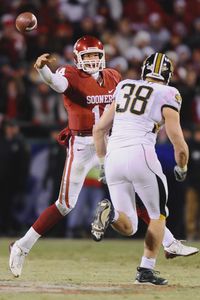 Icon SMISam Bradford and Oklahoma turned the Big 12 title game into a Sooners-led offensive clinic.
"They're really good," Missouri coach Gary Pinkel said. "They're one of the best football teams I've seen, and I've been around for a long time."
Bradford is one of the best quarterbacks the Big 12 has ever seen. He completed 34 of 49 passes for 384 yards with two touchdowns. In 13 games this season, Bradford has thrown for nearly 4,500 yards with 48 touchdowns and six interceptions.
Against Missouri, Bradford went a long way in securing his place among the favorites for the Heisman Trophy. His main competition figures to be Texas quarterback Colt McCoy and Florida quarterback Tim Tebow, the reigning Heisman Trophy winner.
"No one throws it better than him," Stoops said of Bradford. "He has just incredible accuracy, incredible on third down when you have to have it."
Oklahoma's offense has been explosive all season. The Sooners scored 702 points in 13 games; Tulsa is the only other Football Bowl Subdivision team to score 600 this season.
Oklahoma's concerns this season have surrounded its defense. The Sooners surrendered 28 points or more in six of their previous seven games. But against Missouri, which averaged 45 points per game, Oklahoma was more than stout.
Tigers quarterback Chase Daniel passed for 255 yards with three touchdowns, but he threw two interceptions, lost a fumble and was sacked twice.
"They're a good defense," Daniel said. "They played well in a big game, and that's that. They're a great football team all around."
And Stoops made damn sure voters know.
Mark Schlabach covers college football and men's college basketball for ESPN.com. You can contact him at schlabachma@yahoo.com.
College Football and Basketball
College football/basketball writer for ESPN.com
Author of seven books on college football
Formerly at the Washington Post and the Atlanta Journal-Constitution
SPONSORED HEADLINES
MORE COLLEGE FOOTBALL HEADLINES
MOST SENT STORIES ON ESPN.COM
EDITORS' PICKS
Here are some players you should cheer for in 2014.
Story »

The Opening's last day saw big man showdowns and awards.
Notebook »

After an injury, FSU's Kevin Haplea put his free time to good use.
Shanker »
Nike Women's Missouri Tigers Anthracite 'Mizzou Made' T-Shirt Shop »