Commentary
Bowden exits with little fanfare
TALLAHASSEE, Fla. -- It never should have ended like this.
[+] Enlarge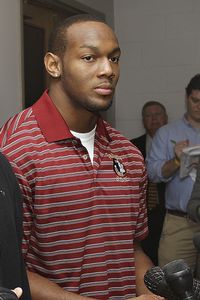 AP Photo/Phil CoaleDekoda Watson said he wouldn't have attended Florida State if Bobby Bowden weren't the coach.
Not with legendary Florida State coach Bobby Bowden slipping out a side door, and not with injured Seminoles quarterback Christian Ponder and fellow team captain Dekoda Watson speaking for the school that ultimately forced Bowden out.
After building the Seminoles into one of the sport's greatest powers in 34 seasons on the FSU sideline, Bowden announced his retirement Tuesday. Bowden, 80, will coach the Seminoles in their upcoming bowl game, which will be the final chapter in his remarkable coaching career.
Instead of addressing the media at a news conference Tuesday, Bowden chose to issue a four-page statement through the school's sports information department. The school later released video of Bowden being interviewed by an FSU athletics department employee.
In the written release, Bowden thanked his wife, his family, his assistant coaches and his players. He also thanked FSU's fans.
FSU supporters never got a chance to thank the coach who put their football program on the map. There were no fans camped outside Doak Campbell Stadium waiting to send off Bowden, who won more games than every major college football coach except Penn State's Joe Paterno.
"Finally, I'd like to thank the University and FSU fans who have supported the Florida State program," Bowden said in the written release. "We've got one more game and I look forward to enjoying these next few weeks as the head football coach."
There were no balloons or marching bands and absolutely no pomp and circumstance to mark the end of a golden era.
Sadly, one of the greatest coaching careers in college football history ended with very little fanfare.
But Bowden retired just the way he always wanted to.
Bowden never wanted a farewell tour in which he would be honored at opponents' stadiums, receiving gold watches and rocking chairs. Instead, Bowden wanted to walk away quietly from the program he built into one of the sport's greatest dynasties.
Florida State president T.K. Wetherell, who was a wide receiver at FSU from 1965 to '67 (when Bowden was an assistant coach there), said the school hoped to honor Bowden with a celebration and recognition in the 2010 season, according to the release.
Wetherell and FSU athletic director Randy Spetman didn't even attend the news conference announcing Bowden's retirement, leaving Ponder and Watson, both 21, to do the talking.
Bowden broke the news to his players at a 2:15 p.m. ET meeting in their locker room at Doak Campbell Stadium.
"A lot of guys went into it expecting it," Ponder said. "A lot of guys saw what was in the newspaper. A lot of guys were saddened by it, and we want to do the right thing by him."
Watson, a senior from Aiken, S.C., said he never would have signed with Florida State if Bowden hadn't been the coach.
"I'm just disappointed at the people that tried to knock him down," Watson said. "He's still Bobby Bowden. Honestly, I felt like he was going to stay around more. But this is the decision he made, and I have to respect it. I think a lot of people feel he deserves better."
Bowden wanted to return as Florida State's coach in 2010. But after the Seminoles finished 6-6, losing six games for the third time in four seasons, Bowden met with Wetherell and Spetman on Monday.
Bowden was given the option of returning to FSU next season in a reduced role, essentially giving complete control of the program to coach-in-waiting Jimbo Fisher, or retiring gracefully after this season's bowl game.
"You know something like this is going to happen," Bowden said in the video released by FSU. "If it didn't happen now, it would be happening this time next year, but it's happening now. As long as my family is happy, that's the main thing. So I'll go out and make a lot of talks now and tell everybody how good I was."
If only FSU appreciated how truly good he was.
Mark Schlabach covers college football and men's college basketball for ESPN.com. You can contact him at schlabachma@yahoo.com.
College Football and Basketball
College football writer for ESPN.com
Author of seven books on college football
Formerly at the Washington Post and the Atlanta Journal-Constitution
SPONSORED HEADLINES
MORE COLLEGE FOOTBALL HEADLINES
MOST SENT STORIES ON ESPN.COM
Florida State's Bobby Bowden Retires

It's the end of an era: After 34 seasons, Florida State legend Bobby Bowden is stepping down. His last game will be the bowl game. Story
The Bowden Era
What's Next At Florida State?
Video Analysis
Nike Men's Florida State Seminoles Champ Drive Elite White Polo Shop »