Hagen's navigated nomadic coaching course
Originally Published:
June 12, 2007
By
Ivan Maisel
| ESPN.com
CHAPEL HILL, N.C. -- Somewhere in a box in the basement of Steve and Amy Hagen's new home near the North Carolina campus lies a quilt. Steve's sister, Connie, made the quilt by sewing together T-shirts representing the teams that Steve has coached across the country.
At the time, Hagen coached for the Cleveland Browns, which means that (a) Connie needed to collect 11 different T-shirts, one for each stop, and (b) the quilt is hopelessly out-of-date.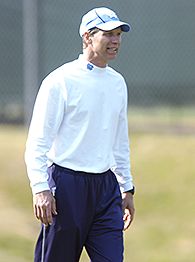 University of North Carolina AthleticsSteve Hagen's 14th coaching stop landed him on UNC's staff.
There's no Fresno State, where Hagen served as offensive coordinator and quarterbacks coach last season, and there's no North Carolina, where Hagen, having reunited with former Browns coach Butch Davis, coaches the Tar Heel tight ends.
The quilt, like Hagen's career, is patchwork.
"It's the Willie Nelson song," Steve Hagen said, "'I've been a lot of places in my life and time.'"
Could've sworn he would have chosen "On the Road Again."
Hagen, 45, is coaching at his 14th job in 24 years in college and professional football. That kind of job hopping in any other line of work would cast doubt on a guy's dependability. In the get-a-phone-call-and-go world of college football, Hagen has no such stain on his reputation.
Although head coaches as successful as Lou Holtz and Nick Saban have been criticized for their propensity to pick up and move, there are no such standards for assistants. It might be that, given the lack of security in the profession, head coaches and administrators understand that the mobility of assistants is a cost of doing business.
"They're all nomads," Davis said, erupting in laughter. "Look at the media guide. We laugh about it. After you coach for a while, the bios get to be almost like CliffsNotes."
The American Football Coaches Association has never surveyed its members regarding their frequency of job change. However, the organization, which has between 10,000 and 11,000 members, receives roughly 4,500 change-of-address forms annually that indicate a member has a new job, according to AFCA media relations director Todd Bell.
Another 2,000 or so members change their address of record from work to home, which the AFCA office takes as an indication that the member lost his job and hasn't found another.
Tale of a vagabond coach
Hagen's coaching path (record)
• 1983: Illinois graduate assistant (10-2 Rose Bowl)
• 1984-85: Kansas graduate assistant (5-6, 6-6)
• 1986-88: Northern Arizona restricted-earnings coach (7-4, 7-4, 6-5)
• 1989: Notre Dame graduate assistant (12-1, Orange)
• 1990: UNLV wide receivers coach (4-7)
• 1991: Kent State quarterbacks coach (1-10)
• 1992-93: Nevada quarterbacks coach (7-5 Las Vegas Bowl, 7-4)
• 1994-95: UNLV offensive coordinator/quarterbacks coach (7-5, Las Vegas Bowl, 2-9)
• 1996: Wartburg College head coach (7-3)
• 1997-98: San Jose State quarterback coach/recruiting coordinator (4-7, 4-8)
• 1999-2000: California offensive coordinator/quarterbacks coach (4-7, 3-8)
• 2001-03: Cleveland Browns tight ends coach (7-9, 9-7 wild card, 5-11)
• 2004: Cleveland Browns quarterbacks coach (4-12)
• 2005: no job
• 2006: Fresno State offensive coordinator/quarterbacks coach (4-8)
• 2007: North Carolina tight ends coach
Although the data is hardly scientific, it suggests that coaches are the lifeblood of the moving van business, none more so than Hagen, who makes moves like Reggie Bush in open space. Only twice in 24 years has Hagen held a job for longer than two years. The longer of those two, his stint with Davis in Cleveland, lasted four.
"I don't sit here wishing I was somewhere else," Hagen said of his career. "Most of the time, I've been there. I've been there. I've done that. I know what that's all about."
Hagen got his first job as a graduate assistant for Mike White at Illinois in 1983, but it was not his first football job. The son of a groundskeeper at Cal Lutheran, Hagen and his three brothers spent their boyhood summers working for the team that held training camp on his dad's campus -- America's Team, the Dallas Cowboys of the 1970s and early '80s.
Hagen graduated from ball boy, "picking up jocks and socks in the locker room," to being a camera operator at practice in those ancient, pre-video days. It's no wonder that coaching became his life work. He grew up around Tom Landry.
"Just a humble guy. He wasn't so quiet and stoic. He wasn't all happy-go-lucky. He was just a very conservative gentleman," Hagen said, enunciating the last three words slowly for emphasis. "Just very direct.
"He would say, 'Got the film, Steve?'
"I said, 'Yes, sir.'
"He's like, All right, let's drop it off. Let's go have an ice cream.'
"We'd walk back to the dorm, talk a little bit, and he would be like, 'What'd you think of practice today, Steve?'
"'I don't know, Coach. They seemed pretty good to me.'
"We'd get ice cream in the dorm, on the second floor. He had his own little stash. All the coaches could eat up there. It was right outside the staff room. It was actually in the laundry room. They pulled a couple of washing machines out and put a freezer in, and he had tubs of ice cream up in there."
Through the window that Landry and the Cowboys provided, Hagen saw his life's calling.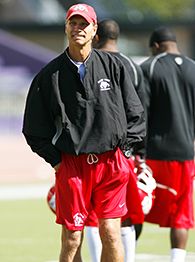 Keith Kountz/Fresno StateHagen's stop before UNC was as the offensive coordinator at Fresno State.
"Yeah, I haven't been on the sidelines of a Super Bowl or coached in a Super Bowl, but I've seen a lot of them from a lot of different angles," Hagen said. "And I've been in the hunt for national championships, and I've coached in bowl games. I've been a position coach, a coordinator, a head coach. You know, it's all good. It's all kind of fun at one level or another."
The nomad in Hagen can reel off how he spent seven years as either a graduate assistant or a limited-earnings coach before he got his first full-time gig (UNLV, 1990) or how it took him nine years and six job changes to get to a school in a major conference (Cal, 1999).
The nomad in Hagen has seen the high and the low. He has been a graduate assistant on a team that contended for the national championship (Notre Dame, 1989). And in his 11 seasons as a full-time assistant coach in the bowl subdivision, his teams have never won more than seven games.
Hagen has worked for Holtz and College Football Hall of Fame member Chris Ault of Nevada. He also spent one season as the head coach at Division III Wartburg College in Iowa, a job so hands-on that his duties included lining the field before the game.
Wartburg went 7-3 in that 1996 season, yet Hagen decided that, with one child at home and another on the way, he and his family could not live the small-college life.
"I was probably selfish taking that job, just me being selfish," Hagen said. "'You know what? I'm going to go be a head coach.' Thinking of I, me, my opportunity, as opposed to we as a family."
Since that 1996 season, he has had exactly one winning season. The Browns went 9-7 in 2002 and earned an AFC wild card.
Hagen: Learning from the best
Tom Landry, Dallas Cowboys:
If you can't create relationships, this isn't the game for you. X's and O's and winning and all that, that's a byproduct of the relationships you create. And when you can't, you have friction. I wouldn't have been able to tell you that while I was growing up with coach Landry. In retrospect, he never raised his voice. I mean, he rarely raised his voice to scold anybody. But everybody knew what the consequences were.
Lou Holtz, Notre Dame:
He's a motivator. In any business, you have to know what you want the end to look like. If we're building cars, we've got to know what we want that car to look like at the end. But you've also got to take it from a scrap of parts and put it together. And that's what I think he did so well. Maybe this piece wasn't right. Let's upgrade it. Let's do this. You know what I mean? And I think he's good at that.
Mike Gottfried, Kansas:
This sounds strange, but he just loves kids. He's always talking to kids, really, a hands-on guy. One thing I learned from him. When he would talk to kids, in front of a group, he'd be like, talking, and [interject], 'You know what I'm talking about, Ivan?' A kid might be, you know how kids are, when you get 85 to 100 of them in a room, one of them is picking his nose, another is looking at his foot, but he would [snaps fingers] draw 'em right back in.
Chris Ault, Nevada:
Coach Ault is meticulous, meticulously organized and highly competitive, and he builds that esprit de corps that you almost want to say, that military camaraderie. It's us against the world. And lock arm, lock shields, let's go. I love that. He's 100 percent Wolf Pack. Don't think about walking into that office with a red shirt on.
Butch Davis, Cleveland Browns and North Carolina:
I like how he enjoys the game. He likes to have fun. He wants the kids to have fun. You're not going to see him with a sour face, all pissed off. We're going to do whatever it takes for these guys to have fun because having fun will allow them to win games. They'll play freed up. They'll have a great spirit about them. That's what he's constantly nurturing.
"To me, it's all good. It's all fun," Hagen said. "I don't enjoy losing by any stretch. But I think you need to understand what losing's all about. You don't have to necessarily go through the whole thing, but you need to understand how bad losing is so you can constantly work and build to keep your standard."
Hagen's ability to remain a valued commodity in the coaching business despite his teams' lack of success on the field is a tribute to his personality. For a guy whose roots rarely have time to grab hold, Hagen radiates stability. He attributes it to his wife and to their Christian faith. When he and Amy move, one of the first things they do is find a church in which they feel comfortable. He operates a Web site, NeverFlinch.com, to promote the lessons he has learned through faith and football.
"I think the success of the program starts with the chemistry in your building," Davis said. "Because of the type of guy that Steve was, I knew the next time I got a job, whether it was at North Carolina or anyplace else, that he would be one of the guys that I would try to reach out to. His character and the way he treats the kids make such a positive impact on his position room."
"The thing that makes a good job is not the place. It's who you work with and who you work for," Hagen said. "You're with these guys all the time in stressful situations at odd hours. This isn't work. But it can become work quickly."
Such is the culture of football that coaches spend more time with each other than they do with their wives. The pain that tugs at coaches when they move is the price it extracts from their families.
"I feel like I have tortured my wife," Davis said. "That's the hardest part. That's when you'd love to get to a place like this and say, 10-12-14 years, you'd like to stay someplace and actually put down roots and really become a part of the fabric of the community."
Amy Hagen came into football as a naïf. In 1988, Steve was a restricted-earnings coach at Northern Arizona. When they met, Amy said, she was a senior.
"We dated for a couple of months, and he moved," Amy said, which should have been her first clue. "When I met him, he told me he coached football at the school that I went to. I'm like, 'Well what else do you do?' I thought that was a Saturday job."
The other punch line in her life is that her parents still live in the house in which she grew up in Phoenix. Although Amy could teach a seminar on how to move, ranging from selling a house to preparing the kids, she refused any suggestion that she play the role of victim. There's a popular image of the coach's wife as, for all intents and purposes, a single mom. Amy will have none of it.
"Although he's not in the house all the time, he takes care of our family emotionally and financially," Amy said. "Single moms don't have that emotional support of a loving spouse. And the financial support of a spouse. You can't compare those two."
The Hagens have four preteen children, three boys and a girl, and the parents are careful in how they discuss the job changes within the shot of little ears.
"I look at it like, 'We get to go live in another part of the country,'" Steve said. "There's a different perspective when you think, 'We get to,' as opposed to, 'We have to.' When you get to do something, it's more rewarding. So when my wife and I talk about it at home, it's, 'We get to move to North Carolina. How awesome is that going to be? Let me show you where we're going to live.' They're young enough to buy in right now. They'll probably get to an age where they say, 'You know, Dad, I don't know if I want to do this right now.'"
The Hagens are happily ensconced in their new life, living in an elegant two-story home on a cul-de-sac in a shiny new subdivision near campus. Amy home-schools the kids, in part a response to their moves. The family is active in the church. Given that this is Hagen's second job with Davis, there's every reason to believe Hagen might stay in North Carolina long enough for his mail from Fresno to catch up with him.
He takes nothing for granted.
"Obviously, there are places where you'd like to stay," Hagen said. "You don't always get to. And so, what are you going to do? Be sour over it? Or are you just going to take what God gives you and make the best of it? That's kind of, that's how we feel. Everything happens for a reason and a purpose. When you believe that, you make the best of it."
One recent afternoon, Amy sat at the kitchen table while Steve cleaned up after making a couple of sandwiches for lunch. She teased her husband.
"He said, 'I'd like to have a football helmet for each place I worked at,'" Amy said of her husband. "Better get a bigger house."
Ivan Maisel is a senior writer for ESPN.com. Send your questions and comments to Ivan at ivan.maisel@espn3.com.
Senior Writer, ESPN.com
ESPN.com senior college football writer
Four-time FWAA award winner
27 seasons covering college football
SPONSORED HEADLINES
MORE COLLEGE FOOTBALL HEADLINES
MOST SENT STORIES ON ESPN.COM
EDITORS' PICKS
31 days for Malik Jefferson's decision.
Olson »

Pelini's exit confirms icy suspicions.
Sherman »

Take a peek inside what coaches have to deal with on their first days on the new job.
Inside Access