Commentary
Does the Mohawk make the man?
Updated:
November 15, 2007, 8:57 PM ET
By
Greg Garber
| ESPN.com
TAMPA, Fla. -- Some believe it was University of South Florida senior linebacker Ben Moffitt. Others credit junior center Jake Griffin. If it's a stalemate, freshman wide receiver Carlton Mitchell is more than willing to claim responsibility for being the first of the Mohicans.
Wherever the notion came from, there were more than 40 raging Bulls sporting Mohawks against No. 5-ranked West Virginia back in late September. The West Virginia state slogan is "Wild and Wonderful," but USF appropriated the concept and stunned the Mountaineers 21-13. Eleven years after the program matriculated to Division I, the Cult of the Mohawk, circa 2007, had commenced.
"It shows where we are coming from, from a program standpoint, " said quarterback Matt Grothe, the face of the Bulls' Mohawked crew. "To be where we are today, and doing some of the things that nobody thought we could do so quickly, is pretty cool."
"College GameDay"

Set your alarm clock on Saturday. Chris Fowler, Kirk Herbstreit, Lee Corso and the rest of the "GameDay" crew will be in Ann Arbor, Mich. Tune in to find out about Ohio State-Michigan, the Year of the Mohawk and everything else in college football.
When: Sat., 10 a.m. ET (ESPN)
Where: Ann Arbor, Mich.

Even Rocky the Bull, the USF mascot, came out for the recent game against Cincinnati tricked up with a Mohawk. If you've been watching college football this year, you know Rocky is not alone. Far from it. The Mohawk
is
the cutting edge.
• Oregon linebacker John Bacon: "I went into the season thinking it would be kind of fun to lighten up fall camp a little bit. It just kind of had a mind of its own. I thought I was going to be pretty unique going into it, but I guess not."
• Boston College wide receiver Justin Jarvis: "It happened in the last week of camp. I told our local barber that we were going to do a Mohawk and see how the fans liked it. It's a part of team tradition right now. We are doing very well and staying focused, and this is just another way of saying that we are staying dedicated to it."
• The Mohawk has been found atop: Purdue players Jaycen Taylor, Jermaine Guynn and Mike Neal; Alan Michael Cash of North Carolina State; Brandon Carter of Texas Tech; Marshall's Cody Slate, Emmanuel Spann and Matt Parkhurst; Ben Poynter, Caleb Peveto, Sean Lobo, Kenard Burley and Mitch Enright of SMU; Washington's Juan Garcia and Fred Wiggs, and many, many more.
Hair today, gone tomorrow
BRISTOL, Conn. -- Hair, I discovered on the Internet, is merely a filamentous outgrowth of protein that protects the skin of mammals.
Now that it's gone, why does it feel like so much more than that? Ah, the indignities we suffer for our art.
To back up a bit: When ESPN's NFL Countdown traded me to College GameDay -- they parted with me and a box of DVDs and got reporter Tom Rinaldi in the bargain -- they told me we were doing a piece about the proliferation of Mohawks. The thought of joining the players at South Florida and Boston College and Oregon in hair solidarity occurred to me, but it didn't take hold until I met the Bulls in Tampa. Some 40 players gave it up for team unity, and it carried them over West Virginia earlier in the season. A beautiful thing.
Besides, I needed a haircut.
Not far from the Worldwide Leader, on a pleasant street in the center of town, you will find The Barber Shop. Nancy, the proprietor, seemed amused by the proposition. The idea was to finish the feature with a Lou Holtz rant on the insidious, self-centered qualities of the Mohawk, juxtaposed by some clever lines from the Intrepid Reporter as his modest, graying haircut was trimmed and gelled into an insidious, self-centered Mohawk.
I should have fully considered the consequences when my boss called me to see if I was in my right mind. I said sure, why not? I remembered what the South Florida kids had said: It's only hair, it will grow back.
The Mohawk actually looked fairly formidable and served its jarring purpose. Then, since I had designs on actually returning home for dinner, Nancy cut it off. And I was left with, well, nothing. This was the part of the plan I didn't think through.
I have a number of 50-something friends who have reached the point of thinning where it's easier to stop combing over and go with a No. 1 buzz cut -- Matt Lauer of the Today Show, I suspect, is days away. In the summer, I sometimes go with a super-tight No. 1, but that one-eighth of an inch makes a big difference.
Now I look like Otto Preminger's heir apparent, and even a minor breeze in a hallway chills my skull. My head sticks like Velcro to the pillow and people repeatedly have asked after my health.
It's only hair, right. It will grow back.
Right?
Burly Notre Dame nose tackle Pat Kuntz stands 6-foot-3 and weighs 285 pounds. He had a Mohawk, but when he went home to Indianapolis during fall break his mother made him shave it off.
The Mohawk was first identified on Mohawk Iroquois Indians in upstate New York by a Dutch Reform church minister named Johannes Megapolensis more than 350 years ago. Over time, the haircut has evolved into a symbol of the anti-establishment; think Joe Strummer of the Clash. The Mohawk has a proud, antisocial tradition in football, too, from John Riggins to Brian Bosworth to Chad Johnson's blond-and-tight version last season.
What do people see in the man with a Mohawk?
"You see a guy with a Mohawk," said Kentucky linebacker Wesley Woodyard, "you've got to respect him. That shows he has a lot of courage in himself to go out there. He is going to have a lot of people looking at him, so he has to be a playmaker.
"That's the whole rock-star look."
Andre Woodson', who like Woodyard does not have a Mohawk, agrees.
"It takes a lot of confidence in his manhood," Woodson said. "Some guys can pull it off; not me, though.
"I don't think my mom would allow it."
Certain segments of the population -- moms and men of certain age -- almost always seem to be hatin' on the 'Hawk. Lou Holtz, the former Notre Dame coach and present ESPN analyst, falls into the second category.
"I was pretty much of a disciplinarian on appearance," Holtz said. "You represent the university and you represent the team. When you look good, you feel good. When you feel good, you perform well.
"I don't want your attitude to be, 'Hey, here I am. Look at me. It's all about me.' Self-discipline is the most important victory we can achieve over ourselves."
So true. Like a tattoo, the Mohawk, cynics believe, can only be the result of a tragically bad decision.
"I would never wear a Mohawk," said Kentucky running back Derrick Locke. "Most of the people who wear Mohawks are kind of crazy."
The USF players, however, are evidence to the contrary.
"We had beaten Auburn and people were saying we had a chance to beat West Virginia," Grothe said. "That's two upsets in such a short period, so we were like, 'Let's not put it all on our shoulders. Let's cut our hair and have some fun with it.'"
The Bulls' Mohawk Moment was a simple matter of team solidarity and, for a few weeks anyway, it worked. ESPN recently visited the Tampa campus and found only a handful of Mohawks left, due to the team's three-game losing streak.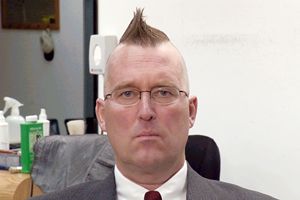 Dave Lynch for ESPN.comOur fearless reporter, sporting a fresh buzz.
Grothe, who joined a number of his friends in the defensive-back corps, was one of the few remaining faithful.
To see the tight, quarter-inch carpet on his dome you would never know it, but for a few weeks safeties coach Troy Douglas joined his players in the mayhem.
"I go into a Friday meeting and I noticed all my players had Mohawks," Douglas said. "I told them I'd get one if they beat West Virginia. When they won, I got the Wesley Snipes Blade Mohawk. It was a commitment that we were all in this together."
Does the Mohawk intimidate opponents?
"I don't know," Douglas said, laughing. "We haven't intimidated many people since we've been on this three-game losing streak. Maybe we need to get [those] Mohawks again."
Greg Garber is a senior writer for ESPN.com.
Writer, Reporter
Greg Garber joined ESPN in 1991 and provides reports for NFL Countdown and SportsCenter. He is also a regular contributor to Outside the Lines and a senior writer for ESPN.com.
SPONSORED HEADLINES
MORE COLLEGE FOOTBALL HEADLINES
MOST SENT STORIES ON ESPN.COM
EDITORS' PICKS
Bowl season is here as Nevada takes on Louisiana-Lafayette.
Watch

Smaller games are still an important building block.
Ryan McGee »

P.J. Fleck has Western Michigan "rowing the boat."
Fortuna »