Commentary
Carr, Wolverines dealing with another Buckeye disappointment
ANN ARBOR, Mich. -- Michigan coach Lloyd Carr wore his familiar stoic look as he was escorted off the field at Michigan Stadium in a cold, dreary drizzle, his eyes revealing nothing about his future as he looked straight ahead and walked out -- possibly for the last time.
For the fourth straight season, Ohio State beat Michigan in one of the most storied rivalries in sports, but this time it was for Big Ten title. In the Big House. On the one-year anniversary of Bo Schembechler's death. And possibly the last home game for Carr, who has yet to affirm if he's sticking around or retiring.
"There will be a day to discuss that and this isn't it," Carr, 62, said.
The No. 23-ranked Wolverines' 14-3 loss to the No. 7 Buckeyes (11-1, 7-1) before a crowd of 111,941 -- the second-largest in stadium history -- won't influence his decision, Carr said. He is, however, meeting with reporters at 10 a.m. on Monday for a news conference in which he is expected to announce his retirement, ESPN has learned.
Although the league title was determined, that was about the only questioned answered after four quarters of unimpressive football; Carr's future remains uncertain and Ohio State can still hang onto hope of a miracle appearance in the national title game.
While Ohio State most likely earned itself a trip to the Rose Bowl, the oppressive mood at Michigan overwhelmed the outnumbered visiting fans, who yelled "Keep coach Carr!" from the stands. The Buckeyes have now beaten Carr six out of the seven times under coach Jim Tressel.
"We had an opportunity to really do something special here for us -- winning this game and everything that goes with it," Carr said. "When you fail to do that, the disappointment is very difficult."
[+] Enlarge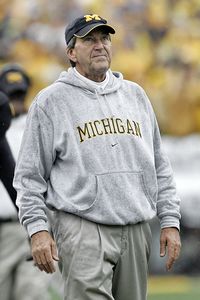 AP Photo/Paul SancyaLloyd Carr and the Wolverines have lost six of the last seven to the Buckeyes.
It was certainly another humbling experience for Carr, who is in his 13th season at Michigan and is now 121-40 overall and 81-23 against the Big Ten. The Wolverines, hindered by injuries to senior quarterback
Chad Henne
(shoulder) and senior running back
Mike Hart
(ankle), mustered just 91 yards of total offense and averaged just 1.5 yards per play. They were successful on 3-of-18 third-down conversions.
"It really doesn't matter about me personally," Carr said. "It's about our team, and it's disappointing, certainly."
The Michigan seniors left the stadium having never defeated Ohio State, and they have yet to win a bowl game. Still, they voiced their support for Carr, who guided the Wolverines to the 1997 national title, and said the questions surrounding their coach weren't a distraction.
There was speculation Carr would even announce it during his pregame speech to ignite the players, but they said he hasn't brought it up.
"We love coach Carr," said senior linebacker Chris Graham. "I'm glad to have him here. I sat down with him multiple times and talked to him. That's a person that inspires the whole team. We're just enjoying his company here and not trying to focus on that part. It wasn't even a focus this week."
Asked if he thought Carr would leave next week, Graham said, "I'm not sure. I'll be glad if he still stays for the younger guys because he's a great coach on and off the field."
If Carr announces his retirement on Monday, it would not come as a surprise to Michigan athletic director Bill Martin, who said he and Carr have been having this discussion for the past six years.
"He'll make the call when he wants to retire," Martin said. "We'll just have to wait and see."
Opening up a coaching search is not exactly something he seems to be looking forward to.
"It's not only the program, but it's the institution, what Lloyd has meant to the university," Martin said. "He does so much for our hospitals in terms of fundraising, making his time available that nobody even knows about. He'll get a note from somebody who has a sick second cousin in the hospital. Lloyd goes and sees that person in the hospital. … He is so intent on the graduation rates, on these kids' academics and he always, always brings that up with them at every meeting.
"If I had to replace Lloyd, I want to clone him," Martin said. "That's the bottom line. … If we have to move on, well, I'm going to make certain that whoever we bring in is somebody that can sustain the record that Lloyd has."
Martin said he would consult with Carr, though, before he made a hire.
"I would certainly talk to him about it," Martin said. "I'd be crazy not to, with his knowledge of coaches in this country. Ultimately, the buck stops with me and I make the final decision."
But first, Carr has to make his.
Heather Dinich is a college football writer for ESPN.com. Send your questions and comments to Heather at espn.hd@hotmail.com.
College Football
ESPN.com reporter
Joined ESPN.com in 2007
Graduate of Indiana University
EDITORS' PICKS
Defensive lineman's "second chance" at Alabama was only about winning and shouldn't have happened.
Schlabach »

Expect new CFB Playoff Committee member Bobby Johnson to fit right in.
Low »

Should we have the same expectations for programs with very different budgets?
Haney
MORE COLLEGE FOOTBALL HEADLINES

MOST SENT STORIES ON ESPN.COM