Commentary
Sanders' season withstands the test of time
Originally Published:
January 9, 2008
By
Chris Low
| ESPN.com
Tom Brady is in the midst of one of the most perfect individual seasons of all time. But how does it compare to the greatest individual seasons at the college level? ESPN.com ranked the top 10 seasons by a player:
[+] Enlarge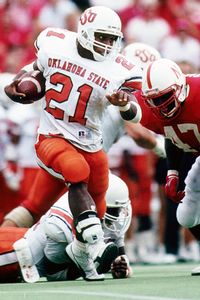 Malcolm Emmons/US PresswireBarry Sanders' final college season is tough to top.
1. 1988 Barry Sanders, Oklahoma State -- Sanders remains the standard for running backs, and what he accomplished during his final season with the Cowboys was nothing short of phenomenal. Counting the bowl game, he rushed for 2,850 yards in 12 games (an average of 237.5 yards per game) and was an easy choice for the Heisman Trophy.
2. 1924 Red Grange, Illinois -- The Galloping Ghost put the stamp on his legendary career in 1924 by single-handedly beating Michigan in what was the grand opening of Memorial Stadium. Grange returned the opening kickoff 95 yards for a touchdown and scored three more touchdowns before the first quarter was complete. He scored twice more in the second half for what was then a record six touchdowns.
3. 1963 Roger Staubach, Navy -- Before going on to stardom with the Dallas Cowboys, Roger the Dodger guided Navy to a 9-1 season and a final ranking of No. 2 in the polls on his way to winning the Heisman Trophy. He's the last player from one of the service academies to win the Heisman. Staubach also engineered a win over Notre Dame that season.
4. 1976 Tony Dorsett, Pittsburgh -- The first college running back to have three seasons of 1,500 yards or more, Dorsett capped a fabulous senior season by leading the Panthers to an unbeaten 12-0 record and a national championship. He finished with 1,948 yards and 21 touchdowns that season and won the Heisman Trophy. His career rushing record stood for 22 years, but has since been broken twice.
[+] Enlarge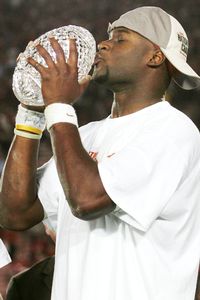 Vince YoungVince Young's electric performance in leading Texas to an undefeated season and a national championship put him in the top five.
5. 2005 Vince Young, Texas -- Young led Texas to an unbeaten season and the 2005 national championship with one of the best all-around performances by a quarterback in history. He passed for 3,036 yards and rushed for 1,050 yards that season and capped the year by accounting for 467 yards of total offense in the dramatic win over USC in the national championship game.
6. 1968 Al Worley, Washington -- His 14 interceptions in 1968 is one of those Division I-A records that has stood the test of time. Even more impressively, Worley needed only 10 games to collect his picks. To put his feat into perspective, five players tied for the Division I-A lead this season with eight interceptions -- and all five played in at least 12 games.
7. 1980 Herschel Walker, Georgia -- He won his Heisman Trophy in 1982, but Walker's most memorable season came in 1980, when he rumbled for 1,616 yards as a true freshman and led the Bulldogs to a 12-0 record and their last national championship. Walker is widely considered to be the SEC's greatest player.
8. 1984 Doug Flutie, Boston College -- His Hail Mary pass to beat Miami is one of the most famous passes in football history. Flutie passed for 3,454 yards and 27 touchdowns that season, and his impact transcended football. He helped put Boston College on the map as a national university. Applications for admission soared after he rose to fame at BC.
9. 1980 Hugh Green, Pittsburgh -- One of the most dominant defensive ends of his era, Green nearly won the Heisman Trophy as a senior when he was edged out by South Carolina running back George Rogers. It remains the highest finish in the Heisman balloting by a player who played strictly on defense. Green finished with 49 career sacks.
10. 1948 Doak Walker, SMU -- The annual award for the nation's best running back bears his name. Walker won the Heisman Trophy in 1948 by doing a little bit of everything. He played running back, defensive back and kicker, while also throwing passes, catching passes, returning kicks and punting. The Cotton Bowl was dubbed the "House that Doak Built."
Chris Low is a college football writer for ESPN.com. Send your questions and comments to Chris at espnclow@aol.com.
SPONSORED HEADLINES
MORE COLLEGE FOOTBALL HEADLINES
MOST SENT STORIES ON ESPN.COM
GREATEST INDIVIDUAL SEASONS
What are the greatest individual single-season accomplishments in sports? Let the debate begin here, with the all-time list of the top 25 seasons, a writers debate, top-10 lists from each sport, a listranker and a photo gallery.
Greatest individual seasons
•
Top 25 greatest individual seasons
•
Page 2 writers debate the top-25 list
Sport by sport
•
Top 10 NBA seasons
•
Amber: Top 10 NHL seasons
•
Ashenfelter: Top 10 NASCAR seasons
•
Chadiha: Top 10 NFL seasons
•
Hawkins: Top 10 tennis seasons
•
Katz: Top 10 college basketball seasons
•
Low: Top 10 college football seasons
•
Neyer: Top 10 MLB seasons
•
Sobel: Top 10 golf seasons
•
Top 10 fantasy seasons
Worst seasons
•
Dirty dozen: the worst individual seasons
Photos
•
Zoom photo gallery
SportsNation
•
Listranker: Create your own top-25 list
•
List researchers chat wrap

•
Conversation: Join the debate/discussion!