Commentary
Once left for dead, Big East thriving in BCS
When the ACC raided the Big East for three of its stronger member schools in 2003, Big East commissioner Mike Tranghese wasn't sure his league would survive.
After Boston College, Miami and Virginia Tech left for the ACC, many college football pundits wondered whether the new Big East was worthy of keeping an automatic spot in the BCS.
[+] Enlarge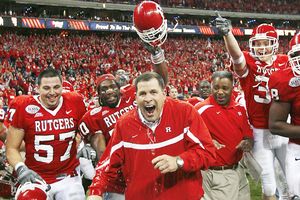 Bob Levey/WireImageIt would have been hard to predict Rutgers' rapid ascent in the Big East.
Oddly enough, the very postseason system that threatened the Big East's existence has helped it flourish.
One year after the league's darkest BCS moment -- when Big East champion Pittsburgh was routed by Mountain West champion Utah 35-7 in the 2005 Fiesta Bowl -- the Big East enjoyed its brightest moment. No. 11 West Virginia upset No. 7 Georgia 38-35 in the 2006 Sugar Bowl, which was played in the Bulldogs' backyard after damage from Hurricane Katrina forced the game to be moved from New Orleans to Atlanta's Georgia Dome.
West Virginia's upset might have been the defining moment for the new Big East. It gave the seven-team league instant credibility --arguably its biggest victory of all.
"I think the whole thing turned around on the night of the Georgia-West Virginia game in Atlanta," Tranghese said. "It's almost as if everybody up until that point said, 'These guys can't play, they can't play, they can't play.' All of the sudden, we beat the SEC champs in Atlanta and they say, 'Boy, they're pretty good. We better take a look at them.'"
It's hard not to notice the Big East now. Its teams have won BCS bowl games in each of the past three seasons. Louisville beat ACC champion Wake Forest 24-13 in the 2007 Orange Bowl, and West Virginia routed Big 12 champion Oklahoma 48-28 in the 2008 Fiesta Bowl.
"I think the public has acknowledged that we can stand up and play," Tranghese said. "We're not going to win every game, but our goal is just to be one of those six BCS conferences. We've beaten the champions of the SEC, ACC and Big 12 the last three years. It's a pretty remarkable accomplishment for a conference that people were counting out as being dead."
When the BCS was formed, its rules stipulated that "each BCS conference is subject to review and possible loss of automatic selection by the BCS should the conference champion not have an average ranking of 12 or higher over a four-year period."
Media dubbed it the "Big East rule" because Tranghese's conference seemed to be the only league vulnerable to losing its automatic selection.
Then the ACC raided the Big East of three of its best programs. From 1994-2003, Miami and Virginia Tech combined to win eight Big East championships. The Hurricanes won the 2001 national championship, beating Nebraska 37-14 in the Rose Bowl, and then lost to Ohio State 31-24 in overtime in the title game the next season. The Hokies played in the 1999 national championship game, losing to Florida State 46-29 in the Sugar Bowl.
After the Hurricanes and Hokies left the Big East, the BCS announced each league would be measured by three factors during a four-year period: bowl performance, number of ranked teams and average BCS rating for all conference teams.
Not even Tranghese was convinced his league would meet the BCS litmus test.
"I don't know that you could properly express in words the magnitude of my worry," Tranghese said. "It was off the charts. I went to our people and told them how serious it was and told them the BCS would do it. But I also thought and believed with all my heart that they wanted us to make it. It was in the best interest of college football that a conference with a Northeast presence make it. I felt if we got there or got close we'd get support for that reason. But we had to get there and I had to get our people to stop worrying about it and stop talking about it and just go play."
Who knew the Big East would play this well? West Virginia came within one victory of playing in the BCS Championship Game last season, but lost to rival Pittsburgh 13-9 on the final Saturday of the regular season. South Florida, which didn't start fielding a football program until 1997, won its first six games last season and climbed as high as No. 2 in the national rankings. Rutgers, which went to one bowl game in the first 131 years of its program, has played in the postseason three consecutive seasons. Even Connecticut was ranked for the first time last season.
"I didn't have a magic wand to say Rutgers is going to be this good or South Florida is going to be this good or Louisville is going to be this good," Tranghese said. "I just knew we had the potential. I just didn't know if we had enough time. I think fortunately a lot of things fell into place very quickly."
Big East's Top 10 Players Of BCS Era
Big East's Top 10 Games Of BCS Era

1. Ken Dorsey, quarterback, Miami: Dorsey was the consummate winner during his college career with a 38-2 record as the Hurricanes' starting quarterback. He set eight Miami records and was a two-time Big East Offensive Player of the Year.

2. Donovan McNabb, quarterback, Syracuse: McNabb was a four-year starter for the Orangemen and set Big East records for touchdown passes (77), passing yards (8,389) and total offense (9,950). He twice was named Big East Offensive Player of the Year and was the league's Player of the Decade for the 1990s.

3. Michael Vick, quarterback, Virginia Tech: As a freshman in 1999, Vick nearly led the Hokies to an improbable national championship. He led Division I-A in pass efficiency with a 180.4 rating, which still ranks third-highest in NCAA history. Vick was named Big East Offensive Player of the Year and Rookie of the Year and finished third in Heisman Trophy voting, which was then the highest finish by a freshman.

4. Larry Fitzgerald, wide receiver, Pittsburgh: In only 26 games with the Panthers, Fitzgerald became the most prolific receiver in Big East history. In 2003, he set league records with 92 catches for 1,672 yards and 22 touchdowns. He finished his career with 161 catches for 2,728 yards with 34 touchdowns and caught at least one touchdown pass in an NCAA-record 18 consecutive games.

5. Bryant McKinnie, offensive tackle, Miami: The 2001 Outland Trophy winner never allowed a sack during his two seasons at left tackle. He was a two-time All-America selection and even finished eighth in Heisman Trophy voting in 2001.

6. Corey Moore, defensive end, Virginia Tech: Moore might have been an even bigger star than Vick during Virginia Tech's improbable rise during the 1999 season. Moore had 31 sacks during his final two college seasons and won the Bronko Nagurski Trophy and Lombardi Award.

7. Pat White, quarterback, West Virginia: The fleet-footed passer led the Mountaineers to a 38-35 upset of Georgia in the 2006 Sugar Bowl, throwing for 120 yards with one touchdown on 11-for-14 passing. Last season, White threw for 176 yards with two touchdowns and ran for 150 yards in a 48-28 rout of Oklahoma in the Fiesta Bowl.

8. Sean Taylor, safety, Miami: The late NFL star was one of only four true freshmen to contribute to Miami's 2001 national championship team and was the country's most-feared safety by his junior season. As a junior, Taylor was a consensus All-American, won the Thorpe Award as college football's best defensive back and was named Big East Defensive Player of the Year.

9. Santana Moss, wide receiver, Miami: Moss was one of Miami's most-feared offensive weapons from 1997-2000. He set school records for receiving yards (2,546), punt return yards (1,196) and punt return touchdowns (six). His 143 career receptions are tied with Michael Irvin for third-most in school history and his 19 touchdown catches are fifth-most.

10. Dan Morgan, linebacker, Miami: A converted fullback, Morgan became the first Miami freshman since Ray Lewis in 1993 to start at linebacker. As a senior, Morgan became the first player in college football history to win the Butkus Award, Bronko Nagurski Award and Bednarik Award in the same season.

1. Ohio State 31, Miami 24 (2 OT) -- Jan. 3, 2003: The No. 2 Buckeyes beat the No. 1 Hurricanes in the Fiesta Bowl after getting a controversial pass-interference call against Miami's Glenn Sharpe in overtime. The loss prevented the Hurricanes from winning a second straight national championship.

2. Pittsburgh 13, West Virginia 9 -- Dec. 1, 2007: With the No. 2 Mountaineers only needing to win their regular-season finale to secure a spot in the BCS Championship Game, the unranked Panthers pulled off one of the biggest upsets in recent college football history. Pittsburgh held the Mountaineers to only 183 yards offense in the 100th edition of the "Backyard Brawl."

3. Miami 28, Florida State 27 -- Oct. 12, 2002: Haunted by Wide Right I, II and III, Florida State endured Wide Left I when kicker Xavier Beitia missed a potential game-winning field goal from 43 yards as time expired in the Orange Bowl.

4. West Virginia 38, Georgia 35 -- Jan. 2, 2006: The No. 11 Mountaineers stunned the No. 8 Bulldogs in their backyard after the Sugar Bowl was moved from New Orleans to Atlanta because of damage from Hurricane Katrina. Mountaineers tailback Steve Slaton ran for 204 yards and had a pair of 52-yard touchdown runs.

5. Rutgers 28, Louisville 25 -- Nov. 9, 2006: In what might have been the biggest game played at Rutgers since the very first college football game took place there in 1869, the No. 14 Scarlet Knights stunned No. 4 Louisville 28-25. After Rutgers rallied from an 18-point deficit, kicker Jeremy Ito made a 28-yard field goal as time expired.

6. West Virginia 46, Louisville 44 (3 OT) -- Oct. 15, 2005: The Mountaineers rallied from a 17-point deficit after halftime to stun the Cardinals in a thriller. In his first college start, Slaton ran for a school-record six touchdowns after the half. The game ended when Louisville quarterback Brian Brohm was tackled on a two-point conversion try.

7. Miami 27, Florida State 24 -- Oct. 7, 2000: The Hurricanes ended FSU's 17-game winning streak on Wide Right III. After Miami went ahead in the final minutes, the Seminoles still had a chance to tie the game at the end of regulation. But walk-on kicker Matt Munyon missed a 49-yard field goal as time expired.

8. Syracuse 50, Virginia Tech 42 (3 OT) -- Nov. 9, 2002: A week after the Hokies were upset by Pittsburgh, the Orangemen stunned them in the Carrier Dome to knock Tech out of the Big East title race. Damien Rhodes scored on a 25-yard run and two-point conversion to put Syracuse ahead in the third overtime, then Tech quarterback Bryan Randall's pass was intercepted to end the game.

9. Pittsburgh 31, Virginia Tech 28 -- Nov. 8, 2003: The No. 25 Panthers ended the No. 5 Hokies' hopes of sneaking into the national championship game with an upset at Heinz Field. Virginia Tech squandered a spectacular performance from tailback Kevin Jones, who ran for 241 yards and four touchdowns.

10. Syracuse 28, Virginia Tech 26 -- Nov. 14, 1998: Syracuse quarterback Donovan McNabb threw up on the sideline before the final play, then threw a 13-yard touchdown pass to Stephen Brominski to win the game. Syracuse won its next two games to win its second straight Big East title.

Big East's Top 10 Teams Of BCS Era
Big East's Top 10 Moments Of BCS Era

1. 2001 Miami: The Hurricanes finished 12-0 and beat their opponents by an average of 33.2 points, including a 37-14 rout of Nebraska in the Rose Bowl. Ten players who started for Miami during the 2001 season were first-round selections in the next three NFL drafts.

2. 2002 Miami: Even without 11 players who were selected in the previous NFL draft, the Hurricanes again finished the regular season with an unblemished 12-0 record. Miami routed No. 6 Florida 41-16 on the road -- the Gators' most lopsided loss in "The Swamp" in more than two decades.

3. 1999 Virginia Tech: Led by freshman Michael Vick, the Hokies went 11-0 before playing Florida State in the Sugar Bowl for the national title. Virginia Tech led the Big East in total defense and ranked in the top 10 nationally in scoring defense, pass defense and run defense.

4. 2000 Miami: The Hurricanes lost to eventual Rose Bowl champion Washington 34-29 in the second game, but then won 10 consecutive games to finish the season. Miami beat No. 1 Florida State 27-24 in the Orange Bowl. The Hurricanes beat No. 2 Virginia Tech 41-21.

5. 2005 West Virginia: Led by speedy quarterback Pat White and tailback Steve Slaton, the Mountaineers gave the Big East much-needed credibility with their 38-35 victory over Georgia in the Sugar Bowl. West Virginia's only loss was a 34-17 defeat to rival Virginia Tech.

6. 2006 Louisville: The Cardinals' only blemish was a 28-25 loss at Rutgers, in which they blew an 18-point lead and lost on a last-second field goal. Louisville averaged 39 points per game and led the country in total offense during the regular season.

7. 2003 Miami: Much of the core of star players who led the Hurricanes to consecutive national championship games had left, but Miami ran its record to 7-0 and climbed as high as No. 2 in the country. The 2003 Hurricanes were perhaps best known for their miraculous comebacks.

8. 2000 Virginia Tech: The Hokies started the season 7-0 in Vick's sophomore season, but then lost at Miami 41-21. Virginia Tech scored 40 points or more in eight of its 12 games, including a 41-20 rout of Clemson in the Gator Bowl. Vick threw for 1,234 yards with eight touchdowns and turned pro after the 2000 season.

9. 2007 West Virginia: The Mountaineers were one victory away from a spot in the national championship game. Instead, Pittsburgh beat West Virginia 13-9 in the 100th edition of the "Backyard Brawl." The Mountaineers settled for the Fiesta Bowl, where interim coach Bill Stewart directed his team to a 48-28 rout of Oklahoma.

10. 1998 Syracuse: Led by QB Donovan McNabb, the Orangemen lost at Tennessee 34-33 in the opener and then won at No. 13 Michigan 38-28 in week 2. Syracuse scored 70 points against Rutgers and 63 against Cincinnati before blasting Miami 66-13 to win its second straight Big East title.

1. Three leave for ACC: Three of the Big East's traditional powers -- Boston College, Miami and Virginia Tech -- announced they would leave for the ACC during the summer of 2003. Big East commissioner Mike Tranghese called the defections "the deepest, darkest period in the history of this league."

2. Miami wins national championship: Perhaps the greatest Hurricane team of all time beat the No. 2 Cornhuskers 37-14 in the 2002 Rose Bowl to cap an unbeaten 12-0 season and win the school's fifth national championship.

3. West Virginia stuns: After the defections, West Virginia proved the Big East could still play football by beating Georgia 38-35 in the 2006 Sugar Bowl. The Mountaineers were heavy underdogs playing in the Georgia Dome, after Hurricane Katrina caused the game to be moved from New Orleans to Atlanta.

4. Vick's one-man show: Freshman quarterback Michael Vick nearly led Virginia Tech to a victory in the 2000 Sugar Bowl, running for 97 yards and one touchdown and throwing for 225 yards and one score.

5. Mountaineers find magic: Only a few weeks after coach Rich Rodriguez abruptly left for Michigan, West Virginia stunned No. 4 Oklahoma 48-28 in the Fiesta Bowl. Quarterback Pat White passed for 176 yards and two touchdowns and ran for 150 yards.

6. Brawl on Bourbon Street: A few days before No. 3 Miami played No. 7 Florida in the 2001 Sugar Bowl, players from both teams fought on Bourbon Street. The Hurricanes had the last laugh, beating the Gators 37-20.

7. Miami stomps logo, then gets stomped: Miami went to Louisville in the third game of the 2006 season and stomped on the Cardinal logo at midfield during pregame warm-ups at Papa John's Stadium. The Cardinals answered by whipping the Hurricanes 31-7, giving coach Bobby Petrino his first signature win.

8. Lightning strikes in Blacksburg (literally): A powerful thunderstorm cancelled Virginia Tech's 2000 opener against Georgia Tech in the BCA Classic. A lightning bolt struck ESPN announcer Lee Corso's rental car in a parking lot outside Lane Stadium.

9. Four-way tie in 2004 Four Big East teams -- Boston College, Pittsburgh, Syracuse and West Virginia -- were declared co-champions in 2004 after each finished with a 4-2 record in league play.

10. Temple stuns Virginia Tech: The Owls upset the No. 14 Hokies 28-24 at Lane Stadium on Oct. 17, 1998. It was Temple's first Big East road victory in 27 games and its first win over a ranked opponent in 11 years.
Mark Schlabach covers college football and men's college basketball for ESPN.com. You can contact him at schlabachma@yahoo.com.
College Football and Basketball
College football writer for ESPN.com
Author of seven books on college football
Formerly at the Washington Post and the Atlanta Journal-Constitution
SPONSORED HEADLINES
MORE COLLEGE FOOTBALL HEADLINES
MOST SENT STORIES ON ESPN.COM
The BCS at 10
With 10 years of college football's life under the Bowl Championship Series in the books, ESPN.com takes a look back at the BCS decade. We'll tackle everything this week from the memorable games, plays and teams to the BCS vs. playoff debate to the possible landscape in 2018.
Monday
•
Maisel: Paradox found
•
Low: Best BCS bowl games
•
Miller: Best BCS bowl performances
SportsNation
•
Rank 'em: Best BCS bowl games
•
Rank 'em: Best BCS bowl performances
•
Chat wrap: Chris Low

•
Chat wrap Ted Miller

Tuesday
•
Maisel: Say yes to the BCS
•
Forde: Say no to the BCS
•
Miller: Biggest BCS bowl slights
SportsNation
• Rank 'em: Biggest BCS bowl slights
• Chat wrap: Ivan Maisel


• Chat wrap: Pat Forde

Wednesday
• Schlabach: Ranking the BCS champions
• Schlabach: Defining coaches of the BCS era
• Rittenberg: Memorable BCS bowl coaching moves

SportsNation
• Rank 'em: Which BCS champion is the best?
• Rank 'em: Which coach defines the era?
• Chat wrap: Adam Rittenberg


• Chat wrap: Mark Schlabach

Thursday
Conference Breakdowns
ACC
Dinich: ACC has been a dud in BCS era
Big 12
Griffin: Big 12 becomes superpower in BCS era
Big East
Schlabach: Big East thriving in BCS
Big Ten
Rittenberg: BCS system has been good to Big Ten
Pac-10
Miller: USC dominates Pac-10 in BCS era
SEC
Low: SEC successfully navigates BCS system
Indies/Non-BCS
Rittenberg: No complaints from South Bend
SportsNation
• Chat wrap: Tim Griffin

Friday
• Schlabach: The future is now
• Griffin: Defining players of the BCS decade
• Dinich: Memorable BCS bowl moments

SportsNation
•
Rank 'em: Defining players of the BCS era?
•
Rank 'em: Memorable BCS bowl moment?
•
Chat: Heather Dinich, 2 ET