Discussion
Big-name coaches could ride off into the sunset in 2009
I learned long ago that most readers don't forget many of your predictions.
My 2008 college football preseason poll debuted Jan. 8, the day after LSU beat Ohio State 38-24 in the BCS Championship Game in the Louisiana Superdome.
Georgia was my preseason No. 1 for 2008.
Obviously, I was wrong.
The Bulldogs were undone by injuries, poor defense and a lack of discipline.
But Oklahoma was my choice at No. 2. And Florida was No. 3.
Of course, the ...

Read full story
ESPN.COM'S LOOK AT THE YEAR AHEAD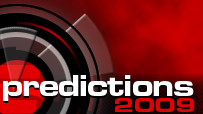 What to expect across the sports spectrum in 2009? ESPN.com offers things you might see coming, some you won't and some that will just flat-out surprise. Predictions to consider:
PRO SPORTS
COLLEGE SPORTS
MORE SPORTS
MORE COLLEGE FOOTBALL HEADLINES