Discussion
Pipeline: Florida State vs. Florida
Originally Published:
May 10, 2010
ESPN.com
Which college team has provided the NFL the best pipeline of talent from 1979 to 2009? We're breaking it down bracket-style as the top 16 schools battle it out for the title.
COLLEGE-TO-NFL PIPELINE
No. 4 Florida State No. 13 Florida
This is a much better matchup on paper than it has been on the field in recent years, and much easier to make a case for the Noles' winning.
Overall, Florida State has been represented by 63 Pro Bowlers, ...

Read full story
COLLEGE TO NFL PIPELINE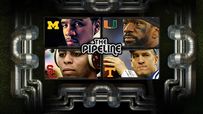 Which college football team produced the best NFL pipeline during the past three decades? We determine the best in a playoff.
Mark Schlabach »
Bracket »
FINAL
SEMIFINALS
ROUND 2
ROUND 1
FEATURES
VIDEO
SPORTSNATION
MORE COLLEGE FOOTBALL HEADLINES