Discussion
Pipeline: Florida State vs. Ohio State
Originally Published:
May 11, 2010
ESPN.com
Which college team has provided the NFL the best pipeline of talent from 1979 to 2009? We're down to the Elite Eight as we decide which campus has the most fertile NFL grounds.
COLLEGE-TO-NFL PIPELINE
No. 4 Florida State No. 5 Ohio State
Bobby Bowden produced almost as many NFL players as he did "Dadgummits." The Seminoles proved to be a dependable source of defenders for the Sunday league throughout Bowden's 34 years as head coach. It is ...

Read full story
COLLEGE TO NFL PIPELINE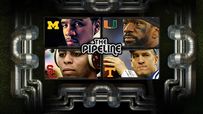 Which college football team produced the best NFL pipeline during the past three decades? We determine the best in a playoff.
Mark Schlabach »
Bracket »
FINAL
SEMIFINALS
ROUND 2
ROUND 1
FEATURES
VIDEO
SPORTSNATION
MORE COLLEGE FOOTBALL HEADLINES