Discussion
Pipeline: Pitt vs. UCLA
Originally Published:
May 11, 2010
ESPN.com
Which college team has provided the NFL the best pipeline of talent from 1979 to 2009? We're down to the Elite Eight as we decide which campus has the most fertile NFL grounds.
COLLEGE-TO-NFL PIPELINE
No. 3 Pitt No. 6 UCLA
You want to talk NFL pipelines? Just give me the 1980 Pitt Panthers roster.
That team lost one game, but we might have to go back and check to make sure. In the following spring's draft, Pitt had three first-round ...

Read full story
COLLEGE TO NFL PIPELINE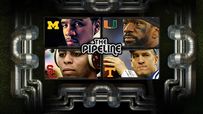 Which college football team produced the best NFL pipeline during the past three decades? We determine the best in a playoff.
Mark Schlabach »
Bracket »
FINAL
SEMIFINALS
ROUND 2
ROUND 1
FEATURES
VIDEO
SPORTSNATION
ESPN FAN SHOP