Discussion
Pipeline: USC vs. Georgia
Originally Published:
May 11, 2010
ESPN.com
Which college team has provided the NFL the best pipeline of talent from 1979 to 2009? We're down to the Elite Eight as we decide which campus has the most fertile NFL grounds.
COLLEGE-TO-NFL PIPELINE
No. 1 USC No. 8 Georgia
The breadth and scope of USC's presence in the NFL draft over the past three decades have survived changes in style, in coaches and in fortunes on the field. In the past decade, when Georgia sprayed players at the NFL ...

Read full story
COLLEGE TO NFL PIPELINE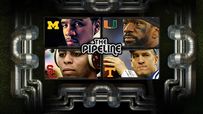 Which college football team produced the best NFL pipeline during the past three decades? We determine the best in a playoff.
Mark Schlabach »
Bracket »
FINAL
SEMIFINALS
ROUND 2
ROUND 1
FEATURES
VIDEO
SPORTSNATION
MORE COLLEGE FOOTBALL HEADLINES