Discussion
Pipeline: Miami vs. Pitt
Originally Published:
May 12, 2010
ESPN.com
Which college team has provided the NFL the best pipeline of talent from 1979 to 2009? We're down to the Final Four as we decide which campus has the most fertile NFL grounds.
COLLEGE TO NFL PIPELINE
No. 2 Miami No. 3 Pitt
If you wanted to design a project to best illustrate the rise of Miami football, you could do a lot worse than this Pipeline Bracket.
Over these three decades, the Hurricanes have arisen from the (nearly) dead to ...

Read full story
COLLEGE TO NFL PIPELINE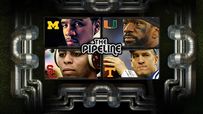 Which college football team produced the best NFL pipeline during the past three decades? We determine the best in a playoff.
Mark Schlabach »
Bracket »
FINAL
SEMIFINALS
ROUND 2
ROUND 1
FEATURES
VIDEO
SPORTSNATION
MORE COLLEGE FOOTBALL HEADLINES