Discussion
Tuberville: Auburn should be '04 champ
Tommy Tuberville's 2004 Auburn football team was never given an opportunity to play Southern California for the national championship.
Now that the NCAA has ruled that the Trojans will have to vacate their 55-19 victory over Oklahoma in the 2005 Orange Bowl because star running back Reggie Bush was ineligible, Tuberville says the Tigers should be named national champions.
"We never complained when they went by the process the last time, and they should go by the process this time," ...

Read full story
FALL OF TROY?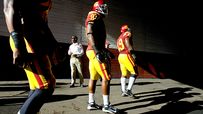 The NCAA released its sanctions against USC on Thursday, doling out penalties that include postseason bans and scholarship reductions, among others, for the football and men's basketball programs.
Story »
News
Football analysis
ESPN L.A.'s take
Basketball analysis
Video
ESPN Radio
SportsNation
MORE COLLEGE FOOTBALL HEADLINES