Discussion
Carroll: NCAA off base with sanctions
Updated:
June 15, 2010, 9:23 PM ET
Associated Press
RENTON, Wash. -- Days after the NCAA trampled his former Southern California Trojans, coach Pete Carroll's mindset remains the same from afar.
Fight on!
Carroll says the NCAA had no basis for unfair and "really, really harsh" sanctions on USC.
"There's nothing there," he said Tuesday of the investigation into his program's knowledge of former Trojans running back Reggie Bush's improper benefits and relationship with an agent.
"Now the word's out. You can do this," ...

Read full story
FALL OF TROY?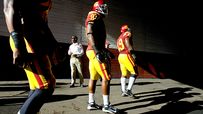 The NCAA released its sanctions against USC on Thursday, doling out penalties that include postseason bans and scholarship reductions, among others, for the football and men's basketball programs.
Story »
News
Football analysis
ESPN L.A.'s take
Basketball analysis
Video
ESPN Radio
SportsNation
MORE COLLEGE FOOTBALL HEADLINES