Discussion
Give 'em a hand
In Texas, football fans show their loyalty with their fingers
Updated:
August 13, 2010, 11:32 AM ET
By
LaRue Cook
| ESPN The Magazine
Hook 'em Horns
Legend has it that back in 1955, Longhorns head cheerleader Harley Clark and buddy Henry Pitts were playing shadow puppets on the wall at the campus union when they realized one of their silhouettes resembled the horns of Bevo, UT's venerable mascot. (Here, Bevo's facsimile, Hook'Em, gets a lift from cheerleaders Malori Wofford, left, and Jenny Barton.) Not long after, Clark flashed the sign at a pep rally. "Everybody held their horns up and I officially proclaimed it ...

Read full story
ESPN The Magazine: August 09, 2010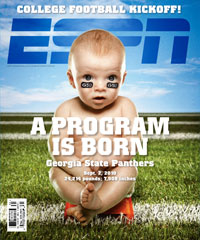 Check out the content from ESPN The Magazine's August 23, 2010 issue below.
Features
Videos