Discussion
Give 'em a hand
In Texas, football fans show their loyalty with their fingers
Updated:
August 13, 2010, 11:33 AM ET
By
LaRue Cook
| ESPN The Magazine
Horned Frog
TCU didn't adopt a signature signal until the early 1980s, when head cheerleader Chad Schrotel invented the curled index-and-middle-finger salute. Some fans say the flexed knuckles represent the horns of their mascot, SuperFrog. Others suggest its shape comes from the motion used to playfully jab -- or "frog" -- a classmate. Either way, the hand sign has become an even bigger hit in Fort Worth since TCU has been to five straight bowls, including the Fiesta Bowl last season. ...

Read full story
ESPN The Magazine: August 09, 2010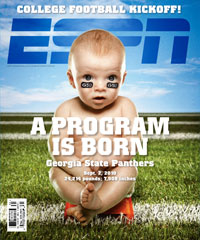 Check out the content from ESPN The Magazine's August 23, 2010 issue below.
Features
Videos
MORE COLLEGE FOOTBALL HEADLINES