Discussion
Be wary of these teams when …
Some coaches are great at scripting plays.
Some teams are most effective running their two-minute offense or when they get into the red zone.
You don't want to play certain teams on the road or on Thursday night, and some teams will make a punter shake in his boots when his feet are standing at his own goal line.
Here's a look at the coaches and teams you don't want to face in certain situations:
1. When punting out of the end zone: Florida Believe ...

Read full story
2010 SEASON PREVIEW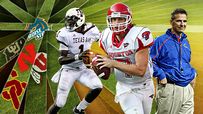 Will the SEC stranglehold on the title continue? Is this the year a BCS buster breaks through to the title game? What new stars will emerge? ESPN.com will answer all of those 2010 questions and more as we move toward the season's kickoff.
Preview home »
Stories
Roaring Twenties: Lists of 20 for '10
Bloggers
Insider
Video
MORE COLLEGE FOOTBALL HEADLINES