Discussion
Twenty teams with best title shot
You have already seen our power rankings.
But who are the 20 teams with the best actual shot at playing for a national title? We broke down the rosters and the schedule and came up with this list.
Remember, this is not a top-20 list. Rather, it is a list of teams and their chances of playing for a national championship. Does this mean Iowa and Oregon are going to meet in the BCS title game? Nope. It just means their roads might be easier than others.
1. ...

Read full story
2010 SEASON PREVIEW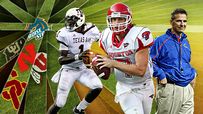 Will the SEC stranglehold on the title continue? Is this the year a BCS buster breaks through to the title game? What new stars will emerge? ESPN.com will answer all of those 2010 questions and more as we move toward the season's kickoff.
Preview home »
Stories
Roaring Twenties: Lists of 20 for '10
Bloggers
Insider
Video