Discussion
Jadeveon Clowney still No. 1
Five-star DE started as the nation's top prospect and finishes there
Originally Published:
January 19, 2011
By
Jamie Newberg
| ESPN Recruiting
Defensive end Jadeveon Clowney (Rock Hill, S.C./South Pointe) went wire-to-wire as the nation's No. 1 prospect in the ESPNU 150. With that distinction comes pressure and hype, but Clowney lived up to it, and then some.
"There is no doubt that Clowney is the No. 1 player in this class. No doubt," said South Pointe coach Bobby Carroll. "He lived up to every ounce of it. Clowney's bigger, stronger, and may have gotten faster and quicker. All I can say is that the proof is in the ...

Read full story
COUNTDOWN TO NATIONAL SIGNING DAY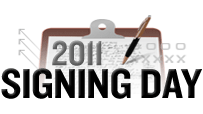 National signing day is closing in fast and ESPN Recruiting will have you prepared by the time players start signing their national letters of intent and faxing them in on Wednesday, Feb. 2.
ESPNU 150 | Class rankings | Scorecard
---
•
Updated ESPNU 150
•
Scouts on why players moved up
•
Checking in on uncommitted 150 players
•
Clowney is No. 1 wire-to-wire
•
Haubert: Chat wrap
•
Updated class rankings
2007 ESPNU 150: Where are they now?
•
No. 1-25: ND's QB to WR combo pans out
•
No. 26-50: Dez Bryant dominates right away
•
No. 51-75: Cam Newton from Gator to Tiger
•
No. 76-100: OL Vlachos, Bulaga come up big
•
No. 101-125: Morgan, Sturdivant shine in ACC
•
No. 126-150: Forcier, Bostick never pan out
•
Reranking 2007's top 10 classes
•
Hits and misses from 2007 class
•
All Class of 2007 team photo gallery
Conference breakdowns
•
ACC: Seminoles leading the way
•
Big Ten: Buckeyes at the top again
•
Big 12: OU, UT in their own class
•
Pac-12: Trojans still getting it done
•
SEC: Alabama on top of loaded conference
•
Big East: Louisville coming on strong
•
Best of the rest: ND, TCU dreaming big
Who's still out there?
•
Best available QBs
|
All uncommitted QBs
•
Best available RBs
|
All uncommitted RBs
•
Best available FBs
|
All uncommitted FBs
•
Best available WRs
|
All uncommitted WRs
•
Best available TEs
|
All uncommitted TEs
•
Best available OTs
|
All uncommitted OTs
•
Best available OGs
|
All uncommitted OGs
•
Best available Cs
|
All uncommitted Cs
•
Best available DTs
|
All uncommitted DTs
•
Best available DEs
|
All uncommitted DEs
•
Best available ILBs
|
All uncommitted ILBs
•
Best available OLBs
|
All uncommitted OLBs
•
Best available CBs
|
All uncommitted CBs
•
Best available S
|
All uncommitted S
•
Best available ATHs
| |
All uncommitted ATHs
•
Signing day preview:
Everything you need to know for the big day
MORE COLLEGE FOOTBALL HEADLINES