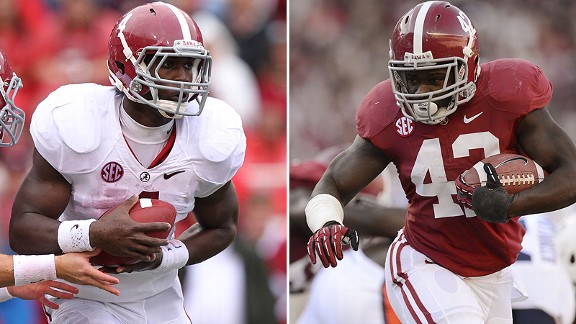 2013 ESPN TEAM RATINGS
| RK | TEAM | FPI |
| --- | --- | --- |
| 1 | Florida State, ACC | 35.7 |
| 2 | Oregon, Pac-12 | 29.3 |
| 3 | Alabama, SEC | 27.1 |
| 4 | Stanford, Pac-12 | 26.6 |
| 5 | Baylor, Big 12 | 26.1 |
| 6 | Arizona State, Pac-12 | 24.8 |
| 7 | Ohio State, Big Ten | 23.0 |
| 8 | Auburn, SEC | 22.2 |
| 9 | Washington, Pac-12 | 21.6 |
| 10 | UCLA, Pac-12 | 20.3 |
| RK | TEAM | RAT |
| --- | --- | --- |
| 1 | Stanford, Pac-12 | 97.0 |
| 2 | Florida State, ACC | 95.8 |
| 3 | Auburn, SEC | 95.5 |
| 4 | Michigan State, Big Ten | 94.7 |
| 5 | Arizona State, Pac-12 | 94.7 |
| 6 | Alabama, SEC | 94.6 |
| 7 | Ohio State, Big Ten | 94.1 |
| 8 | Missouri, SEC | 92.9 |
| 9 | UCLA, Pac-12 | 91.8 |
| 10 | Baylor, Big 12 | 90.9 |
COLUMNISTS
Ivan Maisel
Brown's burden was past glory
Like many great coaches, Mack Brown was unable to live up to his own success.
Mark Schlabach
No move is the right move
With Nick Saban out of the picture, Texas should keep Mack Brown.
Gene Wojciechowski
COLLEGE FOOTBALL PHOTO GALLERIES
LATEST GALLERIES
Brian Bahr /Getty Images
10 Photos
COLLEGE FOOTBALL BLOG NETWORK
COLLEGE BOWL MANIA
Bowl season is nearly here. It's time to put your college football knowledge to the test. Check your entry

LOWER DIVISION FOOTBALL PLAYOFFS
Find out who will play in the lower division college football playoffs.
RECRUITING NATION
Short in stature but long on talent, two high school QBs are turning heads.
Damon Sayles

ESPN COLLEGE FOOTBALL APP
Follow all the college football action all season long with the ESPN College Football app. Get big-play clips instantly and customized content around your team. Download »


Find Tickets:
Buy College Football Tickets and all other Football Tickets at StubHub!

See all tickets
COLLEGE FOOTBALL TEAM NEWS
Conferences:

FANTASY FOOTBALL
Check out College Football Challenge, just one of our fantasy games. Play!
MEDIA
Podcasts
Radio
Kirk Herbstreit, CFB
Play Podcast ESPN CFB analyst Kirk Herbstreit talks about whether Nick Saban considered leaving Alabama, the front-runners for the Texas coaching job, Chip Kelly's future, Art Briles' fit at Baylor and more.
Jameis Winston, Florida State
Play Podcast Florida State QB Jameis Winston comments on winning the Heisman Trophy, what this season has been like, preparing to face Auburn in the BCS title game and more.
Johnny Manziel, Texas A&M
Play Podcast Texas A&M QB Johnny Manziel talks about being a finalist for the Heisman Trophy after winning the award last year, his popularity, receiving advice from LeBron James, his future and more.
TV
'CFB Live' | ESPN2, Mon.-Fri., 5 ET


Get your daily college football fix from the "College Football Live" gang.