Orton, Quinn set South Bend ablaze
Originally Published:
October 3, 2004
By
Brad Edwards
| Special to ESPN.com
South Bend has long been a stage for many of college football's legendary players and memorable moments.
And even though Saturday's Purdue-Notre Dame game certainly wasn't a classic and didn't feature many future Hall of Famers, it was, in its own way, another game to remember.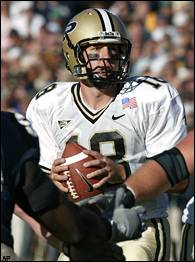 Kyle Orton tossed four touchdown passes against Notre Dame.
Let's start with the quarterbacks, who combined to complete 51 of 81 passes (63 percent) for 873 yards with five touchdowns and no interceptions. Notre Dame's Brady Quinn threw for 432 yards, which was the most in the 75-year history of Notre Dame Stadium (by either a Notre Dame or opposing player). In school history, it was second only to the 526 yards Joe Theismann racked up against USC in 1970.
Kyle Orton of Purdue had four TD passes and increased his season total to 17 through four games, which is already a career high. He also remained interception free for 2004 and boosted his eye-popping statistics. The NCAA does not keep a record for most TD passes without an INT to start a season. The best such performance I can document is by Virginia's Matt Blundin, who had 20 TD passes in 1991 before finally being intercepted in the second half of his bowl game.
Orton's 97-yard TD pass to Taylor Stubblefield in the third quarter was the longest play from scrimmage Notre Dame has allowed in its illustrious history -- the only play of 90 yards or more ever given up by the Irish. Believe it or not, that was the second 97-yard TD drive of the game for the Boilermakers, who went that distance in 11 plays late in the second quarter.
The biggest play of the game, however, was a 100-yard kickoff return TD by Purdue's Jerome Brooks in the first quarter. It was the first end-to-end return allowed by Notre Dame since 1974, when USC's Anthony Davis ignited one of the most memorable comebacks in college football history.
But the Irish did have some positive notes aside from Quinn's numbers. Anthony Fasano (155 yards) and Rhema McKnight (113) gave Notre Dame a pair of 100-yard receivers for the first time since its 1977 game vs. Purdue. Fasano's yardage was a school record for a tight end, breaking a mark set by three-time All-American Ken McAfee, who was part of the receiving duo in 1977.
But the most important note of the game, at least for Purdue, was the 41-16 final score, which gave the Boilermakers their first win in South Bend since 1974 and improved their record to 4-0 this season.
Proof is in the defense
Mike Leach has built his reputation on offense. In four-plus seasons at Texas Tech, his teams have put up monstrous totals of yards and points, and his players have set numerous offensive records. But there is one defense he has yet to solve: the Oklahoma Sooners.
Mike Leach offense vs. OU
Category
5 games
vs. OU
Other 52 games
Pts per game
15.8
36.7
Pass YPG
277.2
389.0
Total YPG
319.4
483
TD-INT
4-14
164-69
Leach was offensive coordinator at OU before heading to Lubbock, so it's safe to say that the Oklahoma coaching staff -- particularly Bob Stoops -- understands his scheme.
The results of their meetings prove it. Texas Tech has been held to four TD passes in Leach's five games against the Sooners, and four of the 10 lowest single-game point totals in the Leach era, including the 13 on Saturday, have come against Oklahoma. OU entered the game without an interception this season but made three against Tech's Sonny Cumbie.
Power failure
On a day when Duke, Vanderbilt and Northwestern were all victorious, Notre Dame joined fellow traditional powers Alabama and Penn State in tasting the agony of defeat -- an occurrence that has become all too common in recent years.
Saturday was the fifth time in the last five seasons that the Fighting Irish, Crimson Tide and Nittany Lions all lost on the same day. This happened only once from 1961 through 1999, and it took place on Sept. 14, 1991, when the programs simultaneously had road games at Michigan, Florida and USC, respectively -- three of their six combined losses that season.
Evening the score
Alabama's loss on Saturday came at the hands of Lou Holtz's South Carolina Gamecocks, which improved the legendary coach's record against the Crimson Tide to 3-3. Interestingly, Holtz has faced a different Alabama head coach each in each meeting.


| | | | |
| --- | --- | --- | --- |
| Season | Holtz's team | Opposing coach | Result |
| 1979 | Arkansas | Paul "Bear" Bryant | lost (24-9) |
| 1986 | Notre Dame | Ray Perkins | lost (28-10) |
| 1987 | Notre Dame | Bill Curry | won (37-6) |
| 2000 | South Carolina | Mike DuBose | lost (27-17) |
| 2001 | South Carolina | Dennis Franchione | won (37-36) |
| 2004 | South Carolina | Mike Shula | won (20-3) |
After midnight
Late Saturday night, after most of America had stopped watching football, Hawaii quarterback Timmy Chang advanced one more significant spot on the all-time passing list. He threw for 378 yards against Tulsa, which increased his career total to 13,857 and moved him past Philip Rivers.
In NCAA history, only Ty Detmer (15,031) and Steve McNair (14,496) have thrown for more yardage than Chang currently has. With nine games remaining on Hawaii's schedule, Chang should pass both players before the end of the season if he stays healthy.
Lasting Impressions
College GameDay Final's Trev Alberts, Mark May and Rece Davis weigh in with their biggest impressions from Saturday's action.

Trev's Take

Let's stop all this talk about BCS Busters. The difference between these teams and the teams at the top of the polls is painfully obvious to me after this weekend. If one of these teams goes undefeated, it deserves to play in a nice bowl somewhere, but it won't belong on the same field with an Oklahoma or a USC or a Georgia. The only team that can convince me otherwise is Louisville, depending on how it plays Miami.

Mark's Take

We came into this season knowing that the Big East was the weakest of the BCS conferences, and we've now seen its two best teams, West Virginia and Boston College, lose to middle-of-the-road ACC teams (Virginia Tech and Wake Forest) in the last two weeks. The BCS has no legal right to take away the Big East's automatic bid, but it's a shame that one of these teams will play in a BCS bowl instead of someone more deserving.

Rece's Take

That West Virginia was so grossly over ranked just shows another flaw in the system that's deciding who plays for the national championship. Too many voters in the polls are trying to prognosticate where a team might finish based on its schedule, rather than just ranking the teams by what they've done on the field this season. The polls are intended to judge the teams, not measure how well the voters can predict the future.

Hawaii hopes he'll also keep protecting the football. Chang entered this season with a career TD-INT mark of 79-67 but has thrown eight touchdowns this year without throwing a pick.
Offensive outburst
At about the same time as Chang was moving past Rivers, the highest-scoring regulation game in Division I-A history was coming to an end. San Jose State rallied from a 27-point first-half deficit to beat Rice 70-63. The teams combined for 19 touchdowns, and the Owls rushed for 570 yards and possessed the ball for 42:02 in defeat.
The unfortunate part is that only 4,093 fans in San Jose witnessed the game. The highest-scoring game in I-A history was played last season, when Arkansas beat Kentucky 71-63 in seven overtimes.
Jury deliberation proceeding
Nebraska is 3-1 on the season, but the jury is still out on how the West Coast offense is doing in Lincoln. The Huskers threw their eighth TD pass of the season against Kansas on Saturday, equaling the number the team threw in all of 2003. Nebraska also tossed three more interceptions, though, and now has 11 for the season, already surpassing the 10 from a year ago.
Helmet Stickers
Trev:
Jonathan Goddard, Marshall: 4 sacks, forced fumble vs. Miami (Ohio).
David Greene, Georgia: school record 5 TD passes vs. LSU.

Mark:
Anthony Davis, Wisconsin: 213 rush yds, 3 TD vs. Illinois.
Kyle Orton, Purdue: 385 pass yds, 4 TD vs. Notre Dame.


Rece:
Chase Lyman, Cal: 5 catches, 176 yds, 3 TD vs. Oregon State.
Junior Rosegreen, Auburn: SEC record 4 INT vs. Tennessee.
Noah Herron, Northwestern: 131 yds from scrimmage, 3 TD vs. Ohio State.


Brad Edwards is the research coordinator for College GameDay Final and is a regular contributor to ESPN.com. College GameDay Final airs during the season at Midnight ET.
ESPN Insider
• Analyzes college football and the CFB Playoff as part of ESPN's Stats & Information Group
• Analyst for both College GameDay on ESPN Radio and the ESPN College Football app
SPONSORED HEADLINES
MORE COLLEGE FOOTBALL HEADLINES
MOST SENT STORIES ON ESPN.COM
EDITORS' PICKS
Here's how every Power 5 team can get better.
Nation blog »

Who are the 10 best offensive playcallers?
Travis Haney

The 2014 season produced several memorable moments.
Watch