Inside the helmet
Updated:
November 9, 2004, 6:49 PM ET
By
Wayne Drehs
| ESPN.com
NORMAN, Okla.-- Slip behind the wheel of a vehicle, step hard onto the accelerator, then crash head-on into a wall, and there's going to be damage. Glass flies. Metal crumples. Everything inside is flung about as the laws of gravity demonstrate its awesome force.
Now crawl into the cleats of Oklahoma running back Adrian Peterson. Take the handoff from Sooners quarterback Jason White, barrel across the line of scrimmage and head-on into a 300-pound nose tackle. Pads collide. Brains rattle. Bodies ache.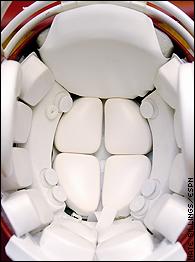 There's more than meets the eye with a peek inside an Oklahoma football player's helmet.
The two collisions have their similarities. Yet while the National Highway Traffic Safety Administration routinely studies the wreckage cause by automobile accidents, on-field impacts have long been overlooked.
Until now.
This season, Oklahoma became one of three schools (North Carolina and Virginia Tech) to use the Head Impact Telemetry System (HIT System) to monitor, analyze and record the severity of such on-field impacts.
It's another example of OU at the forefront of sports medicine and technology. In addition to its work with Simbex, Oklahoma has spent the last three offseasons working with Gatorade in a series of one-of-a-kind studies on heat stress.
The HIT System is a wireless device that analyzes the magnitude, direction and location of player-to-player impacts on the field, providing instant data to the team's athletic trainer via a laptop computer on the sideline. Any hit with an impact that reaches a pre-determined threshold triggers a pager on Sooners trainer Scott Anderson's hip.
"It allows the trainer to see an event or know about an event he might have missed," said Rick Greenwald, president of Simbex, a New Hampshire-based research and product development company specializing in biomechanical feedback systems. "It doesn't say, 'Take the player out of the game,' just pay attention to him. It's a medical tool, a new standard of care for instant sideline management."
The cumulative results at the end of the season not only help researchers learn more about impact-related brain injuries and the threshold with which concussions and other severe brain injuries occur, but could lead to changes in helmet design as well. Simbex recently partnered with helmet-maker Riddell to explore how the data collected can be used to make helmets safer in the future.
Research confidentiality agreements require that their identities be kept secret, but the group of Oklahoma players participating in the test includes an offensive lineman, defensive lineman, wide receiver, linebacker and cornerback.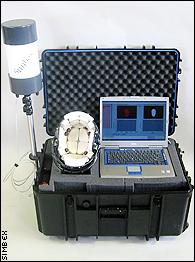 SimbexA sideline computer helps Oklahoma's training staff to monitor the severity of hits player take on the field.
In each of their helmets, six tiny springs, called "accelerometers," measure the degree of head movement during each impact. That movement is translated to a G-force rating, which is wirelessly radioed to the sideline laptop. There, the data is both instantly displayed and stored for future reference. Game, season and career profiles can be kept for each player.
Though it is supported in part by the National Center for Medical Rehabilitation Research at the National Institutes of Health, each helmet comes at a cost of $2,000 to the school. But it is money well spent, Anderson said.
"Brain injury research has always been quite subjective," he said. "With this system, it takes all the guesswork out of it. Regardless of what an athlete is saying, the data will tell you the degree of impact he endured."
Virginia Tech piloted the program last year, with researchers recording more than 3,300 hits during 35 practices and 10 games. Preliminary results showed that player's experience between 30 and 50 "significant impacts" each game. The majority registered impacts around 40 Gs; roughly 95 Gs appears to be the threshold that causes a concussion. So far this season, the Sooners have had "a bunch" of impacts 95 Gs or greater that haven't caused concussions, Anderson said.
"It just shows this is a work in progress," said Dr. Brock Schnebel, the Sooners' head team physician and the man credited with bringing HITS to Oklahoma. "If we continue to gather more and more and more data, the picture will become clearer along the way."
Though highlight reels are filled with blindside hits on quarterbacks and receivers flattened when streaking across the middle to catch a pass, it's the collisions between offensive and defensive linemen that concern researchers most. Over the course of the 2003 season at Virginia Tech, Greenwald said offensive linemen endured the most hits, followed by defensive linemen, running backs, linebackers, wide receivers and defensive backs. Quarterbacks recorded the fewest hits. The cumulative effect of the hits is a greater concern to the researchers than the impact of isolated hits of greater G-force.
"It's sort of like a boxer," Schnebel said. "It may not be one big hit that gets (offensive lineman) in trouble, but the long-term symptoms after multiple hits. We're worried that offensive linemen just bang and bang and bang and nobody realizes what it's doing to them."
The HIT System, though, has the potential to change that.
"It's something that's never been done before," Greenwald said. "And it has the possibility to absolutely revolutionize everything we know about brain injuries."
Wayne Drehs is a staff writer for ESPN.com. He can be reached at wayne.drehs@espn3.com.
Senior writer for ESPN.com
Written for ESPN.com since 2000
Three-time Sports Emmy Award winner