Petrino, Cardinals working on new contract
Updated:
December 8, 2004, 9:05 AM ET
By
Pat Forde
| ESPN.com
Louisville football coach Bobby Petrino, who was contacted by both Notre Dame and Mississippi about their coaching vacancies, has announced that he is staying with the Cardinals.
"During the season, I didn't feel it was appropriate to address speculation about other coaching vacancies," Petrino said in a statement released Tuesday afternoon by the school. "... I want to make it clear that I'm not interested in any other coaching jobs, and am happy at the University of Louisville."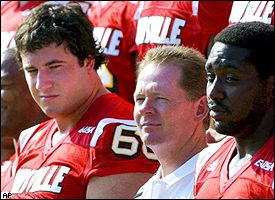 Bobby Petrino plans on working on conditioning more than ever before to get Louisville ready for the Big East.
The announcement is intended to put an end to weeks of speculation regarding the second-year head coach, who has led Louisville to a 10-1 record and oversees the No. 1 scoring offense in America. Petrino was the likely fallback choice at Florida if the Gators had not landed Urban Meyer, he was said to be the top choice at Ole Miss, and reports surfaced Monday night that indicated he and Notre Dame were close to an agreement.
Sources familiar with the situation say Notre Dame never actually offered Petrino the job, but the talks with Notre Dame were substantive enough that athletic director Tom Jurich was preparing to begin work on finding his third football coach in four years -- but in the end it didn't come to that. Instead, Petrino will take Louisville into the Big East Conference in 2005 and is expected to receive a greatly enhanced contract. He currently is making about $550,000 a year, plus incentives.
"I'm very excited about our move into the Big East, the opportunity to play in a BCS bowl game and the chance to compete for a national championship," Petrino said in the statement. "[Louisville president] Dr. James Ramsey and Tom Jurich, through their hard work and dedication, have made this the best job in the country. As I've stated before, Louisville is the perfect place to raise a family and I plan for all four of my children to graduate from high school in Louisville."
Jurich said Tuesday night he was worried he wouldn't be able to convince Petrino to stay.
"If I was an athletic director at any of these high-profile universities, he'd be the first guy on my list," Jurich said. "He's put together a magnificent product."
Petrino had refused to discuss other jobs prior to Louisville's season-ending victory over Tulane last Saturday -- the Cardinals' fifth straight game scoring 55 or more points, an NCAA record. Tuesday, as the Boston Globe was reporting that Notre Dame was turning its attention to Petrino, the coach was preparing a statement saying that he will stay with Louisville.
Petrino has a 19-5 record in two years at Louisville and will be taking the Cardinals into the Big East Conference next year, where it can compete for a BCS berth. Louisville narrowly missed out on an at-large BCS berth this year, finishing 10th in the final standings. Instead, Louisville will play Boise State on New Year's Eve in the Liberty Bowl.
As one coach after another announces that he is not a candidate for the Notre Dame job, one source says the school feels compelled at this point to find someone with ties to the school. That could put the spotlight New England offensive coordinator Charlie Weis, a Notre Dame graduate, or Buffalo Bills offensive coordinator Tom Clements, quarterback of the 1973 national championship team. According to a report in the Chicago Tribune on Wednesday, Notre Dame received permission from the Bills to talk to Clements about the vacancy.
Another coach with Notre Dame ties is Wisconsin's Barry Alvarez, a former assistant in South Bend to Lou Holtz.
Other names being reported for the Notre Dame job include: Boston College's Tom O'Brien and Northwestern's Randy Walker. A Kansas City Star report said that the school had initiated contact with a representative of Kansas coach Mark Mangino, who has a career record of 12-24.
Sources said Notre Dame was struggling to regroup after being turned down by Utah's Urban Meyer, who took the Florida job instead.
ESPN The Magazine's Gene Wojciechowski and The Associated Press contributed to this story.