Money! Money! Money!
Updated:
December 8, 2004, 6:41 PM ET
By
Darren Rovell
| ESPN.com
For the third time in five years, the Oklahoma Sooners will be playing in a college football national title game. Along with the shot to prove that they are the best team in the country comes another large cash infusion.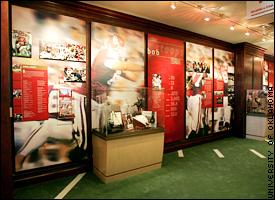 The Sooners' remodeled athletic museum has 644 photographs, 101 trophies and plaques, and 137 artifacts on display.
The lion's share of the money, however, won't come from playing in the Orange Bowl.
While Oklahoma's Bowl Championship Series appearance is worth approximately $16.1 million to the Big XII Conference, the Sooners might net less than $2 million from the bowl game. Instead, the big payoff is expected to come from proud boosters, who cheer, clap their hands and open up their wallets en masse for a winner.
Winning the national championship in 2000 and returning for two more chances in as many years, have prompted a steady stream of donations. Contributions to the football program were worth nearly $8 million last season. That value far surpasses the postseason revenue the Sooners gained on the field, since donations go directly into the athletic department's coffers. Oklahoma used $2.2 million of its $4 million in gross postseason revenue for expenses related to the football team's championship match-up against the Tigers.
"The expectation of our success does affect a person's willingness and interest to contribute," Oklahoma athletic director Joe Castiglione said.
| | | |
| --- | --- | --- |
| Revenue | Amount | Share |
| Ticket sales | $23,262,318 | 49.2% |
| Donor contributions | $7,887,885 | 16.7% |
| Advertising, royalties, sponsorships | $5,312,299 | 11.2% |
| Conference distribution | $4,811,923 | 10.2% |
| Bowl participation | $3,945,173 | 8.3% |
| Concessions, merchandise | $1,035,997 | 2.2% |
| Other sources | $1,017,402 | 2.2% |
| Total | $47,272,997 | 100% |
| Expense | Amount | Share |
| Administrative | $11,185,725 | 37.6 |
| Salaries | $5,111,244 | 17.1% |
| Debt service | $4,239,218 | 14.2% |
| Operations | $3,160,369 | 10.6% |
| Home event | $2,359,227 | 7.9% |
| Bowl participation | $2,196,949 | 7.4% |
| Scholarships | $1,535,698 | 5.2% |
| Total | $29,788,430 | 100% |
In recent years, Oklahoma's renewed athletic success has helped to attract more than $120 million in donations. Donations made during this football season still are being tabulated.
Memorial Stadium became "The Gaylord Family Memorial Stadium," in honor of the $12 million contribution toward the facility's $75 million renovation. The names of well-heeled supporters also are featured on the team's training center, the strength and conditioning complex, team meeting rooms and are tied to endowed scholarships at seven positions. Even individual player lockers sport the names of donors etched on brass plates.
But perhaps nothing better illustrates the power of a winning football team than a pair of $500,000 checks written by two Oklahoma City businessmen to remodel the school's football museum, then little more than a year old.
When Castiglione arrived in Norman in 1999, he was disappointed in the new museum, Legends Lobby. Glass had shattered on one of the trophy cases, some of which were positioned in a way that made them less than ideal for viewing. Pictures already were falling off the wall. Castiglione called those involved in constructing the museum, but the original contractor had filed for bankruptcy, and the other fabricators wouldn't guarantee their work.
"We just wanted it to live up to the appropriate standards," said Castiglione, who handed over his complaints to the school's legal counsel. "Eventually, we just got to the point where it would be easier to just start over again."
Armed with the cachet that comes with a national championship, Castiglione knew he had the opportunity to rebuild the structure.
At the top of his list were Carl B. Anderson III and Aubrey McClendon. The two were huge boosters who lived four houses apart from each other while growing up in Oklahoma City. In 1997, McClendon's Chesapeake Energy acquired Anderson's AnSon Energy Corp.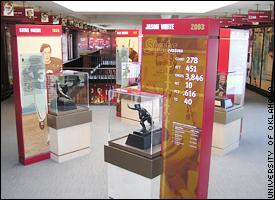 The Heisman Trophy that Jason White won last season is on display in the Sooners' new museum.
McClendon was one of four donors to give more than $2.5 million to Oklahoma's Campaign for Sooner Sports. Although McClendon graduated from Duke, his parents attended Oklahoma.
Anderson, whose father coached the offensive backfield in the late 1940s during the Bud Wilkinson era, ponied up $250,000 to re-name the All-American Plaza outside the Barry Switzer Center in his father's name. Anderson also endowed a scholarship given annually to an Oklahoma middle linebacker.
The two didn't even flinch when Castiglione approached them with the plan to remodel the museum.
"It was a pretty easy decision," said Anderson, a trustee of the University of Oklahoma Foundation, which raises funds for the school. "It was another way of giving back."
While it might seem strange to renovate a 5-year-old facility, Anderson and McClendon seemed to agree that it wasn't built right when it was first built. Anderson was one of a handful of donors who are recognized in the new museum as being donors to the original facility.
MILKING THE CASH COW
The dirty little secret of college football finances is that a team like Big XII Conference doormat Baylor, which hasn't played in a postseason game in 10 years, could make more off conference bowl payouts than Orange Bowl-bound Oklahoma this year.

That's because Oklahoma might delve into its shared bowl payout to cover its bowl expenses. A $1.73 million stipend from the conference might not be enough to cover the costs associated with a national championship game appearance.

"Even though we are meticulous with our financial oversight if we spend more than what is provided, a non-participant could and would make more," Sooners athletic director Joe Castiglione said.

When travel allowances for bowl-bound schools are subtracted from this year's combined postseason payout of $29.48 million, each Big XII school will receive approximately $2.1 million.

Last year, including the stipend received for playing against LSU in the national championship game, Oklahoma grossed $4 million off college football's postseason. The total represented slightly more than 8 percent of football-related revenue.

-- Darren Rovell
"The first time, it was like having your wife decorate your house," said Anderson, who attended only one game this year (at Texas A&M). "This time, it was done by a professional designer."
The three-story, 6,000-foot wing of the Switzer Center took 5,000 man hours to build. Thanks to the efforts of Oklahoma media relations director Kenny Mossman, more items featuring Oklahoma's football history were secured.
Organized by coaching eras (Wilkinson, Switzer, Stoops), the museum now is home to 644 photographs, 101 trophies and plaques, and 137 artifacts, including a fedora worn by Wilkinson, a pair of running back Joe Washington's silver shoes, and quarterback Josh Heupel's playbook from the 2000 championship season. The 13 interactive audio-visual monitors treat visitors to Sooner football highlights.
"Just because something was new five years ago doesn't mean that it met all the objectives of the program," said McClendon, who has been attending Oklahoma football games since he was 10. "When that facility was being planned, Coach Stoops wasn't here, Joe [Castiglione] wasn't here. They just inherited it. But when they got here they realized we could do it better."
For fans of the program like Anderson and McClendon, their $1 million donation wasn't merely about purchasing more display cases should the Sooners win another title this season. They hope that the museum itself will help contribute to bringing more trophies to Norman.
"It not only serves as a showcase for the history, the legacy and tradition of the program, but it also serves a terrific recruiting tool," McClendon said. "Hopefully it will help snag us a few prized recruits."
Said Castiglione: "The museum speaks not only to the success that we've celebrated, but the notion that this program is constantly improving and positioning itself for more success in the future. We're not necessarily solely moved by memories. We want those memories to serve as an inspiration of what is to come."
Darren Rovell, who covers sports business for ESPN.com, can be reached at Darren.rovell@espn3.com
ESPN.com Sports Business reporter
ESPN.com's sports business reporter since 2012; previously at ESPN from 2000-06
Appears on SportsCenter, ESPN Radio, ESPN.com and with ABC News
Formerly worked as analyst at CNBC
SPONSORED HEADLINES
MORE COLLEGE FOOTBALL HEADLINES
MOST SENT STORIES ON ESPN.COM
EDITORS' PICKS
Charlie Strong says he won't change at Texas.
Olson »

Washington presents new challenges for Chris Petersen.
Gemmell »

Teams that will dominate 2015 recruiting.
Crabtree