Tigers introduce Saban's successor
Updated:
January 4, 2005, 1:14 AM ET
ESPN.com news services
BATON ROUGE, La. -- Les Miles was introduced as LSU's football coach on Monday and said he wants to build on the work of Nick Saban, who left the Tigers for the Miami Dolphins.
Out of the shadow
In hiring Les Miles, LSU appeared to apply the exact same criteria he used in wooing Nick Saban away Michigan State after the 1999 season.

Bertman found a winning coach at the "other" school in the state, a coach who might flourish once he got out of the shadow of his archrival. Saban, away from the University of Michigan, did just that, going from 35-24-1 at Michigan State to 48-16 with a national championship at LSU.

Miles went 28-21 at Oklahoma State, and this season's 7-5 finish was something of a disappointment. But his Cowboys went 2-2 against Oklahoma, which speaks to his ability to prepare his team for a big game.

Miles will find a locker room full of talent. Saban recruited well, especially at home, and Miles's ability to sell himself within the state will determine his success.

The biggest challenge Miles will face is the pressure and demands made on a coach at an SEC power. Miles is a Bo Schembechler protégé, and likes to run his program in the same sort of fortress-like manner that Schembechler did (and Lloyd Carr does) at Michigan. That may not be possible with the passionate LSU nation and the hungry SEC media.

-- Ivan Maisel

"The goal is to run the finest football program in the country where our guys can have an experience that is second to none," Miles said.
The 51-year-old coach, who led Oklahoma State to three straight bowl games, emerged as the top candidate Saturday after Louisville coach Bobby Petrino withdrew from consideration.
The LSU job opened when Saban took the head coaching job with the Dolphins on Dec. 25.
Tigers athletic director Skip Bertman declined to reveal details of Miles' contract -- except to say that Miles would not be paid as well as Saban.
"I'm not going to pay Saban money for a guy who hasn't earned it," Bertman said.
Saban had the nation's richest college football contract, a seven-year, $18.45 million deal he signed after winning a share of the national title in 2003. The school is completing a stadium expansion and a new football operations center.
Miles' contract still needs to be approved by the LSU Board of Directors, which is scheduled to meet later this month.
Bertman did say there will be a buyout clause in the new contract.
Several reports have indicated that LSU might have to pay OSU a buyout of one year of Miles' salary -- $875,000 in 2004 before any bonuses.
When LSU offered Miles the job, Oklahoma State offered him a raise, Bertman said.
"Miles stuck to his word and did not try to renegotiate with me," he said.
The school hoped to complete the search quickly to allow the new coach to immediately get involved with recruiting. The process was delayed because the most prominent candidates were in bowl games or in the NFL.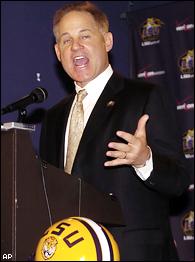 APLSU turned to Les Miles after running into dead ends elsewhere.
Arkansas football coach Houston Nutt withdrew from consideration on Thursday.
LSU hoped to interview Jacksonville Jaguars head coach Jack Del Rio, but the parties involved were apparently unable to set up a meeting.
Miles, 51, is 28-21 in four seasons with the Cowboys, who made just one bowl appearance in the 12 seasons before he arrived. His biggest wins came against the Cowboys' instate rival, Oklahoma, in his first two seasons.
"Throughout the football community, Les Miles is extraordinarily well respected," Bertman said.
On Wednesday, Oklahoma State lost 33-7 to Ohio State in the Alamo Bowl.
Information from The Associated Press was used in this report.
SPONSORED HEADLINES
MORE COLLEGE FOOTBALL HEADLINES
MOST SENT STORIES ON ESPN.COM