The Bottom 10 jumps the couch
With a little help from Tom Cruise, ESPN.com proclaims its love for the bottom of the college football barrel.
Updated:
October 11, 2005, 6:10 PM ET
By
David Duffey
| ESPN.com
Weeks: Preseason | 1 | 2 | 3 | 4 | 5 | 6
The Bottom 10 inspirational thought of the week:


My love,
There's only you in my life
The only thing that's right


My first love,
You're every breath that I take
You're every step I make


And I
(I-I-I-I-I)
I want to share
All my love with you
No one else will do ...

-- Diana Ross and Lionel Richie, "Endless Love"


The Bottom 10 cruised through the offseason searching for inspiration. Then it happened. One well-publicized leap on "Oprah" in May and we were back in business.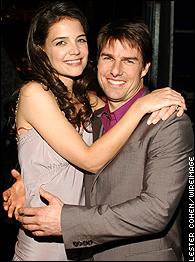 Tom Cruise might have Katie Holmes, but the Bottom 10 has many loves.
A smitten Tom Cruise bounced on Oprah's couch yelling "I'm in love! I'm in love. I can't be cool. I can't be laid back. It's something that has happened, and I feel I want to celebrate it." The Bottom 10 knows the feeling well. While the fetching Katie Holmes was the object of Tom's affection, nothing turns on the Bottom 10 like the best of the worst in college football.
The Bottom 10 loves canoodling with the Commodores of Vanderbilt, serenading the Spartans of San Jose State and composing poems for the Pirates of East Carolina. PDA with SMU is A-OK. It's Central Florida, Temple, Directional Michigan, UL-U-Pick 'em, Buffalo and the Wyoming band uniforms driving the Bottom 10 to jump the couch.
Central Florida was the love of the Bottom 10's life in 2004. Since the Golden Knights didn't win a game last year, there's no reason to break it off with them yet. Texas Tech gets some Bottom 10 love in the coveted No. 5 spot. The Red Raiders' nonconference schedule is one gigantic pillow fight, featuring the softest down feathers possible.
If you're wondering about the "Endless Love" choice, well, Tom Cruise did have a minor role in the movie of the same name.
Pillow Fight of the Week: Indiana at Central Michigan.
Here's what you had to say about the preseason Bottom 10: Bottom 10 feedback.
With apologies to Steve Harvey, here's this week's Bottom 10:
ESPN.com's Bottom 10
RANK
TEAM
2004
COMMENT
1.
Central Florida
0-11
"Mission Impossible I": Your mission, Mr. O'Leary, should you choose to accept it, is to break the Golden Knights' 15-game losing streak.
2.
Buffalo
2-9
"Risky Business": When your record is 9-59 since returning to Division I in 1999, sometimes you have to just tee it up and say "what the ..."
3.
F_U
12-10
"Mission Impossible II": Your mission, Florida Atlantic and Florida International, should you choose to accept it, is to survive the move to Division I-A -- even if it is only in the Sun Belt.
4.
Idaho
3-9
"Cocktail": We suggest experimentation with Coughlin's diet: Cocktails and dreams. And lots of both.
5.
Texas Tech's
nonconference schedule
8-4
"A Few Good Men": Exactly what the Red Raiders' September opponents have. If you don't believe that, you can't handle the truth.
6.
Temple
2-9
"Eyes Wide Shut": Ousted from the Big East, the Owls spend 2005 as an independent. "Now, where exactly are we going ... exactly?"
7.
Directional Michigan
9-24
"War of the Worlds": Whether it's Central, Eastern or Western, "there's nothing living in that direction!"
8.
Ball State
2-9
"All the Right Moves": Adding Stef, The Rifleman, Salvucci and Tank wouldn't help the Cards. Another losing season and Bosko and the boys could be planting "For Sale" signs in Brady Hoke's yard.
9.
East Carolina
2-9
"Days of Thunder": Everyone knows "rubbin', son, is racin' " down in NASCAR country. If the Pirates don't rub back, they'll end up against the wall again.
10.
San Jose State
2-9
"Far and Away": Vince Young and all that talent Dick Tomey worked with in Austin are a long way from San Jose.
Waiting list: Arkansas State, Army, Cincinnati, Duke, Louisiana-Lafayette, Louisiana-Monroe, New Mexico State, Ohio, SMU, UNLV and Utah State.
David Duffey is a college sports editor at ESPN.com.
EDITORS' PICKS
The Texas job provides the best path to the College Football Playoff.
Dinich »

Four invitations to The Opening handed out in Miami.
Story

Get to know the underrated 2016 QBs.
Hamilton
MORE COLLEGE FOOTBALL HEADLINES
Nike Men's East Carolina Pirates Purple Icon Legend Football Performance T-shirt Shop »