Wannstedt's debut worst for Pitt coach since 1969
Updated:
September 4, 2005, 8:04 PM ET
Associated Press
PITTSBURGH -- The stars turned out, from Dan Marino to Mike Ditka and Tony Dorsett, and so did the fans who packed Heinz Field as if it were a Steelers game. Dave Wannstedt's debut as coach was to usher in a 1970s-like era of championship-quality Pitt football, and everyone wanted to see it.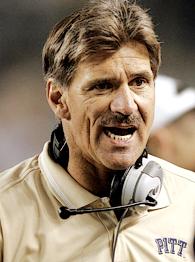 AP Photo/Keith SrakocicDave Wannstedt's first season at Pitt wasn't what he expected.
Then they watched this.
The Panthers couldn't have asked for a better start Saturday night against Notre Dame and its own hyped-to-the-heavens coach, Charlie Weis. Tyler Palko, who threw five touchdown passes in a win at Notre Dame last season, drove the offense to an opening-possession score that gave the Panthers early momentum and confidence.
Then, thud.
The defensive line disappeared amid a game-long manhandling by an experienced Irish offensive line. Notre Dame quarterback Brady Quinn ran Weis' creative and well-executed offense much like the quarterback who played for Weis in New England, a guy named Tom Brady.
And, despite his reputation as an excellent defensive coach who developed sound game plans and then got his players to execute them, Wannstedt looked as overmatched and as out of sync against Weis as his team did.
In barely a quarter, Pitt's 10-7 lead turned into a 35-13 deficit at halftime, and probably more than a few of the Panthers rooters among the 66,451 fans were feeling nostalgic for the Walt Harris era. At least those that hung around; the stadium was half empty by early in the third quarter.
Wannstedt knows he wasn't hired for this, the worst debut loss by a Pitt coach since Carl DePasqua's 1969 team lost to UCLA 42-7. He promised afterward it will get better, and soon.
"Notre Dame is obviously a fine football team and we must have miscalculated them, and that's my responsibility," he said. "We hit adversity, and we did not deal with adversity the way championship teams deal with adversity. We didn't handle it well."
They also didn't handle Quinn well, or Darius Walker, who ran for 100 yards and a touchdown and scored on a 51-yard screen pass that quickly blunted Pitt's game-opening touchdown. Or their own short-lived No. 23 national ranking.
What Pitt especially didn't handle was the buildup coming off an 8-4 season that ended with five wins in the final six regular season games and the promise of much better things to come.
A year after Notre Dame couldn't handle Pitt's West Coast offense, the Panthers never saw this Weis-wound ball of offensive confusion coming from the Midwest. To Pittsburgh fans, it very much resembled the Patriots' 41-27 rout of the Steelers in the AFC championship game eight months ago.
Coincidence? Hardly. Turns out Wannstedt had in his game plan some blitzes suggested by Steelers defensive coordinator Dick LeBeau.
"I didn't do a good enough job of getting the guys prepared," Wannstedt said. "I must not have done a good enough job of preventing our guys from reading newspapers and magazines and thinking we were a little further along or a better football team than we are today."
The outcome probably surprised Ditka as much as anyone. A few hours before kickoff, he praised Pitt's decision to hire Wannstedt and shove Harris out the door, saying, "You don't need any more California guys here, gang," a reference to Harris' Bay Area background.
"I think it's a wise pick," Ditka said. "Dave is a Pitt guy, and Dave has a commitment to this university. The excitement created since Dave came probably hasn't happened in, what, 20 years?"
Actually, 23 years. In 1982, Foge Fazio -- like Wannstedt, a former defensive coordinator -- inherited from Jackie Sherrill a top-ranked Pitt team quarterbacked by Marino. But for all of their offensive talent, those Panthers barely beat North Carolina 7-6 in their opener and went on to struggle offensively all season, finishing 9-3 with three losses in their final four games.
Right now, Wannstedt probably would take that 9-3. His Panthers don't have long to get ready for Friday night's televised game at Ohio U. and new coach Frank Solich.
"The way you improve is you work, and we're going to work," Wannstedt said.

Copyright 2005 by The Associated Press
SPONSORED HEADLINES
MORE COLLEGE FOOTBALL HEADLINES
MOST SENT STORIES ON ESPN.COM
EDITORS' PICKS
Ole Miss and OU were recruiting winners Wednesday.
Early Offer

Paul Chryst will bring immediate stability to Wisconsin.
Bennett »

We pick a winner for every bowl game.
Mark Schlabach »