Tommy Lee rocks the Bottom 10
With a little help from Tommy Lee, ESPN.com goes bananas for the bottom of the college football barrel.
Updated:
October 11, 2005, 6:09 PM ET
By
David Duffey
| ESPN.com
Weeks: Preseason | 1 | 2 | 3 | 4 | 5 | 6
The Bottom 10 inspirational thought of the week:


Put down the magazine and get off the phone
Cuz theres a place I wanna show u and it wont take long
Take a ride
Take a ride

Its lookin like we're getting there
Over here, comin clear
Place that has no rhymes, or times, or crimes
Just good times
Just good times

Take me away
To a place where the good times good times roll
Don't let me stay
In a place where this hate can steal my soul


-- Tommy Lee, "Good Times"


Armed with a new No. 1 team and a surprising squad rocking its way into the highly coveted No. 5 spot, the Bottom 10 needed to bang out a new beat this week. No ordinary theme would do. Something or someone special was needed. Well, we found him.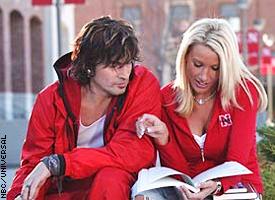 If her tutoring helped Tommy Lee, just think what the heavenly Natalie could do for the teams in the Bottom 10.
He has been married to two awesome babes: Heather Locklear and Pam Anderson. Motley Crue is back for a killer reunion tour. He's written a crazy autobiography. The rad new solo album is on the shelves. As if those aren't gnarly enough credentials to consider Tommy Lee for the lead role in a Bottom 10, his bananas hit reality series "Tommy Lee Goes to College" is the clincher.
So, welcome to Tommy Lee Goes to the Bottom 10, where we will celebrate the best of the worst through Tommy's work in the studio and on the small screen. It should go more smoothly than Tommy's transition from Motley Crue's drummer to the Cornhusker Marching Band percussion section.
"Methods of Mayhem": Not sure whether it's the start of a "Metamorphosis," but reigning Bottom 10 champ Central Florida didn't look like a team with a 16-game losing streak against South Carolina. That's enough to drop the Golden Knights out of the top spot.
"Never a Dull Moment": Unless the Buffalo Bulls, who gained a measly 138 yards in Week 1, are involved. The "Afterglow" of the Bulls' 38-0 loss to UConn is a move to No. 1.
"Tommyland: The Ride": The Sooner Schooner bottomed out at home Saturday against TCU, and Oklahoma can "Say Goodbye" to the top 10. But don't fret Sooners, your reward is a pass to the front of the line to replace Texas Tech's schedule in the Bottom 10's highly coveted No. 5 spot. Considering the play of most of the Big 12 on Saturday, could there be a trend developing here?
Pillow Fight of the Week: Tulsa at Oklahoma. Either the Golden Hurricane or the Sooners will break into the win column Saturday.
(Real) Pillow Fight of the Week: Idaho at UNLV.
Note: The Bottom 10 wishes all the best to those suffering from Hurricane Katrina. No team from Louisiana was considered for this week's rankings.
ESPN.com users had plenty to say about the latest Bottom 10 ranking.


With apologies to Steve Harvey, here's this week's Bottom 10.
| | | | | |
| --- | --- | --- | --- | --- |
| | RANK | TEAM | Record | COMMENT |
| | 1. | Buffalo | 0-1 | Perhaps the Bulls should hire Tommy's tutor, the heavenly Natalie. If she could help him with chemistry, working with the Buffalo offense should be easy. |
| | 2. | Ball State | 0-1 | The Cards should listen to the advice Tommy Lee's mom gave him before he departed for Nebraska: "Study hard, pull your pants up and make me proud." |
| | 3. | Temple | 0-1 | If Tommy Lee can study hard enough to identify a Turkish Filbert in horticulture class, the Owls should be able to find a way to win a game in 2005. Right? |
| | 4. | Central Florida | 0-1 | Roommate Matt asked Tommy "What's Pam like?" After 16 straight losses, the Golden Knights ask themselves: "What's a win like?" |
| | 5. | Oklahoma | 0-1 | While Tommy Lee dissected frogs in biology class, the Horned Frogs dissected the Sooners before a stunned crowd at Owen Field. |
| | 6. | Tulsa | 0-1 | Tommy couldn't remember his course load when asked by Dr. Gay, his academic adviser. The Golden Hurricane couldn't remember ever tackling Laurence Maroney. |
| | 7. | Arkansas State | 0-1 | Natalie's temporary replacement wasn't the kind of tutor Tommy had in mind. Playing a "home" game against Missouri in a half-empty NFL stadium 6½ hours from campus wasn't the kind of opener the Indians had in mind. |
| | 8. | Duke | 0-1 | Dr. Gay explained to Tommy that a rad was actually a measure of angle in physics. The Blue Devils know that. Science is more their thing than football is -- as the loss to East Carolina proved. |
| | 9. | Idaho | 0-1 | The first pledge class of the House of Lee, Tommy's fraternity, had one goal: scoring with chicks. The Vandals have one goal: scoring a win. |
| | 10. | Washington | 0-1 | Chancellor Harvey Perlman advised Tommy not to trash the place. No chance of that happening during UW's loss to Air Force -- only 26,482 showed up at Qwest Field. |
Waiting list: Army (0-0), Dennis Franchione not going for two, New Mexico State (0-1), Ohio (0-1), SMU (0-1), UNLV (0-1), Utah State (0-0) and Wake Forest (0-1).
Dropped out: Directional Michigan, East Carolina, F_U, San Jose State, Texas Tech's schedule.
David Duffey is a college sports editor at ESPN.com.
SPONSORED HEADLINES
MORE COLLEGE FOOTBALL HEADLINES
MOST SENT STORIES ON ESPN.COM
EDITORS' PICKS
The best quotes from the 2014 season.
Story »

Looking for the winner of the College Football Playoff?
McGee »

Oklahoma isn't close to fielding a title-caliber defense.
Trotter »