The Bottom 10 hugs it out
With a little help from the gang from Entourage, ESPN.com breaks down the bottom of the college football barrel.
Updated:
October 11, 2005, 6:09 PM ET
By
David Duffey
| ESPN.com
Weeks: Preseason | 1 | 2 | 3 | 4 | 5 | 6
The Bottom 10 inspirational thought of the week:


yeah, yeah
yeah, yeah
yeah
you were smiling by my table
had to call up everyone that day
a beautiful mind and body
what a happy ending i see
my mind had been enabled
in a memory you overflowed
want to be your superhero
even if i tumble fall


-- Jane's Addiction, "SuperHero" ("Entourage" theme song)


Fame … it's even better with your friends.
Whether it's Turtle, Drama, Eric and Vince on "Entourage" or Buffalo, Temple, UCF and Duke in the Bottom 10, the above holds true. So it's only fitting if the gang from "Entourage" guides us through the latest edition of the Bottom 10.
But while Ari and Co. ended their second season last week with "The Abyss" episode, Florida International, Ball State and Co. are at the beginning stage of their season-long descent into the bottomless depths.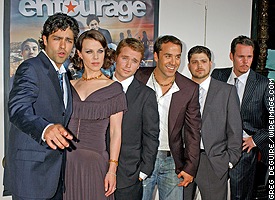 The "Entourage" ensemble checks in with the Bottom 10.
Buffalo, winless and outscored 69-0 through two games, holds on to No. 1 this week, but Temple, Louisiana-Monroe and Louisiana-Lafayette are making a charge. However, the stunning change this week is in the highly coveted No. 5 spot. Much like Vince experiencing the high of reuniting with Mandy Moore only to get sent packing, TCU has been trapped in the Bottom 10 whirlwind. One week after relegating Oklahoma to No. 5, the Horned Frogs are delivered there by Bottom 10 regular SMU.
Note: As the Oklahoma fans must have forgotten, the No. 5 spot is reserved each week for a big-time program that did not fare well. Don't you feel better now?
The Pillow Fight of the Week heads to the Pacific Northwest this week, where winless Idaho travels to Seattle to take on winless Washington. If the Huskies win this one, a WAC title isn't out of the question. Oh, wait, the "Dub" is still in the Pac-10 … for now.
And remember, the Bottom 10 kids because it loves. So "let's hug it out, bitch."
ESPN.com users had plenty to say about the Sept. 13 Bottom 10.
With apologies to Steve Harvey, here's this week's Bottom 10.
| | | | | |
| --- | --- | --- | --- | --- |
| | RANK | TEAM | Record | COMMENT |
| | 1. | Buffalo | 0-2 | Turtle has a better shot at scoring when Vince isn't around than the Bulls do of putting points on the board. |
| | 2. | Temple | 0-2 | The Owls should listen to Vince's advice: "Everyone wants to kill the king. But the prince, he just sails along telling all the ladies, 'One day, I'm gonna be king.'" |
| | 3. | Louisiana-Monroe | 0-2 | After a 38-0 loss to Wyoming up in rodeo country, the wise words of Turtle come to mind: "Don't bitch when the bull gives you the horns … you have no business being in the ring in the first place." |
| | 4. | Louisiana-Lafayette | 0-2 | Much like Ari's confession to his assistant Lloyd, we can't swear that we won't make fun of the Ragin' Cajuns, but we promise to always apologize after. Sorry. |
| | 5. | TCU | 1-1 | "Tsetse fly. Tsetse fly." Last week's discussion had the Horned Frogs breaking into the BCS game. A la Ari, this week, the Frogs are holding meetings at the Coffee Bean. |
| | 6. | Central Florida | 0-1 | Turtle told Ari Gold that he "just got demoted to silver." The same could be said about the Golden Knights, who have lost 16 straight. |
| | 7. | Duke | 0-2 | Duke playing ACC football is like Turtle and Drama getting into the Playboy Mansion. It's good to have friends with some clout. |
| | 8. | Ball State | 0-2 | Much like Johnny Drama, the Cardinals have been working steadily the last 12 years, minus the last three. |
| | 9. | Florida International | 0-2 | Drama traveled to Comic-Con to relive his glory days on Viking Quest. How long before the Panthers are relegated to the NCAA Div. I equivalent of Comic-Con? |
| | 10. | Pittsburgh | 0-2 | If Dave Wannstedt attempted to renegotiate his contract now, the slip of paper would be identical to the offer Terrance made to Ari. It would read: "Nothing." |
Waiting list: Army (0-1), Florida Atlantic (0-2), Hawaii (0-2), Idaho (0-2), New Mexico State (0-2), San Diego State (0-2), Wake Forest (0-2), Washington (0-2), Western Michigan (0-2) and -- back by popular demand -- Wyoming's band uniforms.
Dropped out: Arkansas State, Oklahoma and Tulsa.
David Duffey is a college sports editor at ESPN.com.
EDITORS' PICKS
The Texas job provides the best path to the College Football Playoff.
Dinich »

Camp season begins with NFTC Miami.
Primer

Get to know the underrated 2016 QBs.
Hamilton
MORE COLLEGE FOOTBALL HEADLINES