The Bottom 10 gets lost
The Bottom 10 gets lost while breaking down the bottom of the college football barrel.
Originally Published:
September 20, 2005
By
David Duffey
| ESPN.com
Weeks: Preseason | 1 | 2 | 3 | 4 | 5 | 6
The Bottom 10 inspirational thought of the week:


I'm sorry.
Why should I say I'm sorry?
If I hurt you,
You know you've hurt me too.


But you get lost inside your tears,
And there is nothing I can do,
'cause I get lost inside my fear
That I am nothing without you.

You're angry.
Why shouldn't you be angry?
With what we've been through,
Well I get angry too.


-- Eric Clapton, "Get Lost"


"Lost" won the Outstanding Dramatic Series at the 57th annual Emmy Awards on Monday. While the Bottom 10 doesn't know much about handing out any golden statues or hosting any stylish after parties, it does know how to celebrate the drama of being lost.
However, determining which team is the most lost isn't easy. What is clear is that we have identified four early-season nominees for top Bottom 10 honors. Ball State, Buffalo, Central Florida and Temple have distinguished themselves in 2005. Since Central Florida opened the season first in the rankings and Week 2 No. 1 Buffalo actually scored last week, it's time to let one of the other members of the fearsome foursome shine in the top spot.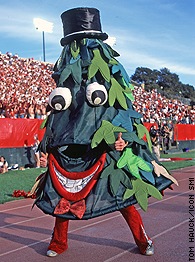 What's more imposing than the Stanford Tree?
But which one? Ball State and Temple are equally qualified. The Cardinals are ranked No. 115 in scoring defense, allowing 53 points per game. The Owls give up 56.7 points a game and are ranked No. 116. The duo doesn't fare much better on offense. Ball State (No. 108) scores just 11.3 points per game, while Buffalo (No. 109) puts up an even 11 per contest.
So, it's the Owls by a feather over the Cardinals. Enjoy your stay in the top Temple. But remember Ball State, just being nominated is a tremendous honor.
No need to bring in a Stanford graduate to calculate this week's No. 5 spot. Even those of us without that lofty sheepskin could figure this one out. Stanford's 20-17 loss at home to UC Davis makes the Cardinal's selection a no-brainer. The Aggies, who are in the third year of transition from D II to D I-AA, held the Cardinal to 180 total yards and no offensive TDs in Walt Harris' home debut. Stanford lost to a team with only 35 scholarship players and a team that had already lost to New Hampshire and Portland State. Ouch.
Sometimes the schedule makers give us those too-good-to-be-true Saturdays. Sept. 24 is one of those days. This week's Pillow Fight is a three-pack. The Directional Michigan title chase begins when Eastern Michigan travels to Central Michigan. And the Sun Belt offers two classic matchups with Florida International trekking to Arkansas State and Florida Atlantic hosting Louisiana-Monroe. Enjoy.
ESPN.com users had plenty to say about the Sept. 20 Bottom 10.
With apologies to Steve Harvey, here's this week's Bottom 10.
| | | | | |
| --- | --- | --- | --- | --- |
| | RANK | TEAM | Record | COMMENT |
| | 1. | Temple | 0-3 | "Lost in Space": Kicked out of the Big East and awaiting entry into the MAC, the homeless Owls drift along. |
| | 2. | Ball State | 0-3 | "Lost in America": The ineptitude of the Cardinals has elevated them from just Lost in Mid-American Conference status. |
| | 3. | Central Florida | 0-2 | "Raiders of the Lost Ark": The Golden Knights have lost 17 straight and are halfway to Northwestern's record of 34. |
| | 4. | Buffalo | 0-3 | "The Lost Boys": The Bulls put three points on the board against Rutgers to raise their points per game average to 1. |
| | 5. | Stanford | 1-1 | "The Lost Weekend": Walt Harris' first home game was enough to send Cardinal fans on a four-day bender. |
| | 6. | Louisiana-Monroe | 0-3 | "The Lost World": Without its UL-U-Pick 'em partner in the rankings, the Indians must be more lost than usual. |
| | 7. | Idaho | 0-3 | "Lost for Words": The rest of the WAC must be speechless after the Vandals got blown out by lowly Washington. |
| | 8. | F_U | 0-5 | "Land of the Lost": The boys from Florida Atlantic and Florida International are a definite challenge to UL-U-Pick 'em and Directional Michigan. |
| | 9. | Rice | 0-2 | "Love's Labour's Lost": Sure, the Owls gave up 63 to UCLA and 51 to Texas, but the bet here is that the Owls would score better than the Bruins and Horns on a Shakespeare test. |
| | 10. | Pittsburgh | 0-3 | "Lost in Translation": Whatever Wannstedt is saying isn't getting through. If the Panthers lose to Youngstown State, Temple will have to step aside. |
Waiting list: Army (0-2), Hawaii (0-2), Louisiana Tech (0-2), Middle Tennessee State (0-3), New Mexico State (0-3), San Diego State (0-3), Utah State (0-1) and we say so long to all Wyoming uniform references, but hello to the Oregon uniforms (team and band).
Dropped out: Duke, Louisiana-Lafayette and TCU.
David Duffey is a college sports editor at ESPN.com.
EDITORS' PICKS
Bold predictions heading into spring.
Miller »

Top athletes in NFL draft.
Story

These 10 teams need a big spring in recruiting.
Hamilton
MORE COLLEGE FOOTBALL HEADLINES

MOST SENT STORIES ON ESPN.COM