Barnett unaware of report; no decision yet
Updated:
December 8, 2005, 10:04 AM ET
ESPN.com news services
Gary Barnett's tumultuous tenure as the University of Colorado's football coach reportedly will come to an end. However, the coach told ESPN.com that his reported ouster from the school is news to him.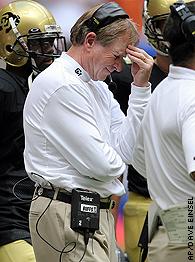 AP Photo/David J. PhillipGary Barnett's Buffs were outscored 130-22 in their last three games.
Citing a source close to contract talks between Barnett and the school, the Denver Post reported on Wednesday that Barnett will not be retained as head coach.
The newspaper reported that there is no timetable for an announcement, but athletic director Mike Bohn was expected to talk to Barnett soon.
However, Barnett told ESPN.com's Pat Forde: "No one has said a word to me. I have not heard from one person that that is going to happen. ... Nobody has presented anything to me. I am continuing as if I'm the head coach at Colorado."
Bohn, traveling back to Colorado from meetings in New York, called the report "speculation."
"I don't know about that," Bohn told The Associated Press when asked if the report was true. "It's inappropriate for me to comment at this time."
The University of Colorado Board of Regents is in regularly scheduled official sessions Wednesday and Thursday in Boulder, Colo. A source told ESPN's Joe Schad that Bohn is expected to address the regents about Barnett's future.
ESPN.com learned that Barnett and his attorney met with Bohn on Wednesday night, but Colorado officials said there would be no further announcements.
Barnett and the school had been discussing a contract extension for several weeks, and it was believed to be a foregone conclusion before the season turned south.
Barnett Timeline

1982-83: Head coach at Fort Lewis, Durango, Colo.
1984-1991: Assistant to Colorado head coach Bill McCartney
1992-98: Head coach at Northwestern, Big Ten Coach of the Year in 1995, 1996
1999: Named 22nd head coach at Colorado
2001: Colorado wins Big 12 championship, Barnett named Big 12 Coach of the Year
2002: Colorado wins Big 12 North Division championship
2004: Scandal erupts amid allegations that Colorado used sex and alcohol to recruit football players. Barnett is suspended, then reinstated over disparaging remarks attributed to him about a female player. Multiple investigations end with no sex-related criminal charges. A report criticizes Barnett for lax oversight of players but says he did not condone improper practices.
2004: Colorado wins Big 12 North Division championship, Barnett named Big 12 Coach of the Year
2005: Colorado wins the Big 12 North Division championship, loses to Texas 70-3 in the conference championship game
2005: Forced out as Colorado's coach, accepting a $3 million buyout.
-- The Associated Press
CU finished on a three-game losing streak, including losses to Nebraska and Texas by the combined score of 100-6.
"The coaches have worked hard and the players have been great. The kids just ran out of juice. My whole extension has been a big issue. I think they felt some pressure surrounding that," Barnett told ESPN.com
Despite a torrent of negative publicity, a suspension from the school and widespread speculation that he would be fired 18 months ago after a controversy erupted surrounding Colorado's recruiting practices, Barnett has taken Colorado to consecutive Big 12 North Division titles.
The president, chancellor and athletic director all stepped down in the aftermath of the scandal, which resulted in an investigation that concluded drugs, alcohol and sex were used to entice recruits to the Boulder campus, though none of practices were sanctioned by university officials.
"Personally, I'm fine. I hold my head very, very high. Through all the crap we've gone through, we've won two division championships. The kids have gotten those championship rings, and they can't take those away."
After Saturday's 70-3 loss to Texas in the Big 12 title game, Bohn told the Boulder Daily Camera, "We all have to look at everything and see what it's going to take to get things going in the right direction. That's what's on everyone's mind right now."
Barnett's take on the loss to Texas: "A lot of people have lost pretty bad to Texas this year."
Barnett has one year left on the five-year deal, which includes a $2 million bonus if he completes the contract. While saying he likes Barnett, Bohn has remained noncommittal about an extension. One of the presumed reasons for the delay is that the school is still waiting for the results of a state audit of Barnett's football camps, which is scheduled to be released Monday.
CU is cash-strapped and it is believed that if he re-signs, the bonus will be folded into the next deal. If CU fires Barnett, he would be owed $1.6 million of the bonus, plus a year of his annual base salary.
Barnett is 49-38 after seven seasons.
Information from The Associated Press was used in this report.