Pac-10 belongs to USC -- again
The men of Troy dominated the Pac-10 -- again. Check out the final analysis and awards for the whole conference.
Updated:
December 7, 2005, 5:54 PM ET
By
Ted Miller
| Special to ESPN.com
The Pac-10 played out like it was supposed to, with Southern California ruling the conference and the other nine teams battling for scraps tossed over the walls of Troy.
It's the annual -- now redundant -- good-news, bad-news scenario. The conference (USC) will play for its third consecutive national title. The other nine teams will grouse to varying degrees about their plights.
Although the Trojans again will strike a pose in the national spotlight before another "Game of the Century" against Texas, for the second consecutive year a Pac-10 team ranked in the Bowl Championship Series top five found itself relegated to the Pacific Life Holiday Bowl.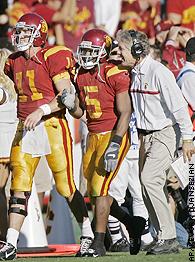 AP Photo/Kevork DjansezianPete Carroll has the Trojans thisclose to three straight national titles.
Just like California, which sleepwalked through an embarrassing showing against a fired-up Texas Tech team in 2004, Oregon (10-1) faces a game -- against unranked Oklahoma -- that offers few rewards for the Ducks but certainly the possibility for humiliation.
Ah, but that's the bowl season for the Pac-10 as a whole. Other than the No. 1 Trojans' showdown with the second-ranked Longhorns, no conference team will play a ranked opponent. No. 17 UCLA takes on Northwestern in the Vitalis Sun Bowl; California squares off with BYU in the Pioneer PureVision Las Vegas Bowl and Arizona State slides into a home game against Rutgers (yes, Rutgers!) in the Insight Bowl.
The Nominal Nine might deserve their fates. They didn't put up much of a fight against USC, which saved its competitive, thrilling games for nonconference classics with Notre Dame and Fresno State. Eight Pac-10 foes fell to the Trojans by an average of nearly 30 points, with the closest game being the 38-28 win over Arizona State.
It's enough to make a conference defensive. Except this is the Pac-10, where defense has little to do with it.
But those offenses! Perhaps the reason no conference defense ranked among the nation's Top 25 in scoring or total defense was because six offenses ranked in the Top 25 in scoring and total offense.
Pac-10: Team-By-Team
From USC's shot at continuing its dynasty with a Rose Bowl win to UCLA looking to recover in the Vitalis Sun Bowl, the Pac-10 is covered here. Story
In 40 conference games this season, the winning team scored 40 or more points 20 times.
Mostly devoid of defensive stars, the Pac-10 was aglitter with offensive standouts, topped by a USC starting 11 that might be the best collection in college football history.
Four tailbacks, led by Washington State's Jerome Harrison, ranked among the top 11 in rushing; four quarterbacks ranked among the top 25 in total offense; and five receivers ranked among the top 17 in receiving yards per game.
And Reggie Bush, the near-certain Heisman Trophy winner, ranked all by himself.
The All-Pac-10 offense listed below? It's not unreasonable to suggest that all 11 merit All-American recognition. At least seven are certain to get it. And 2004 Heisman Trophy winner and sure 2005 finalist Matt Leinart isn't even our first-team quarterback.
Most Valuable Player
Reggie Bush, USC
What a shock. Bush not only is in a class by himself but might be the most exciting player in college football history. Like Dominique Wilkins, he's a Human Highlight Film, but opinions vary -- particularly among defensive coordinators -- as to whether the "human" part of that nickname applies.
Bush leads the nation in all-purpose yards (217.6 per game) and averaged an absurd 8.9 yards per carry. Eight-point-nine yards! Holy cow.
Coach of the Year
Mike Bellotti, Oregon
In 2004, Oregon posted its first losing season since 1993, and some folks were wondering whether the Ducks were headed back into the Pac-10's muddled middle.
So Bellotti took decisive action. He decided to reconfigure his offense completely -- incorporating elements of Utah's spread-option developed under Urban Meyer -- and, among other staffing changes, hire former BYU head coach Gary Crowton to help out.
Not only did it work like a charm, producing one of the nation's best attacks, it continued to work even when quarterback Kellen Clemens, who was putting up All-American numbers, was lost for the final three games with a broken ankle.
USC's Pete Carroll and UCLA's Karl Dorrell split the award in the conference coaches' vote, but Bellotti's performance deserves at least equal billing.
Newcomer of the Year
Justin Forsett, Cal
During the preseason, California's sophomore tailback Marshawn Lynch was widely -- and reasonably -- billed as a budding superstar. No one had heard of Justin Forsett.
But the Bears' other sophomore runner came off the bench when Lynch battled early-season injuries, and he hung huge numbers. He returned to his supporting role without a gripe when Lynch got healthy, and he finished with 962 rushing yards and six touchdowns, averaging a stout 7.8 yards per carry.
Next year, Forsett and Lynch, who rushed for 1,052 yards, will form the nation's best tailback tandem.
Biggest surprise
UCLA

During the preseason, UCLA looked as though it had the elements for a turnaround, but the Bruins have embarrassed optimistic prognosticators before. Most took a wait-and-see attitude for year three of the Dorrell era.
Under intense pressure to win, Dorrell and the Bruins produced. They also showed more than a little gumption this season, posting four fourth-quarter comebacks.
Biggest disappointment
Arizona State

At its best, Arizona State was one of the top 10 teams in the nation, giving LSU and USC all they could handle in back-and-forth affairs. But the Sun Devils needed a huge second-half comeback against rival Arizona just to qualify for a bowl game.
Injuries were a huge issue, particularly on the offensive line. But this team was too talented to fall into the middle of the conference.
All-Pac-10 Team
Offense
QB -- Drew Olson, UCLA
RB -- Reggie Bush, USC
RB -- Jerome Harrison, Washington State
TE -- Marcedes Lewis, UCLA
WR -- Dwayne Jarrett, USC
WR -- Mike Hass, Oregon State
OL -- Winston Justice, USC
OL -- Taitusi Lutui, USC
OL -- Sam Baker, USC
OL -- Marvin Philip, California
OL -- Ryan O'Callaghan, California
K -- Alexis Serna, Oregon State

Defense
DT -- Haloti Ngata, Oregon
DT -- Brandon Mebane, California
DE -- Lawrence Jackson, USC
DE -- Mkristo Bruce, Washington State
LB -- Dale Robinson, Arizona State
LB -- Trent Bray, Oregon State
LB -- Spencer Havner, UCLA
S -- Darrell Brooks, Arizona
S -- Darnell Bing, USC
CB -- Daymeion Hughes, California
CB -- Aaron Gipson, Oregon
P -- Sam Paulescu, Oregon State

Ted Miller covers the Pac-10 for the Seattle Post-Intelligencer.
College Football
ESPN.com Pac-12 reporter
Covered college football since 1997
Graduate of the University of Richmond
SPONSORED HEADLINES
MORE COLLEGE FOOTBALL HEADLINES
MOST SENT STORIES ON ESPN.COM
EDITORS' PICKS
Breaking down each SEC recruiting class.
Story »

Kyler Murray reaffirmed his pledge after Texas visit.
Hamilton »