Fitzgerald becomes youngest coach in Division I-A
Updated:
July 8, 2006, 4:28 PM ET
ESPN.com news services
EVANSTON, Ill. -- Pat Fitzgerald, a former All-American linebacker at Northwestern, was hired Friday as the Wildcats' coach and became the youngest head coach in Division I-A. He replaced Randy Walker, who died last week.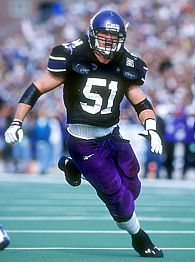 Jonathan Daniel/Getty ImagesPat Fitzgerald was tackling opponents for the Wildcats a decade ago.
The 31-year-old Fitzgerald was a linebackers coach and recruiting coordinator under Walker. His appointment came one day after he spoke at a memorial service for Walker.
Fitzgerald starred at linebacker for the 1995 Northwestern team that won the Big Ten and went to the Rose Bowl, a game he missed with a broken leg. He also played the next season when the Wildcats made it to the Citrus Bowl.
Athletic director Mark Murphy said that when he was negotiating with Walker for a contract extension earlier this year, Walker told him Fitzgerald would be his choice as successor.
"Our wounds are deep and our morale is fractured," Fitzgerald said, adding that he dreamed of being the head coach at his alma mater, just not under these circumstances. "There are a lot of heavy hearts, but coach would want us to move on."
Murphy said he decided against naming an interim coach for the sake of stability, and that Fitzgerald's age was not a factor.
"He's 31. That's just a number," Murphy said.
"He only played here 10 years ago, so he knows what it's like," senior linebacker Nick Roach said.
Taking over a program
Pat Fitzgerald will face many challenges as the new head coach at Northwestern, but the 31-year-old's first priority is to his players. The Wildcats team is certainly experiencing a great deal of emptiness after the death of Randy Walker, and Fitzgerald must spend time with them. As a new coach, especially considering the unique circumstances at Northwestern, he will be in demand from the media and alumni. Allocating his time correctly will not be easy.



Fitzgerald also must unify the team from the players to the coaches, trainers and support staff. It's important to meet individually with everyone. He must maintain a balance between being open to new ideas and establishing himself as the boss.



Offensive and defensive coaches concentrate on their own areas. As the head coach, Fitzgerald will need to know what everyone is doing. Since he is coming from the defensive side of the ball, it will be important for him to meet with the offensive staff and immerse himself in their schemes.



Instead of elevating a graduate assistant or hiring someone young to fill his former position as the linebackers coach, Fitzgerald should consider hiring someone outside the staff. The ideal candidate would be an older coach or someone who has his complete confidence. Fitzgerald needs to have someone who can provide counsel.

-- Jim Donnan
In 2001, after serving as an assistant at Idaho, Fitzgerald was hired by Walker to coach the Wildcats' defensive secondary. In 2002, he moved to linebackers coach, and then in 2004 added the recruiting coordinator to his title.
"He's definitely ready for it. He has a great passion for the game and Northwestern," senior safety Bryan Heinz said. "I loved coach Walker, he gave me a chance to play, and it's time to move on."
Former Northwestern linebacker Tim McGarigle, a St. Louis Rams draft choice who calls Fitzgerald his mentor, was working out at his alma mater on Friday afternoon.
"It was necessary to stay inside the program because to be successful at Northwestern you have to understand Northwestern," McGarigle said." He will embody everything Coach Walker was and stood for. These are two hard-nosed men who offer tough love."
McGarigle, who had 545 career tackles, most since the NCAA began tracking the statistic, added: "Coach Fitzgerald is primed for this job. The guy bleeds purple. It is his dream job. Forget about age. He is polished. And he is ready."
Fitzgerald won the Chuck Bednarik Award as the nation's top defensive player in 1995 and 1996.
"While this has been my goal from the moment I began coaching, this is also bittersweet. We've all had a difficult week with the loss of Coach Walker, my friend and mentor," Fitzgerald said. "But I'm determined to continue Coach Walker's legacy and build upon his successes. Northwestern will continue to have a football program built upon great work ethic, attitude and investment."
Northwestern was 37-46 under Walker. The Wildcats were 7-5 last season after a 50-38 loss to UCLA in the Sun Bowl. The Wildcats shared the Big Ten title in 2000 and went to the Alamo Bowl. Northwestern also went to the 2003 Motor City Bowl.
Walker was the first Wildcats coach to guide the team to four seasons with at least six wins since C.M. Hollister in 1899-1902.
ESPN college football reporter Joe Schad and The Associated Press contributed to this report.
EDITORS' PICKS
Defensive lineman's "second chance" at Alabama was only about winning and shouldn't have happened.
Schlabach »

Expect new CFB Playoff Committee member Bobby Johnson to fit right in.
Low »

Should we have the same expectations for programs with very different budgets?
Haney
MORE COLLEGE FOOTBALL HEADLINES

MOST SENT STORIES ON ESPN.COM