Eells, the voice of the Razorbacks, dies in car crash
Updated:
August 1, 2006, 2:56 PM ET
Associated Press
RUSSELLVILLE, Ark. -- Paul Eells, the voice of the Razorbacks whose trademark call of "Touchdown, Arkansas!" endeared him to generations of sports fans, was killed in a car accident. He was 70.
He died Monday night in a head-on collision on Interstate 40 that also took the life of another driver, police said.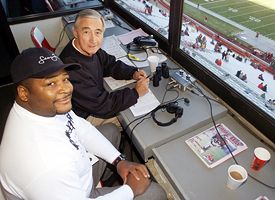 AP Photo/Danny JohnstonPaul Eells, right, with former Oklahoma TE Keith Jackson in 2000, had called Arkansas games for 28 years.
Gov. Mike Huckabee called Eells "a great man and true Arkansas icon." He said Tuesday state flags will fly at half staff on the day of Eells' funeral and asked for prayers for Eells' family.
"The reason that Paul Eells was so beloved in this state was not only for his unmatched professional skills ... but for his authentic optimism, kindness, and thoughtfulness," the governor said.
Eells was sports director of Little Rock television station KATV for nearly three decades. He handled play-by-play coverage of Arkansas Razorbacks football on radio and basketball on television.
He was killed while returning to his home at Little Rock after playing in a golf tournament for sports figures and the media at Fayetteville. He had also interviewed Arkansas football coach Houston Nutt for KATV during the visit, according to the television station.
Eells was Arkansas Sportscaster of the Year 11 times and was honored with The Associated Press award for best sports play-by-play several times.
Eells, who was born in West Branch, Iowa, is survived by his wife, Vickie, a son and two daughters.

Copyright 2006 by The Associated Press