Suspension-depleted secondary key for Horns
A streamlined Texas defense faces new obstacles in preparation for No. 1 Ohio State.
Updated:
September 7, 2006, 12:17 PM ET
By
Tim Griffin
| Special to ESPN.com
Coach Mack Brown thought his defense was worthy of special praise coming into the season.
The suspension-depleted Longhorns will have a chance to prove their worthiness in a difficult set of circumstances against No. 1 Ohio State on Saturday night (ABC, 8 ET).
The attention on Texas' defense intensified Tuesday when Brown suspended talented cornerback Tarell Brown and backup safety Tyrell Gatewood for Saturday's game. Both were arrested early Monday morning, less than two days after the Longhorns' season-opening victory over North Texas.
Tarell Brown's departure from the starting lineup leaves a gaping hole in the Longhorns' secondary, which was already rebuilding with two new starters from last season's national championship team.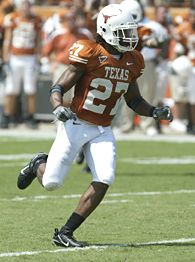 Icon Sports MediaTexas will count on Michael Griffin's experience in the secondary on Saturday.
Starting strong safety Michael Griffin will be in the lineup, but three other starters who combined for 20 tackles in the Longhorns' victory at Columbus last year won't be playing Saturday.
Brown was expected to shadow Ohio State receiver Ted Ginn Jr. as the Longhorns try to derail Ohio State's high-powered aerial attack. His departure will mean that backup cornerbacks Ryan Palmer and Brandon Foster will get the majority of snaps in his place.
Neither Palmer nor Foster has ever started a college game. Both are fast but undersized and will have difficulty matching Brown's intimidating presence against Ginn in run support.
"Very few people cover Ginn at all, so what you try to do is just keep his plays from just absolutely taking over and killing you," Mack Brown said. "We've had two practices, and we practiced last night briefly with a game, but that's a concern for us now. We've got to try to figure out what to do between now and Saturday."
Texas defensive coordinator Gene Chizik is expected to lean more on a zone defense aimed at keeping Ginn in front of defenders with additional coverage from the backside.
Griffin said Brown's replacements are more than capable of filling in for him.
"It's an opportunity for some of our young guys to step up," Griffin told the Dallas Morning News. "Whether it's an injury or something else, people are always called upon to step up. This is no different."
The Longhorns already were expecting a formidable challenge of containing Ohio State's high-powered aerial game keyed by Ginn and quarterback Troy Smith.
Even with Brown out of the lineup, Smith doesn't expect much of a talent dip from the Longhorns.
"Texas is among a few schools in the country that has the luxury [that] they can reload," Smith said. "Tarell is a great player, but I'm sure the guy behind him isn't that far off. They have great speed and they can really get after you."
Ginn, one of the nation's fastest wide receivers, will test that natural ability. Griffin said that Ginn appeared more polished as he studied film of the Buckeyes' top deep threat.
"Players improve on different things," Griffin said. "I saw Teddy improve a lot on his route running, and I also think he improved on his speed. He already had great speed, and he probably worked on his strength and his game overall to get ready."
The Longhorns similarly were not complacent over the offseason. One of the best indicators can be found in a streamlined pair of defensive ends returning from the national championship team.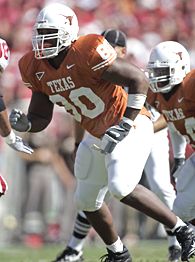 James D. Smith/Icon SMITim Crowder will lead a leaner Texas defensive line against the Buckeyes.
Tim Crowder gave up sweet treats all summer, disdaining even his favorite frosted pitchers of his mom's cherry Kool-Aid.
Brian Robison similarly took a vow of abstinence at the buffet table. No more sugary lemonade or chocolate bars as he readied himself for his senior season.
The leaner Texas defense is indicative of the transformation of Chizik's thinking. And after winning 29 games in a row, who can really argue with him?
The two defensive ends' personal sacrifices are indicative of the mind-set of Texas' defense. The group still is hungry after bringing home the school's first undisputed national championship in 36 years last season.
After Robison and Crowder both struggled at times last season because of nagging injuries, UT coaches strongly suggested they come back carrying less weight.
"I was kind of skeptical because I thought I'd lose some power and get pushed around," said Crowder, who notched two sacks against the Buckeyes last year. "But I tried it out, lost about five pounds and felt it helped me. I lost 10 more pounds and feel as quick as I've ever felt and in the best shape of my life."
Robison eventually dropped 20 pounds and Crowder shed 15. The thought was that the lighter, quicker defense ends would be more explosive at the line of scrimmage.
The Longhorns' defense made an impressive debut in its season opener, notching four sacks and limiting North Texas to eight yards rushing in a 56-7 victory over the Mean Green.
Ohio State coach Jim Tressel has noticed the change in UT's defense as he prepares for Saturday's game.
"Gene has done a great job ever since he's been there, but I think he's taken his defense to the next level with this one," Tressel said. "They have great speed and are very physical, and he does a great job of alternating people and applying pressure. They always have something for you."
That speed will be necessary as the Longhorns try to contain Smith, a versatile two-way threat who is as dangerous running as throwing.
"That guy could probably play tailback if he wanted because he runs so hard," Crowder said. "You can compare him to [former Texas quarterback] Vince [Young] or [former Missouri quarterback] Brad Smith or [former Texas A&M quarterback] Reggie McNeal because he brings it all to the table."
With redshirt freshman quarterback Colt McCoy making just his second career start, Texas' defense already figured to have a heavy load against the Buckeyes.
With Brown missing, the challenge is a little more daunting.
Crowder relishes the challenge.
"I kind of think they are leaning on us," Crowder said. "And I kind of like that the pressure is on us. We've got to go out there and we can't let anyone down. We've got to play to our capabilities, and I think we will."
Tim Griffin covers the Big 12 for the San Antonio Express-News.
EDITORS' PICKS
Defensive lineman's "second chance" at Alabama was only about winning and shouldn't have happened.
Schlabach »

Expect new CFB Playoff Committee member Bobby Johnson to fit right in.
Low »

Should we have the same expectations for programs with very different budgets?
Haney
MORE COLLEGE FOOTBALL HEADLINES
Nike Men's Ohio State Buckeyes Script Ohio Local Attribute T-shirt Shop »

MOST SENT STORIES ON ESPN.COM