Trooper nearly kept one scribe from chronicling history
Updated:
October 20, 2006, 3:04 PM ET
By
John Papanek
| ESPN.com
On Nov. 28, 1981, I was given the dubious honor of covering, for Sports Illustrated, the game that would certify Alabama's Paul "Bear" Bryant as the winningest college football coach of all time. Don't get me wrong, it promised to be a great event, surely the most memorable matchup of hated intrastate rivals Alabama and Auburn ever to take place in Birmingham's Legion Field.
Trooper One

Bear Bryant got the first one. Auburn followed. Now, having a trooper beside your coach is more than just for protection. There's status involved on both sides. ESPN.com national columnist Pat Forde checks in on the guys who surround the coach every time he walks to the center of the field. Story.
In anticipation of the victory that would eclipse Amos Alonzo Stagg's once-untouchable record of 314 wins, SI ran a cover story on the Bear that very week, and as I rolled into town to record the actual unfolding of the moment, everybody -- yes, everybody -- had read that story, and everybody (I really mean this:
everybody
) was talking about it.
Trouble was, the story my colleague Frank Deford wrote was not quite the hero-worshipping hosanna that the Church of the Crimson Tide would have expected. Instead of hailing the Bear for his greatness, Deford pilloried the coach as ornery, racist and a downright hindrance to higher education.
So imagine you're me as the last of 83,000 fans are squeezing into Legion Field a few minutes before the historic kickoff, and you hear your name boom over the PA loudspeakers: "John Papanek of SPORTS ILLUSTRATED, please report to the press box." Now imagine the sound produced by 166,000 lungs booing you.
OK, so I wasn't among friends. But I had a job to do, and that was to chronicle history. So as the last minutes ticked down on Bama's 28-17 win, I did what my 200 or so press-box cohorts did -- make my way down to the field so that as the gun sounded we could follow the teams through the tunnel and into the interview room, where we'd write down all the colorful mutterings the Bear would intone.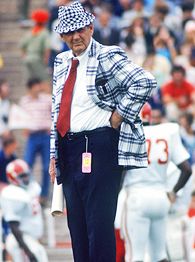 Manny Millan/Icon SMIGetting close to Bear Bryant wasn't the easiest thing for one SI writer in 1981.
But apparently I was special, because as I got closer to the tunnel I noticed I had accumulated an escort -- of Alabama state troopers. While all other accredited reporters were ushered through a gate leading to the Bear's lair, I was cut off and hemmed in by five badge-wearing, high-hatted guys the size of NFL linemen and they were slapping riot batons. "Where do you think you're goin'?" one drawled.
"I'm authorized to go to the interview area. It's my job," I said, showing my press credential.
"That there says you're from Sports Illustrated," the trooper announced. Then he shouted to the crowd of fans now pressing in around us: "Y'all think we should let Sports Illustrated into the interview area?"
Boos, jeers and some dollops of spittle rained upon me. I got angry. "If you don't let me in there, goddammit, the most important sports magazine in America is not going to carry the story of this game!"
"That's it," said the trooper. "You guys asked for it. Now I'm going to place you under arrest!"
"What's the charge?" I said, expecting to hear something about libel or slander or heresy.
"Cursing," he said. "In front of women."
At that point, I wanted to go to jail. Imagine the stories I'd be able to tell!
But just then, the Auburn sports information director walked by and said, "Let him through, boys."
Damn. I had to go to work.
John Papanek is the senior vice president and editorial director of ESPN New Media
EDITORS' PICKS
Expect new CFB Playoff Committee member Bobby Johnson to fit right in.
Low »

Should we have the same expectations for programs with very different budgets?
Haney

Incentives written into contracts can mean millions more.
Low »
MORE COLLEGE FOOTBALL HEADLINES

MOST SENT STORIES ON ESPN.COM