Hundreds mourn former Michigan coach Schembechler
Updated:
November 19, 2006, 7:30 PM ET
Associated Press
ANN ARBOR, Mich. -- Hundreds of maize-and-blue-clad mourners filed past the casket of Bo Schembechler on Sunday to pay tribute to the no-nonsense coach who became the face of Michigan football.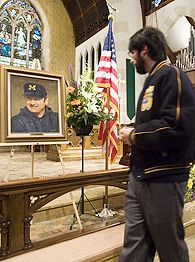 AP Photo/Tony DingAram Sarkisian of the Michigan marching band walks past the casket and photos of former Wolverines football coach Bo Schembechler.
The closed casket at St. Andrew's Episcopal Church was festooned with floral arrangements. Schembechler's likeness was presented in a painting and in a photo of him coaching in his signature navy blue "M" cap. A plaque on an easel listed his records during each of 21 seasons as the Wolverines' coach.
Schembechler died Friday at age 77 after collapsing at a suburban Detroit television studio. His death came the day before No. 1 Ohio State beat No. 2 Michigan 42-39 in one of college football's great rivalries.
Mourners included former players, current Michigan students and past rivals who said they came to thank him.
Aram Sarkisian, a trumpet player in the Michigan marching band, said he had met Schembechler after the former coach spoke to the group.
"Bo has always meant a lot to my family," said the junior, who wore his blue letter jacket to the viewing. "He's the kind of person, you just hung on every single word he said."
Schembechler died as Michigan's winningest coach. He was a seven-time Big Ten coach of the year, compiling a 194-48-5 record at Michigan from 1969-89 and a 234-65-8 lifetime record. He never had a losing season.
Thirteen of Schembechler's Michigan teams won or shared the Big Ten championship, and 15 finished in The Associated Press top 10. His 1985 team was No. 2.
Mourners at the public viewing, however, did not mention Schembechler's wins and losses but instead talked about his off-the-field legacy.
"He was like a dad," said Julia Moore, 37, a 1991 Michigan alumna who worked in the football recruiting office as an undergraduate. "He wanted the best for you."
She said Schembechler was a "disciplinarian" but had paternal qualities.
"He told you what to do, but it was loving and heartfelt," Moore said.
James Humphries, who played for Schembechler in the late 1970s, said he cherished the times he could speak with the coach one-on-one. Now a lawyer, Humphries brought his wife and children to the viewing, which lasted three hours.
He remembered seeing the coach in August when he took his son to Michigan's two-a-day practices.
"He always had a kind word, an encouraging word," said Humphries, who wore a maize-colored Big House cap. "He was true, true to his word. It was an honor and privilege to play for him. He gave you that no-quit attitude, and you took that with you the rest of your life."
While some mourners attended the viewing for just a few minutes, others sat quietly in the church's pews for more than an hour.
Former Michigan State coach George Perles stopped by to pay his respects. He described Schembechler as a very close friend.
Schembechler attended Perles' annual Special Olympics golf outing in Lansing in August. He signed autographs and posed for photos with the crowd, which was dominated by Spartans, not Wolverines fans.
"He got a standing ovation from all the Spartan fans. They loved him," Perles said. "His legacy will be as one of the great coaches ... one of the most loyal people we ever had around."
A memorial service honoring Schembechler at Michigan Stadium is scheduled for 1 p.m. Tuesday.

Copyright 2006 by The Associated Press
Bo Schembechler: 1929-2006
Schembechler
Name:
Glenn Edward Schembechler
Nickname:
Bo, came from his sister's attempts to say "brother'' when they were children.
Born:
April 1, 1929.
Died:
Nov. 17, 2006.
Birthplace:
Barberton, Ohio
Coaching:
Miami (Ohio), 1963-68, 40-17-3; Michigan, 1969-89, 194-48-5.
Education:
Graduated Miami (Ohio), 1951; Master's degree at Ohio State, 1952
Honors:
Winningest head coach in Michigan football history. Won or tied 13 Big Ten championships during his tenure. Coached 17 teams to postseason bowl games (10 Rose Bowls). Never had a losing season. Seven-time Big Ten Coach of the Year. National coach of the year in 1969.
News:
• Schembechler collapses, dies at 77
• Hundreds mourn Schembechler
• News stuns Ohio State campus
• Michigan Stadium hosts memorial
• Replacements chosen for Broyles Award committee
• Schembechler book to be published

Reaction:
• Maisel: Bo, Michigan formed perfect match
• Forde: Saturdays without Bo won't be same
• Wojciechowski: When Bo called, coaches listened
• Papanek: Bo was one of a kind
• Remembering the man

SportsNation:
• Share your memories

Motion:
• Schembechler dies at 77

• Doctor explains Schembechler's death

• GameDay remembers Schembechler

• Lou Holtz remembers Schembechler

• John Cooper reflects on Schembechler

• Mark May remembers Schembechler

• Schembechler memorial


Photos:
• Photo Gallery

ESPN 360:
• 360: Bo Schembechler interview


From ESPNRadio.com:
• Bob Knight: Nobody I respected more

• Keith Jackson remembers a friend

• Kirk Herbstreit on Schembechler

• Beano Cook on Schembechler


Michigan vs. Ohio State
• Complete game coverage