Commentary
White, Slaton keep Mountaineers on fast track
Updated:
August 5, 2007, 9:58 PM ET
By
Joe Starkey
| Special to ESPN.com
MORGANTOWN, W.Va. -- Sure, West Virginia had the third-highest scoring offense in the country last season.
That didn't mean coach Rich Rodriguez was afraid to tweak it. He even took suggestions.
"I don't know how many people sent me letters about going to the wishbone," Rodriguez said Saturday, shortly after his team's season-opening practice at Mountaineer Field. "So I said, 'The hell with it, I'm gonna do it.'"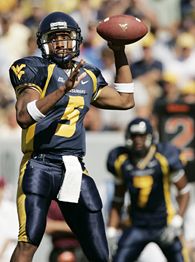 Ron Scheffler/US PresswireDual-threat quarterback Pat White rushed and passed for over 1,000 yards in 2006.
He was kidding, of course, but there is a significant change in the WVU offense -- and it can only be construed as terrible news for defensive coordinators everywhere.
The Mountaineers intend to play faster this season.
Seriously.
That much became obvious after watching 15 minutes of practice. On its first three plays from scrimmage, the offense used three wildly different formations without switching personnel.
"That's the idea, so we can play fast, so we don't have to substitute and not let the other team have time to substitute," said fullback Owen Schmitt. "Just go, go, go. That's what Coach Rod wants. We can run all the way down the field and stay in the same personnel but with different formations."
Junior quarterback Pat White was asked about Schmitt's statements.
"That's very accurate, and it was very noticeable today," White said. "Defensive players were telling us how fast we were going. They're not used to that, especially on the first day of camp."
Schmitt, a 6-foot-3, 260-pound battering ram with surprising speed, lined up at tight end -- where he will be used often -- for several plays. He also was the lone running back in a four-receiver set and even split out as a receiver for a few plays.
On one, he caught a 25-yard pass down the middle.
Steve Slaton, the Heisman Trophy hopeful tailback with 4.36 speed, lined up all over the field.
Darius Reynaud, the wide receiver with 4.46 speed, ran lightning-quick routes on the opposite side of one of WVU's most unique weapons -- 6-8 receiver Wes Lyons.
White, who has 4.41 speed, is charged with keeping everybody happy.
Is that possible?
"Hmm, to keep everybody happy?" he said, smiling. "No, that's impossible."
The Mountaineers' defense is an entirely different matter. It must improve on a sorry finish last season. But talking about the defense after watching Saturday's practice would be like talking about the ketchup after a five-star meal.
This offense is so ridiculously talented that the backup quarterback -- Jarrett Brown -- was good enough to ring up 317 total yards and beat Rutgers in his first career start last season.
It is so talented that when Rodriguez was asked yesterday about Jason Gwaltney, one of the most heralded recruits in West Virginia history two years ago, he felt comfortable shooting back, "Who?"
Gwaltney, in his attempt to return to the program after a year away from it, did not make it through spring drills.
Meanwhile, impossibly talented freshman tailback Noel Devine was used as a punt return man Saturday and could see time as a slot receiver or even in the backfield next to Slaton. All he did was rush for 6,842 yards and 92 touchdowns in his career at North Fort Myers (Fla.) High School, the same school that produced Devine's mentor, Deion Sanders -- a guy who'd fit right in on this squad.
Devine might be the fastest player on the team, which was ranked sixth in the initial USA Today/Coaches Poll.
Everybody in Morgantown is talking national title. And with Slaton and White on board, the Heisman Trophy is a possibility, too.
Rodriguez tries to steer clear of such topics.
"I just want to kind of ignore it," he said. "Who cares? We're 0-0 right now."
Rodriguez lost three offensive coaches to other programs after last season, the latest sign of how popular his unique spread option attack has become.
"I think it's flattering," he said.
Mountaineer fans don't want to think about what would have happened if Rodriguez had bolted for Alabama. He seriously considered the Crimson Tide's offer in early December before returning to his alma mater.
He was rewarded with a two-year contract extension and the promise of upgraded facilities.
His wife, Rita, was a major influence in his decision. Like her husband, she is a West Virginia native.
As a brutal sun beat down on Mountaineer Field Saturday, Rita Rodriguez spoke of the difficult decision in December.
"I just tried to make sure he saw the whole situation on either side," she said. "If I thought he was leaning more one way, I'd try to point out the other way just so he could make sure he was confident in his decision. The whole time, it was always looking for reasons to stay.
"There are some people who are looking for reasons to go. We were looking for reasons to stay."
Surveying the field Saturday, you could see a whole bunch of reasons why Rodriguez would want to stay.
It should be a fun year in Morgantown.
A fast one, too.
Joe Starkey covers the Big East for the Pittsburgh Tribune-Review.
SPONSORED HEADLINES
MORE COLLEGE FOOTBALL HEADLINES
MOST SENT STORIES ON ESPN.COM
2007 College Football Preview
The long wait for the start of the 2007 college football season is finally over. Get ready for the season with an in-depth look at the teams, trends, players and coaches. Index

Features
• Forde: Arkansas' favorite son also rising
• Forde: Welcome to Trickeration Nation
• Albright: Glanville has Portland State all shook up
• Maisel: Boise State part of quiet revolution
• Edwards: BCS system needs update


• Forde: QBs face burden of proof in '07
• Schlabach: Biggest shoes to fill this season
• Maisel: (Southern) State of the Game
• Schlabach: Hot or Not for 2007
Awards Watch
•
Ivan Maisel's preseason All-America team
•
Heisman Watch: Voters go Hog wild
•
SportsNation: Rank the Heisman contenders
Fearless Forecasts
•
Experts: Conference title projections
•
Maisel/Schlabach: Bowl predictions
•
McShay: Don't sleep on these teams

•
Games to watch:
National
|
Conference
Campus Confidential
•
Forde: Woodson stepping out of the shadow
•
Schlabach: Shhhh! Uncovering 2007's secrets
•
McShay: Seven secrets from the film room

•
Feldman: Saturday's secret agents revealed
•
EA Sports: Trick play simulations
•
Arkansas: Wildhog formation
•
Boise State: Statue of Liberty
•
LSU: Flea flicker
•
Texas: Wide receiver pass
•
USC: Halfback pass
ACC Features
•
Schlabach: ACC needs quality Miami, FSU
•
Schlabach: Wright, Freeman still battling at Miami
•
Schlabach: Wake sets bar high for encore
•
Schlabach: Five ACC predictions
Big East Features
•
Maisel: What's next for the Big East?
•
Maisel: USF's QB exudes old school cool
•
Maisel: Five Big East predictions
Big Ten Features
•
Schlabach: Michigan seniors return on a mission
•
Schlabach: Downsized Hill means supersized play
•
Schlabach: Big Ten at the crossroads
•
Schlabach: Five Big Ten predictions
Pac-10 Features
•
Forde: Now is the time for UCLA
•
Forde: Five Pac-10 predictions
•
Maisel: After long wait, Turner ready for stardom
•
Maisel: Ten Little Trojans running backs
•
Feldman: DeSean Jackson's born identity

SEC Features
•
Maisel: Saban snapshot reveals double feature
•
Higgins: Spurrier, Gamecocks thinking big
•
Schlabach: SEC balance of power shifts East
•
Schlabach: Five SEC predictions
Coaching Corner
•
Schlabach: Coaches on the hot seat
•
Schlabach: Rise of the assistants
•
McShay: Assistant coaches on the rise

•
McShay: Position coaches who deliver

Rule Changes
•
Kickoffs, timing rules highlight changes
•
McShay: Changes put premium on specialists

•
College Football Live: Impact of kickoff rule

•
Joe Tiller: Kickoff changes raise safety issues

•
College Football Live: Matter of time

Campus Call
ESPN.com will hit eight practice sessions to get an early pulse on the season. Check out what's happening on campus.
•
Aug. 7:
Gators looking for bite on D
•
Aug. 6:
ND's Weis plays respect card
|
McKnight makes USC debut
•
Aug. 5: Brown resolute in face of Texas' troubles
•
Aug. 4: WVU has speed to burn
•
Aug. 3: Taylor made Jacket
•
Aug. 2: Hokies begin road back to normalcy
•
Aug. 1: Report day is still a thrill for Tuberville