Commentary
Brown institutes 'zero tolerance' policy as embroiled Texas opens camp
Texas has made headlines in the offseason for off-the-field legal issues. It's no wonder coach Mack Brown and the Longhorns are happy to focus on football.
Originally Published:
August 5, 2007
By
Tim Griffin
| Special to ESPN.com
AUSTIN, Texas -- As the barrage of off-the-field incidents involving his teammates piled up this summer, University of Texas offensive tackle Tony Hills said he couldn't believe some of the headlines.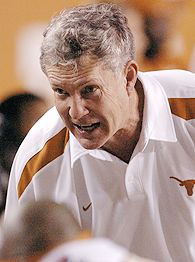 Brendan Maloney/US PresswireAfter a rocky offseason, Mack Brown is ready to focus on football.
"I was hearing them and thinking 'That's crazy,' " Hills said, slowly shaking his head. "That's the only thing I kept thinking."
Coach Mack Brown's most tumultuous offseason since arriving in Austin has only gotten worse, as four Longhorns were arrested in the last eight weeks.
Freshman defensive tackle Dre Jones, a Parade All-American from El Paso, was suspended last week after he was charged with aggravated robbery with a deadly weapon in connection with an armed robbery at an Austin apartment.
Playmaking sophomore linebacker Sergio Kindle was charged the previous week with driving while intoxicated. Sophomore defensive end Henry Melton was charged with driving while intoxicated in June.
Jones' arrest was the most shocking of the three; it came only 72 hours after Brown chided reporters for making too big of a deal out of the recent arrests in his program.
A fourth Texas player, former safety Robert Joseph, was charged in the same incident. Joseph had already left the Texas team after being arrested in a separate incident earlier in the summer.
Eight current or former Longhorn football players have been arrested since Texas claimed the national championship against Southern California in the 2006 Rose Bowl.
Those actions have led Brown to institute a "zero tolerance" policy for any potential problems with the law. Kindle and Melton were the first to be affected; both were suspended Sunday for the first three games of the upcoming season.
Brown apologized on Sunday to the university's administrators, faculty, fans and students for the range of "embarrassing incidents" that occurred this summer. He said he was "disappointed" with the recent string of arrests.
"It's not what we have worked for 9 ½ years to portray in our program of class, integrity and character," Brown said. "It's something we aren't proud of. But I can also assure you that it's not indicative of who this team really is. We're excited to be able to prove that."
Shortly after Melton's arrest, Brown formed a leadership council of 10 seniors whom he hopes will act as role models for the rest of the team.
"With all the external issues on this team, leaders on this team will try to preach that we are a family," defensive tackle Frank Okam said. "This is where people can lean on when times get tough. And with that, I think it will help our team get a little stronger."
And, as fall practice begins on Monday, it's also given Brown a motivational ploy for the upcoming season.
"Our slogan will be to 'earn the right,' because some people seem to have taken advantage of being at the University of Texas on a great team without [doing it] the right way," he said. "It's my job to make sure that the guys who are playing have earned that right."
Brown doesn't think the spate of recent incidents have tarnished his reputation.
"It gives me a chance, as disappointed as I am, to take a great stand and step up and be strong," Brown said. "But I've spent more time lately thinking about things other than football. I'd rather get back to football."
Another test came last week, when running backs coach Ken Rucker announced that he was diagnosed with prostate cancer and will undergo surgery on Aug. 27. Rucker will remain with the team through training camp before leaving the weekend prior to the Longhorns' opener against Arkansas State.
His players said that Brown has remained resolute, despite the recent tribulations. "It's like he's Superman," Hills said. "Things keep happening. They keep throwing stuff at him and he just keeps doing what he's doing best." Hills said, since he arrived at Texas, the only difference in Brown is a change in his hair color -- understandable considering the nature of his job.
"You have 100 kids and see if your hair doesn't get a little gray," Hills said.
Tim Griffin covers the Big 12 for the San Antonio Express-News.
2007 College Football Preview
The long wait for the start of the 2007 college football season is finally over. Get ready for the season with an in-depth look at the teams, trends, players and coaches. Index

Features
• Forde: Arkansas' favorite son also rising
• Forde: Welcome to Trickeration Nation
• Albright: Glanville has Portland State all shook up
• Maisel: Boise State part of quiet revolution
• Edwards: BCS system needs update


• Forde: QBs face burden of proof in '07
• Schlabach: Biggest shoes to fill this season
• Maisel: (Southern) State of the Game
• Schlabach: Hot or Not for 2007
Awards Watch
•
Ivan Maisel's preseason All-America team
•
Heisman Watch: Voters go Hog wild
•
SportsNation: Rank the Heisman contenders
Fearless Forecasts
•
Experts: Conference title projections
•
Maisel/Schlabach: Bowl predictions
•
McShay: Don't sleep on these teams

•
Games to watch:
National
|
Conference
Campus Confidential
•
Forde: Woodson stepping out of the shadow
•
Schlabach: Shhhh! Uncovering 2007's secrets
•
McShay: Seven secrets from the film room

•
Feldman: Saturday's secret agents revealed
•
EA Sports: Trick play simulations
•
Arkansas: Wildhog formation
•
Boise State: Statue of Liberty
•
LSU: Flea flicker
•
Texas: Wide receiver pass
•
USC: Halfback pass
ACC Features
•
Schlabach: ACC needs quality Miami, FSU
•
Schlabach: Wright, Freeman still battling at Miami
•
Schlabach: Wake sets bar high for encore
•
Schlabach: Five ACC predictions
Big East Features
•
Maisel: What's next for the Big East?
•
Maisel: USF's QB exudes old school cool
•
Maisel: Five Big East predictions
Big Ten Features
•
Schlabach: Michigan seniors return on a mission
•
Schlabach: Downsized Hill means supersized play
•
Schlabach: Big Ten at the crossroads
•
Schlabach: Five Big Ten predictions
Pac-10 Features
•
Forde: Now is the time for UCLA
•
Forde: Five Pac-10 predictions
•
Maisel: After long wait, Turner ready for stardom
•
Maisel: Ten Little Trojans running backs
•
Feldman: DeSean Jackson's born identity

SEC Features
•
Maisel: Saban snapshot reveals double feature
•
Higgins: Spurrier, Gamecocks thinking big
•
Schlabach: SEC balance of power shifts East
•
Schlabach: Five SEC predictions
Coaching Corner
•
Schlabach: Coaches on the hot seat
•
Schlabach: Rise of the assistants
•
McShay: Assistant coaches on the rise

•
McShay: Position coaches who deliver

Rule Changes
•
Kickoffs, timing rules highlight changes
•
McShay: Changes put premium on specialists

•
College Football Live: Impact of kickoff rule

•
Joe Tiller: Kickoff changes raise safety issues

•
College Football Live: Matter of time

Campus Call
ESPN.com will hit eight practice sessions to get an early pulse on the season. Check out what's happening on campus.
•
Aug. 7:
Gators looking for bite on D
•
Aug. 6:
ND's Weis plays respect card
|
McKnight makes USC debut
•
Aug. 5: Brown resolute in face of Texas' troubles
•
Aug. 4: WVU has speed to burn
•
Aug. 3: Taylor made Jacket
•
Aug. 2: Hokies begin road back to normalcy
•
Aug. 1: Report day is still a thrill for Tuberville