Commentary
With TCU on deck, Longhorns search for answers after narrow escape in opener
Updated:
September 7, 2007, 11:41 AM ET
By
Tim Griffin
| Special to ESPN.com
AUSTIN, Texas -- Texas coach Mack Brown has been coaching long enough to brace for the worst -- even in victory.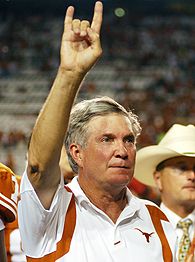 John Rivera/Icon SMIMack Brown hopes Texas learned a lesson after being humbled in its opener.
But coaching at one of college football's true Tiffany programs has taught him that a struggling performance like the Longhorns' 21-13 triumph over Arkansas State often is an angst-producing event.
"We do have one of the few fan bases that goes on suicide watch after a win," Brown joked with reporters earlier this week.
The lackluster showing in the opener is hardly a good sign heading into Saturday's pivotal game with TCU that could define the Longhorns' season.
For the fourth straight game, Texas appeared flat. Coupled with losses to Kansas State and Texas A&M to finish last season and a less-than-stellar, come-from-behind 26-24 victory over Iowa in the Alamo Bowl, Texas has not had a strong performance since early last November.
The national championship victory at the 2006 Rose Bowl has never appeared farther away.
But in a perverse sort of way, Brown said his team should benefit from overcoming obstacles and learn a hard but necessary lesson from struggling mightily as a 39-point favorite in its opener.
"We need that," Brown said. "We needed to be humbled, we needed to be kicked in the face, and we needed some bad things to happen and have to overcome them."
Brown said he watched the game film four different times to try to glean some insight from a surprising struggle against Arkansas State, a team that arrived in Austin without a nickname but left nearly producing what would have been one of college football's most stunning upsets.
"Time and time again, you go back and try to figure out why we were good, but we weren't consistently good," Brown said.

TCU doesn't scare me at all. They shouldn't. They're another football team. They're coming to our place. We've just got to handle it. We've just got to play better.
QB Colt McCoy
The Longhorns players said all the right things after nearly squandering a 21-3 lead.
"I was pretty frustrated Saturday night, but it's a win and that's the most important thing," quarterback Colt McCoy said. "There are a lot of teams that are 0-1 right now and trying to fix a lot of things. We're 1-0 and trying to fix a lot of things at the same time, but we looked at the positives on film and during practice and we're moving on."
Texas' victory looked even more dubious after Arkansas State coach Steve Roberts said he was told by Big 12 supervisor of football officials Walt Anderson that game officials wrongly overturned ASU's recovery of an onside kick in the final minute of the game.
Even to be in that situation was a massive shock for the Longhorns program. With eight players on watch lists for 2007 national awards, the Longhorns are expected to be major challengers for their second national championship in the past three years.
Instead, they needed a break to escape with a narrow victory over a team that lost to SMU 55-9 last season and had lost 28 straight games to teams from BCS-affiliated conferences since tying Mississippi State in 1993.
"Maybe we're not as good as we thought we were," defensive tackle Derek Lokey told reporters after the game.
Brown was quick to point out that the Longhorns have lost 16 players over the past two seasons to the NFL draft.
"We've lost some leadership, and what we've got to do is that somebody needs to jump out and take those leadership roles," Brown said. "When we jump out to 14 points quickly, then we shouldn't sit there and get complacent, or whatever happened in the second half."
The Longhorns have to hope their mind-set changes against TCU, because the Horned Frogs are hungry to extend a five-game winning streak against Big 12 schools. The stakes are raised even higher considering that TCU will be facing the Longhorns for the first time since the Southwest Conference disbanded in 1995.
And Texas' sputtering offense will be tested by an experienced TCU defense that ranked third or better nationally in rushing defense, scoring defense and total defense last season. And it could get even better if preseason All-American defensive end Tommy Blake returns to the lineup after missing the opener with an undisclosed illness.
A mind-set change will be in order for the Longhorns, particularly with a struggling running game that produced only 3.1 yards per carry in the opener, marking the seventh time in its last nine games that Texas has failed to average 4.0 yards per carry.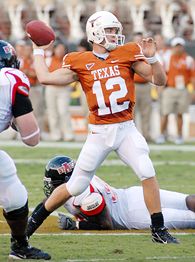 John Rivera/Icon SMIQB Colt McCoy expects a better effort against TCU on Saturday.
And this wasn't against a Big 12 defense but rather a team that was picked to finish third in the Sun Belt Conference.
The struggles were magnified early in the third quarter when the Longhorns were unable to punch the ball in on four runs after a first-and-goal from the 3.
Tailback Jamaal Charles was able to rush for 112 yards -- the first UT back to top 100 yards in 11 games -- but was ineffective in critical situations late in the game. And in this game Texas did have Lokey, who has served as a short-yardage fullback on top of his defensive tackle duties. Lokey's injury last year forced him to miss the season's final five games and, according to the spin from the Forty Acres, changed UT's ability to run the ball inside.
On the Longhorns' 38 rushing plays against Arkansas State, 20 went for 2 yards or less. All of which could portend major problems against a TCU defense that limited Baylor to 78 yards in the second half in TCU's 27-0 victory last week.
The Longhorns struggled when Arkansas State used blitzes extensively to check the running game. And they'll see more of the same with more talented, athletic players from TCU. UT's heralded defense of 11 junior and senior starters struggled to contain Arkansas State's attack. The Longhorns were blistered for 272 passing yards.
The struggles even haunted McCoy, who started fast but struggled enough to make some wonder about a sophomore jinx. He completed his first eight passes against Arkansas State and then sputtered through one of the worst periods of his short career in the second quarter. Five of his last six passes before halftime hit Arkansas State defenders in the hands. Two were intercepted.
However, McCoy sounded confident when he talked about his team's mind-set for Saturday's game.
"TCU doesn't scare me at all," McCoy told the Fort Worth Star-Telegram. "They shouldn't. They're another football team. They're coming to our place. We've just got to handle it. We've just got to play better."
But unless the offense improves markedly, McCoy's comments might sound like whistling past a graveyard.
Tim Griffin covers the Big 12 for the San Antonio Express-News.
SPONSORED HEADLINES
MORE COLLEGE FOOTBALL HEADLINES
MOST SENT STORIES ON ESPN.COM
EDITORS' PICKS
Bowling Green edged South Alabama.
Analysis »

Smaller games are still an important building block.
Ryan McGee »

P.J. Fleck has Western Michigan "rowing the boat."
Fortuna »