Commentary
North emerging as power in Big 12 race
Originally Published:
October 10, 2007
By
Tim Griffin
| Special to ESPN.com
Texas coach Mack Brown predicted before the start of the season that the rest of the conference would soon be catching up with his team and Oklahoma.
Maybe Brown knew something about his returning talent. Or about the Sooners. But little did he know that his forecast would come to fruition during the first few weeks of the season.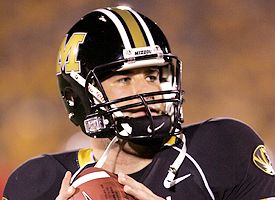 Julie Scheidegger/US PresswireChase Daniel and Missouri are lighting up scoreboards around the country.
Traditional Big 12 bullies Texas and Oklahoma have combined to win the last three Big 12 championships and five of the last seven conference titles.
So what happened on the first week of conference play this season? Colorado stunned Oklahoma and Kansas State beat Texas -- the first time the Sooners and Longhorns both lost to North Division teams on the same date since Oct. 25, 1997.
Welcome to the wild world of the Big 12 this season, where coaching rants and selling "state secrets" to boosters has trumped anything on the field.
The result has been the most unlikely Big 12 race in recent memory. Preseason North Division favorite Missouri and unlikely power Kansas are the conference's only unbeaten teams. Colorado, which was beaten by Arizona State and Florida State in the first three weeks of the season, is alone at the top of the North Division. Or consider Texas A&M coach Dennis Franchione, whose job security became an open question after an embarrassing nationally televised loss to Miami. It got worse for Franchione several days later when a San Antonio Express-News story detailed how he was leaking privileged information to select A&M benefactors for $1,200 per year. After two conference games, the Aggies are in sole possession of first place in the South Division.
Such has been life in the Big 12 this season.
The North Division has been a joke compared to the South in recent seasons, with South teams holding a 39-15 edge over the last three seasons. But the early victories over the Longhorns and Sooners indicate that Brown's summer prediction appears true.
"I'm glad K-State and Colorado won," Missouri quarterback
Chase Daniel
told the Columbia (Mo.) Daily Tribune. "You can look at it one of two ways: You can look at it like 'The Big 12 is back,' or you can look at it like,'The Big 12 sucks.' I'm looking at it like 'The Big 12 North is back.' "Oklahoma had been killing people, absolutely just murdering them, and putting up 60 points a game. … And they get smoked on a last-second field goal by a Colorado team that won two games last year."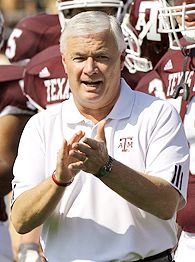 AP Photo/David J. PhillipDennis Franchione has come under fire this season, but the Aggies are in first place in the Big 12 South.
Missouri linebacker Sean Witherspoon was similarly adamant about the Big 12's balance after North teams claimed three of the first four cross-divisional battles this season.
"The teams that won those big games made a statement to the world that it's not just the Big 12 South -- it's the Big 12," Witherspoon told the Tribune. "There's 12 teams." The conference has received as much notice nationally for Franchione's struggles and Oklahoma State coach Mike Gundy's wild rants as anything on the field. But the play on the field has been entertaining.
Eight of the top 33 passing offenses are found in the league this season. Texas Tech quarterback
Graham Harrell
leads the nation in total offense and his primary receiver, freshman sensation
Michael Crabtree
, leads the nation in receptions, touchdown receptions and receiving yards per game.
Danny Amendola
of Tech ranks fifth nationally in receptions and receiving yards.
Oklahoma's victory over Texas appears to have pushed the Sooners back into title contention. But the Sooners will have to overcome their early loss in order to become the first Big 12 repeat champions.
The North Division appears to have five teams that could contend for the championship as every team but Iowa State appears capable of beating any other team.
With four teams ranked in the top 25 and five others receiving votes in both major polls, the Big 12's balance has never appeared greater.
Biggest surprise
Little was expected of Kansas, which was predicted to finish with the dregs of the North Division. But the Jayhawks have fashioned a 5-0 record for their fastest start since 1995, cracking the national top 25 this week for the first time since 1996. The Jayhawks impressed Kansas State coach Ron Prince even before they went into Manhattan and notched the Jayhawks' first victory there since 1989.
"As I evaluated tape, I thought clearly that this was the best team we had faced all year," Prince told the Kansas City Star after the game. "I tried to say it very clearly to our team, to anybody that would listen: 'This team had no weaknesses.'"
The key has been the emergence of quarterback
Todd Reesing
and an improved secondary that ranked among the worst in the country last season. The turnaround has helped salve some of the disappointment of failing to qualify for a bowl last season despite being bowl-eligible with a 6-6 record.
Biggest disappointment
Texas was expected to challenge for the national championship before the season. But the Longhorns struggled through September, sleepwalking in unimpressive victories over Arkansas State and Central Florida and needing a big second-half rally to outlast underperforming TCU.
It got worse once conference play began with losses to Kansas State and Oklahoma for the Longhorns' first 0-2 conference start since 1956. Coach Ed Price's team finished 1-9 that season, paving the way for the hiring of Darrell Royal the following season.
Brown isn't under that much pressure -- yet. But he knows his team will have to perform better in the second half of the season. "Fortunes are out of our hands right now," Brown said.
Midseason MVP
Missouri QB Chase Daniel has made the Tigers' multi-faceted offense into one of the nation's most explosive units, as well as pushing himself into prime Heisman Trophy contention if he can keep playing strongly.
His passing skills have been the main reason for Missouri's 5-0 start. Daniel ranks third in the nation in total offense as he's accounted for 1,900 yards with 15 touchdown passes and only four interceptions.
"I know there's a lot of good quarterbacks in this country, but he's got to be one of the top ones," Missouri coach Gary Pinkel said. "I've been fortunate enough to work with five quarterbacks over my career who made it to the NFL. He's the best I've ever seen."
A strong case could also be made for the MVP credentials of Texas Tech's quarterback Harrell and wide receiver Crabtree, Oklahoma quarterback
Sam Bradford
and Kansas cornerback/wide receiver Aqib Talib.
Midseason coach of the year
Kansas coach Mark Mangino has been involved in building powers at Kansas State and Oklahoma as an assistant coach. But his work finally seems to be developing with the Jayhawks.
Despite losing Big 12 leading rusher Jon Cornish from last season, Mangino has orchestrated a remarkable early turnaround.
"You have to reflect back to a year ago. We were a 6-6 team and lost some tough games. There's several factors involved. We've addressed each and every factor head on," Mangino said. "This group just has a tough mental edge to it."
Bowl bound
Missouri, Kansas, Colorado, Kansas State, Nebraska, Texas, Oklahoma, Texas A&M, Texas Tech.
Tim Griffin covers the Big 12 for the San Antonio Express-News.
SPONSORED HEADLINES
MORE COLLEGE FOOTBALL HEADLINES
MOST SENT STORIES ON ESPN.COM
EDITORS' PICKS
USC leads Nebraska in the Holiday Bowl.
Watch

Penn State beats Boston College in the Pinstripe Bowl.
Analysis »

Two-time COY