Commentary
This Longhorns team showing grit in comebacks
Updated:
November 8, 2007, 2:21 PM ET
By
Tim Griffin
| Special to ESPN.com
Mack Brown has had teams with better talent.
But the Texas coach likely hasn't had many teams with more grit than his current squad, which has bounced back into Bowl Championship Series contention after a miserable start in Big 12 play.
[+] Enlarge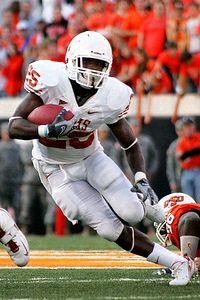 Alicia Jerome/US PresswireJamaal Charles has led the Texas ground-game, scoring six TDs over the past two games.
Left for dead by many after Texas' first 0-2 conference start in 51 seasons, the 8-2 Longhorns are soaring after improbable victories in their past two games. Dramatic fourth-quarter comebacks against Nebraska and Oklahoma State have made the Longhorns believe they can rebound from virtually any deficit.
"This has become not only a resilient team, but a scrappy one," Brown said. "It's one that keeps fighting and doesn't point fingers or give up. That's a hard thing to do with all of the pressure that these kids have on them."
The key to the recent turnaround has been a resurgent running game keyed by tailback Jamaal Charles, who has accounted for 470 yards and six touchdowns in the past two games.
And quarterback Colt McCoy has rebounded from his struggles earlier this season to become a leader who wouldn't let his team lose in the tight recent games.
Teammates say that McCoy's impassioned speech in the Texas locker room moments after the Longhorns' loss to Oklahoma cemented his role as this team's unquestioned leader. The sophomore quarterback quoted from the Bible, tears streaming down his face, while he emphatically made his point.
"I just felt like it was important for somebody to say, 'Hey, don't get down. We still have a long season in front of us,'" McCoy said. "I think that is kind of what started the whole new season."
Heading into Saturday's home game against Texas Tech (3:30 p.m. ET, ABC), the No. 14 Longhorns could charge into one of the five major bowls by sweeping the rest of the season and getting help in the form of losses by some teams in front of them in the BCS poll.
This Longhorns team isn't dotted with individual talents like some earlier teams. But it has gradually developed a sense of belief that many of Brown's earlier teams never seemed to possess.
"Unlike where we were at in the Kansas State game and the game against Oklahoma, this bunch now believes in each other," Brown said. "We're running the ball better. Our defense is playing better. They think they'll win every game now."
The Longhorns charged back from a 21-point, fourth-quarter deficit to claim a 38-35 victory over Oklahoma State last week. It was the largest fourth-quarter comeback in the 115-season history of the Texas program.
"I wish we could have played like that in the beginning -- I promise," McCoy said. "I hate it that it has to come down like that, but it just shows the toughness and the fight and the character of this team."
The week before, McCoy and Charles helped lead the Longhorns back from an eight-point deficit at the end of the third quarter to eke out a 28-25 victory over Nebraska.
"This team doesn't ever give up," Texas wide receiver Nate Jones said. "We're going to fight to the end."
Even several days later, Jones still is struck by how special the comeback victory over OSU was.
"Anytime a team is down by 21 points going into the fourth quarter, they really don't have a chance to win the game," he said. "But we just hung in there, fought and came out with the win."
The OSU comeback marked the third game the Longhorns have rebounded to win with a fourth-quarter rally this season.
"These comebacks are awesome and they show the character of this team," Texas wide receiver Quan Cosby said. "They show how close this team has gotten. Because I think if this team isn't playing totally as a team, you don't come back like that.
"It's just amazing. It's fun to win big, but these are the ones we really will truly remember."
Before the season, a string of off-the-field arrests raised questions about the leadership of this team. It was clearly the most trying offseason in Brown's 10-season coaching tenure in Austin.
The defense has shown growing pains under new defensive coordinator Duane Akina, who has had to replace five key defensive starters who left last year's team for the NFL.
The Longhorns also have struggled with pass protection from the rawest offensive line in Brown's coaching tenure.
[+] Enlarge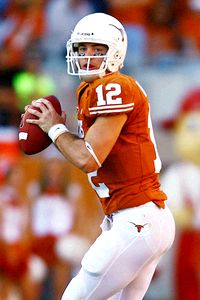 Brendan Maloney/US PresswireQuarterback Colt McCoy has stepped up as the leader of Texas.
Because of the inexperienced line, McCoy has been flushed from the pocket more than last season. That pressure has helped account for 16 touchdowns passes and 16 interceptions -- a ratio far worse than his freshman ratio of 29 TD passes and seven interceptions. But McCoy has evolved into a running threat during Texas' recent spurt, mostly out of necessity.
McCoy has employed his improvisational skills to average 63.8 yards rushing in his past four games. His 106-yard effort against Oklahoma State was the first 100-yard rushing game of his college career.
That running ability also has helped create more holes for Charles, particularly during the fourth quarter of the recent comebacks. Only a few weeks ago, Charles' stamina and durability were being called into question.
In the parlance of Texas coaches, Charles has been "running downhill," or taking what the defense gives him. Earlier in the season, he was plagued with fumble problems, including a critical fumble deep in Oklahoma territory that helped turn that game around.
"He's finally gone back to how he was in his first year, where he's making 4-yard runs and turning them into 50- and 60-yard gains," Brown said. "He found tremendous pressure on him when he wasn't producing. Jamaal finally went back to relaxing and got his confidence going north and south; he's had two of the best weeks in the country as a running back."
Combined with the comeback against Nebraska in its previous game, the Longhorns have outscored opponents 43-8 in the fourth quarter. And Charles has rushed for 341 yards and five touchdowns in the fourth quarter alone in those games.
"I want to be the playmaker with the game on the line," Charles told the Fort Worth Star-Telegram. "I never give up until there's nothing but zeroes left on the clock."
Texas coaches have shown more patience in their running game over the past two weeks. Despite trailing 21-0 early in the second quarter, the Longhorns lined up in a two-tight-end set and mashed the Cowboys on a 67-yard drive that featured all but 14 yards on the ground.
It's been a constant throughout the season. In Texas' three comeback victories over UCF, Nebraska and OSU, the Longhorns have dominated in the trenches in the fourth quarter.
"This group believed," Texas offensive coordinator Greg Davis told reporters after the game. "They believed at halftime. They believed at 35-14. And they believed when we finally popped one with Jamaal Charles."
The Longhorns were dogged by a litany of mistakes against OSU and still persevered. They had an interception returned for a touchdown on the first play from scrimmage. They missed more tackles than any Texas team in recent memory, allowing what coaches determined was an extra 157 yards after the misses. They allowed 24 plays from scrimmage of at least 10 yards.
And they still had enough to win at the end of the game -- again.
"The mind's a powerful thing, especially in sports," Brown told reporters after the game. "We were bad on top of bad on top of bad on top of bad, but we still turned it around and won."
Tim Griffin covers the Big 12 for the San Antonio Express-News.
EDITORS' PICKS
What are the 10 burning questions as spring practice kicks off?
Schlabach »

The ACC has rare experience returning at the quarterback position.
Adelson »

Spring recruiting dates to know
Story »
MORE COLLEGE FOOTBALL HEADLINES
Nike Youth Texas Longhorns #28 Burnt Orange Football Game Jersey Shop »