Commentary
Big 12 a big winner during BCS era
Originally Published:
May 22, 2008
By
Tim Griffin
| ESPN.com
The Big 12 was expected to be an immediate national title contender when the Bowl Championship Series was formed.
Despite some early growing pains, the conference created by the shotgun marriage of the old Big Eight Conference with four expatriates from the Southwest Conference has immediately taken its place as a power conference.
[+] Enlarge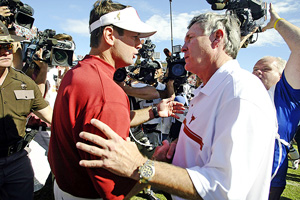 AP Photo/Matt SlocumBob Stoops & Mack Brown have been at the top of the Big 12 coaching tier.
Though it's not quite at the national level of conferences like the Big Ten or the Southeastern in the BCS era, the Big 12 has carved out a couple of signature victories that involved two of its most storied programs.
Traditional powers Texas and Oklahoma claimed national championships that helped restore some swagger to historically dominant programs that had struggled early in the Big 12's history. Oklahoma's 2000 national championship was the Sooners' first national crown in 15 seasons, and Texas' national title in 2005 was the Longhorns' first undisputed national championship in 36 years.
But the Big 12's national esteem has diminished in recent seasons, as both Texas and Oklahoma have had trouble duplicating their earlier successes. Oklahoma has lost four straight BCS games, including two BCS title games. Texas has been unable to return to the BCS since claiming its national title.
As much as the Big 12 is known for its great teams, it also has been known for the star power of individual players. The conference has produced three Heisman Trophy winners -- Ricky Williams in 1998, Eric Crouch in 2001 and Jason White in 2003 -- and four players who have finished second during the BCS era.
The Big 12's early national awareness was marked by the domination of Nebraska, which claimed a share of three national championships in the final four seasons of Tom Osborne's coaching tenure. Osborne retired from coaching as the BCS was forming in 1998, but the Cornhuskers appeared poised to continue their success.
Hand-picked replacement Frank Solich carried the Cornhuskers to a No. 3 finish in 1999 and a trip to the BCS title game in the 2001 season. But Solich was fired only two years later, as the program was deemed to be sliding from the levels expected by then-athletic director Steve Pederson.
Oklahoma and Texas then emerged as the two dominant programs in the conference. Both took advantage of critical coaching hires when Mack Brown came to Texas in 1998 and Bob Stoops arrived at Oklahoma the following year.
Oklahoma made the fastest ascension, claiming the national title in 2000 in Stoops' second season. Stoops earned the nickname "Big Game Bob" with a remarkable success ratio early in his career, winning his first eight games against Top 10 opponents.
But the Sooners haven't won a BCS game since winning the Rose Bowl in 2003, and they've endured two losses in the BCS title game. Stoops' national reputation took additional hits after a 43-42 loss to Boise State in the 2007 Fiesta Bowl and a 48-28 loss to West Virginia in the 2008 Fiesta Bowl.
Brown's boost of Texas was a little more measured. His national reputation had been marked by continually eating Stoops' dust during a five-game losing streak to the Sooners from 2000 to 2004. Quarterback Vince Young's arrival helped turn around that trend.
The Longhorns didn't play in a BCS bowl game until 2004, when Young led a dramatic 38-37 comeback victory over Michigan in the Rose Bowl.
That season served as a springboard for the following season. The Longhorns claimed a school-record 13 victories and punctuated the season with a dramatic victory over defending national champion USC in the BCS title game at the Rose Bowl. Young scored the game-winning touchdown on a fourth-down run with 19 seconds left, capping perhaps the most dramatic BCS game with the most dramatic play of the BCS era.
Moribund programs at Kansas and Missouri jumped into national title contention last season behind productive quarterbacks. Chase Daniel of Missouri and Kansas' Todd Reesing led their respective teams into a winner-take-all game finishing the regular season. Missouri's triumph boosted the Tigers into the Big 12 title game as the No. 1 ranked team in the country. It was the first time the Tigers had been ranked that highly since 1960.
Oklahoma ended coach Gary Pinkel's national title hopes by claiming the conference championship, enabling the Sooners to make history as the conference's first back-to-back championship team. And the Orange Bowl shocked many by picking Kansas over Missouri for the conference's at-large BCS berth, providing some BCS controversy inside the conference.
With five of the nation's top 15 quarterbacks in pass efficiency returning and a slew of potential Heisman candidates in place, the Big 12's star power again will be huge in 2008. But whether that translates into team success remains yet to be determined.
Big 12's Top 10 Players Of BCS Era
Big 12's Top 10 Games Of BCS Era

1. Vince Young, Texas: He didn't win the Heisman Trophy, but he accomplished almost everything else. His career-capping comeback over USC for the national title made him a certifiable Texas icon.

2. Adrian Peterson, Oklahoma: His career was cut short by injuries and his leaving school early, but he was an explosive breakaway threat every time he touched the ball.

3. Tommie Harris, Oklahoma: The two-time All-American defensive tackle dominated in the trenches and was the best defensive player among many great ones during Bob Stoops' coaching tenure.

4. Eric Crouch, Nebraska: He won the Heisman and led his team to the BCS title game in his senior season. But his signature remains the catch that he made to beat No. 1 Oklahoma in 2001.

5. Ricky Williams, Texas: Though he played only one season in the BCS era, his Heisman Trophy-winning season in 1998 helped kick-start Mack Brown's coaching era.

6. Jason White, Oklahoma: Rebounded from reconstructive surgeries on both knees to become the most productive quarterback in school history and the first Sooner QB to win the Heisman.

7. Michael Bishop, Kansas State: Led the Wildcats to the brink of the BCS Championship Game during his senior season in 1998, finishing second in the Heisman.

8. Derrick Johnson, Texas: Two-time consensus All-American earned the Butkus and Nagurski awards after his senior season in 2004.

9. Dat Nguyen, Texas A&M: Undersized linebacker who was a three-time all-conference selection and a Lombardi Award winner after leading his team to the conference title and the Sugar Bowl during his senior season.

10. Aqib Talib, Kansas: A gifted cover cornerback who also doubled as an explosive wide receiver, Talib twice earned All-Big 12 first-team honors and was the MVP of the 2008 Orange Bowl in his final college game with Kansas.

1. Texas 41, USC 38, 2006 Rose Bowl -- Jan. 4, 2006: QB Vince Young capped his incandescent college career with his greatest college game, leading the Longhorns to their first undisputed national championship in 36 seasons.

2. Texas A&M 36, Kansas State 33,
1998 Big 12 championship game -- Dec. 5, 1998: Backup QB Branndon Stewart orchestrated a dramatic fourth-quarter comeback and then hooked up with Sirr Parker for the game-winning 32-yard TD pass in the second overtime.

3. Texas 38, Michigan 37, 2005 Rose Bowl -- Jan. 1, 2005: Mack Brown campaigned mightily for his team to make a BCS bowl. The Longhorns lived up to his boast with a gritty comeback victory in their first BCS bowl game, winning on walk-on K Dusty Mangum's 37-yard field goal as time expired.

4. Oklahoma 35, Texas A&M 31, Nov. 11, 2000: Torrance Marshall's 41-yard interception return with 7:18 left capped a wild fourth-quarter comeback, boosting the Sooners to their toughest victory during their national title run.

5. Colorado 39, Texas 37, 2001 Big 12 championship game -- Dec. 1, 2001: Colorado took advantage of three interceptions and a fumble by Texas QB Chris Simms to jump to a 19-point lead in the first half. The Buffaloes then held on despite a furious comeback led by backup QB Major Applewhite.

6. Colorado 62, Nebraska 36 -- Nov. 23, 2001: Chris Brown rushed for 198 yards and six touchdowns to lead a Buffalo stampede over the No. 2 Cornhuskers, clinching the Buffaloes' first Big 12 North title.

7. Missouri 36, Kansas 28 -- Nov. 24, 2007: Missouri and Kansas staged the biggest "Border War" in the history of the storied rivalry. The Tigers responded with a victory that was clinched by Lorenzo Williams' safety with 12 seconds left.

8. Kansas State 35, Oklahoma 7 -- Dec. 6, 2003: Many were calling Oklahoma one of the greatest teams in modern football history. But somebody forgot to tell Kansas State about that, as the Wildcats savaged an Oklahoma defense playing its first game without defensive coordinator Mike Stoops.

9. Oklahoma 13, Florida State 2, 2001 Orange Bowl -- Jan. 3, 2001: The underdog Sooners devastated the defending national champions with a devastating defensive performance, limiting them to only 27 yards rushing and 4 yards rushing in the second half.

10. Kansas State 29, Nebraska 28 -- Nov. 11, 2000: Jonathan Beasley rifled two TD passes to Quincy Morgan, including the game-winning 12-yard toss with 2:52 left to boost the Wildcats to the victory and cement their North Division title hopes.

Big 12's Top 10 Teams Of BCS Era
Big 12's Top 10 Moments Of BCS Era

1. 2005 Texas: The Longhorns' first undisputed national championship team in 36 seasons capped the season with a victory for the ages over USC in the Rose Bowl.

2. 2000 Oklahoma: Bob Stoops charged to his first national championship in only his second season as a head coach by running through a "Red October" gantlet of challengers.

3. 1999 Nebraska: Frank Solich's greatest team avenged its only regular-season loss by beating Texas in San Antonio for the Big 12 title, then beat Tennessee in the Fiesta Bowl for its top finish since Tom Osborne's final team.

4. 2003 Oklahoma: The abrupt departure of Mike Stoops before the end of the season robbed this team of its defensive swagger, leading to losses to Kansas State in the championship game and LSU in the BCS title game.

5. 2004 Texas: Mack Brown had to politick this team into the BCS, and the Longhorns lived up to his boast with a dramatic 38-37 triumph over Michigan in the Rose Bowl in his first BCS game.

6. 2007 Oklahoma: The first team in Big 12 history to repeat as champion lost twice during the regular season but still had a strong nucleus of talent.

7. 2007 Missouri: Chase Daniel, Jeremy Maclin & Co. led the Tigers to their best season in 47 years, cracking a barrier as the No. 1 team late in the season.

8. 2007 Kansas: Only a regular-season ending loss to Missouri marred the season for coach Mark Mangino's underdog team. The Jayhawks capped the season with a 24-21 upset over Virginia Tech in the Orange Bowl in their first BCS bowl appearance.

9. 1998 Texas A&M: Backup QB Branndon Stewart orchestrated the Aggies' wild double-overtime comeback victory over Kansas State in the Big 12 championship -- the first Big 12 football title in school history.

10. 1998 Kansas State: Coach Bill Snyder pushed this team to the brink of a shot in the BCS title game before it collapsed in the second half against Texas A&M in the Big 12 title game and suffered an embarrassing 37-34 loss to Purdue in the Alamo Bowl.

1. Mike Stuntz's throwback pass -- Oct. 27, 2001: Nebraska QB Eric Crouch wrapped up the Heisman Trophy by catching a touchdown pass rather than throwing one. Crouch's snag of a 63-yard dart from backup Mike Stuntz boosted the Cornhuskers to a 20-10 upset over No. 1 Oklahoma.

2. Texas Tech's amazing comeback -- Dec. 29, 2006: After spotting the Gophers a 31-point lead in the third quarter, the Red Raiders stormed back for an overtime victory that was the largest comeback in Division I-A bowl history.

3. Roy Williams' leap -- Oct. 6, 2001: The Sooner safety's well-timed leap on a blitz helped force an interception by Texas' Chris Simms that was returned 2 yards for the game-clinching touchdown by Teddy Lehman with 2:01 left.

4. Morriss' gamble pays off -- Oct. 30, 2004: Baylor coach Guy Morriss went for a victory in overtime, and it paid off, as the Bears claimed the upset over the Aggies, snapping an 18-game losing streak to A&M.

5. Kevin Steele's blunder -- Sept. 11, 1999: Baylor was comfortably ahead and needed only to down the ball one more time to win. Coach Kevin Steele wanted to hammer one more score, but Darrell Bush fumbled and Kevin Thomas returned it 99 yards for the game-winning touchdown.

6. Hirings of Mack Brown (Dec. 4, 1997) and Bob Stoops (Dec. 1, 1998): Two downtrodden programs at the time charged back into national-title contention shortly after Texas hired brown and Oklahoma hired Stoops the following season.

7. Aggie Bonfire memorial game -- Nov. 26, 1999: Playing only eight days after the Bonfire tragedy took the lives of 12 fellow students, Texas A&M charged back for a dramatic 20-16 triumph over Texas.

8. Coach Fran's selling of state secrets (Oct. 11, 2007): Texas A&M coach Dennis Franchione was admonished by his school after previously selling a secret e-mail newsletter "VIP Connection" to athletic boosters who paid $1,200 annually for team information shielded from most fans.

9. Iowa State can't finish the deal (Nov. 27, 2004, and Nov. 26, 2005): The Cyclones finished with disappointing regular-season ending overtime losses to Missouri in 2004 and Kansas in 2005 that cost them the opportunity for the first football championships in school history.

10. Gundy's rant -- Sept. 22, 2007: Oklahoma State coach Mike Gundy became the subject of nationwide media controversy after erupting after his team's 49-45 victory over Texas Tech. Gundy made the famous quote "Come after me! I'm a man! I'm 40," which helped the incident become a YouTube staple.
Tim Griffin covers college football for ESPN.com. Send your questions and comments to Tim at espntimgriff@yahoo.com.
The BCS at 10
With 10 years of college football's life under the Bowl Championship Series in the books, ESPN.com takes a look back at the BCS decade. We'll tackle everything this week from the memorable games, plays and teams to the BCS vs. playoff debate to the possible landscape in 2018.
Monday
•
Maisel: Paradox found
•
Low: Best BCS bowl games
•
Miller: Best BCS bowl performances
SportsNation
•
Rank 'em: Best BCS bowl games
•
Rank 'em: Best BCS bowl performances
•
Chat wrap: Chris Low

•
Chat wrap Ted Miller

Tuesday
•
Maisel: Say yes to the BCS
•
Forde: Say no to the BCS
•
Miller: Biggest BCS bowl slights
SportsNation
• Rank 'em: Biggest BCS bowl slights
• Chat wrap: Ivan Maisel


• Chat wrap: Pat Forde

Wednesday
• Schlabach: Ranking the BCS champions
• Schlabach: Defining coaches of the BCS era
• Rittenberg: Memorable BCS bowl coaching moves

SportsNation
• Rank 'em: Which BCS champion is the best?
• Rank 'em: Which coach defines the era?
• Chat wrap: Adam Rittenberg


• Chat wrap: Mark Schlabach

Thursday
Conference Breakdowns
ACC
Dinich: ACC has been a dud in BCS era
Big 12
Griffin: Big 12 becomes superpower in BCS era
Big East
Schlabach: Big East thriving in BCS
Big Ten
Rittenberg: BCS system has been good to Big Ten
Pac-10
Miller: USC dominates Pac-10 in BCS era
SEC
Low: SEC successfully navigates BCS system
Indies/Non-BCS
Rittenberg: No complaints from South Bend
SportsNation
• Chat wrap: Tim Griffin

Friday
• Schlabach: The future is now
• Griffin: Defining players of the BCS decade
• Dinich: Memorable BCS bowl moments

SportsNation
•
Rank 'em: Defining players of the BCS era?
•
Rank 'em: Memorable BCS bowl moment?
•
Chat: Heather Dinich, 2 ET
MORE COLLEGE FOOTBALL HEADLINES
Nike Men's Missouri Tigers Football Practice Legend Black T-shirt Shop »

MOST SENT STORIES ON ESPN.COM