Commentary
Big Ten has benefited most under BCS system in past decade
If the BCS holds a 10-year anniversary celebration, the Big Ten Conference likely would be first in line for cake.
The league wouldn't leave any crumbs on its plate, either.
[+] Enlarge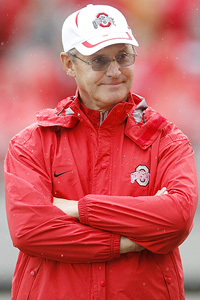 Matt Sullivan/Getty ImagesThe Big Ten has done well for itself during the BCS era.
Arguably no conference has benefited more from the BCS than the Big Ten, which has sent the most teams (17) to BCS bowls and, for the most part, maintained its traditional bond with the Rose Bowl. Despite owning the fourth-best record (8-9) in BCS games out of the six power conferences, the Big Ten has sent two teams to BCS bowls in seven of the 10 seasons, including each of the past three.
So don't expect the Big Ten to be picketing for a playoff system anytime soon.
"We have the best of both worlds," said Wisconsin athletic director Barry Alvarez, who coached the Badgers to Rose Bowls in 1999 and 2000. "We have a chance to play for a championship and still have our ties to the Rose Bowl. We're in pretty good shape."
Preserving a link to the Rose Bowl has been the biggest priority and the biggest challenge for the Big Ten since the BCS was formed. It also has increased contempt for the league.
The Big Ten sent teams to Pasadena during the first three years of the BCS, but league champ Illinois was bumped to the Sugar Bowl in 2002 when the Rose Bowl hosted the national championship. It marked the first time since 1946 that the game didn't feature the traditional Big Ten vs. Pac-10 matchup.
The Rose Bowl once again didn't feature a Big Ten team in 2003, when league champ Ohio State played for the national title in the Fiesta Bowl. Iowa faced Pac-10 runner-up USC in the Orange Bowl, while Pac-10 champion Washington State took on Big 12 champ Oklahoma in Pasadena.
Rose Bowl executive director Mitch Dorger wasn't thrilled with the matchups, saying at the time, "We learned a lot about the BCS this year and the way it operates."
"The first four years were tough," Big Ten commissioner Jim Delany said. "The last four years, we're working much better. We're leaving [the Rose Bowl] more often, but that means we have more opportunity.
"To the extent that there was damage the first four years, we've been able to largely get that back."
Making new inroads to other bowls has certainly helped.
In 2000, Michigan became the first Big Ten team to reach the Orange Bowl since 1977, and the league has more Orange Bowl appearances (three) during the BCS era than in the previous 65 editions of the game (two). Big Ten teams have reached the Sugar Bowl twice since 1999 after getting there just three times before.
"We lost regular access to the Rose Bowl, but we gained three opportunities to play for a national championship," Delany said. "We lost opportunities in the Rose Bowl, but we gained greater access to other major bowls."
The addition of a separate BCS national championship game also has helped the Big Ten, which sent its champion (Ohio State) to both title games and still had an entry in the Rose Bowl.
"We still have an avenue to get there," Alvarez said.
Some see it as a roadblock for the rest of college football.
The Rose Bowl's selection of a three-loss Illinois team in January sparked debate after Big 12 North champion Missouri, a team that had beaten the Illini in the season opener and held the No. 1 ranking at the end of November, was left out of the BCS. Many felt the Rose Bowl should have prioritized matchup over tradition and selected red-hot Georgia to face red-hot USC.
USC's lopsided win over Illinois furthered demand for the Rose Bowl to part with ritual. The Big Ten also has been singled out for its opposition to a plus-one playoff format or any change that would affect its relationship with the Rose Bowl.
Despite the growing clamor for change, the Big Ten doesn't plan to budge.
As a conference without a championship game, Delany and others trumpet the significance of the regular season. Evidence: the Ohio State-Michigan matchup in 2006, which paired the nation's No. 1 and No. 2 teams in arguably the most-anticipated regular-season game in college football history.
"I'm anti-playoff, so the BCS as we see it today is best-case scenario," Purdue coach Joe Tiller said. "College football does have a playoff, and it occurs all year long. Every single game is significant. … I like the format. It's not perfect, but in college football we don't need a playoff. We've got a very healthy game. It's been very good for the Big Ten."
For a league that has had its cake and eaten it throughout the past decade, the current setup is rather sweet.
Big Ten's Top 10 Players Of BCS Era
Big Ten's Top 10 Games Of BCS Era

1. Ron Dayne, Wisconsin: The burly back led Wisconsin to Big Ten titles and Rose Bowl appearances in the first two years of the BCS era. He broke the NCAA career rushing record in 1999 and went on to win the Heisman Trophy that year, finishing with 6,397 career rushing yards.

2. Drew Brees, Purdue: As the poster boy of college football's spread offense, Brees led Purdue to a league title in 2000 and finished his career with Big Ten records for passing yards (11,792), touchdown passes (90) and completions (1,026).

3. Troy Smith, Ohio State: After a rocky start to his career, Smith led Ohio State to consecutive BCS bowl appearances and won the Heisman Trophy in 2007. He threw a school-record 30 touchdown passes in 2007 and finished his career as the most efficient passer in Big Ten history.

4. Craig Krenzel, Ohio State: Krenzel's running ability helped Ohio State claim the national title in 2002, and he won consecutive Fiesta Bowl MVPs and finished his career with a 24-3 record as the Buckeyes' starter.

5. LaVar Arrington, Penn State: A truly dominant linebacker at a school famous for producing them, Arrington was a two-time first-team All-American who won both the Butkus and Bednarik awards in 1999.

6. Braylon Edwards, Michigan: Edwards left Michigan as the Big Ten's career touchdown receptions leader (39) and set Michigan records for receptions (252) and receiving yards (3,542).

7. Marion Barber III and Laurence Maroney, Minnesota: In 2003 and 2004, Maroney and Barber became the first running back tandem in Division I-A history from the same team to each gain 1,000 rushing yards in consecutive seasons.

8. Mike Hart, Michigan: Hart finished as Michigan's all-time leading rusher with 5,040 yards. More impressive, he once went 1,005 carries without a fumble. Hart was twice a Doak Walker Award finalist and his 28 career 100-yard rushing games are a Michigan record.

9. Antwaan Randle El, Indiana: Randle El became the first player in Division I-A with 40 passing touchdowns and 40 rushing touchdowns. The Big Ten Offensive Player of the Year in 2001, Randle El became the first player in college football history to record 2,500 or more total yards in all four seasons.

10. Paul Posluszny, Penn State: "Poz" became just the second man in NCAA history to win two Bednarik Awards as the nation's best defensive player. He helped Penn State reach the 2006 Orange Bowl and finished as the school's tackles leader (372).

1. Ohio State 31, Miami 24, 2003 Fiesta Bowl -- Jan. 3, 2003: The national championship game had great performances, dramatic twists and a controversial pass interference call against Miami in the first overtime. Ultimately, OSU quarterback Craig Krenzel led his team to its first title since 1970.

2. Ohio State 42, Michigan 39 -- Nov. 18, 2006: The most hyped regular-season game in college football history paired the nation's top two teams in their annual rivalry. It marked the first time both teams entered the game undefeated since 1975.

3. Texas 38, Michigan 37, 2005 Rose Bowl -- Jan. 1, 2005: Two of college football's winningest programs met for the first time and produced a classic. Michigan went ahead 37-35 with 1:52 left, but Texas QB Vince Young, who had four rushing touchdowns, led his team back.

4. Iowa 30, LSU 25, 2005 Capital One Bowl -- Jan. 1, 2005: LSU rallied from a 12-point fourth-quarter deficit and took a 25-24 lead with 46 seconds left. Just 14 seconds remained when Iowa sophomore QB Drew Tate took the game's final snap, connecting on a 56-yard score to Warren Holloway as time expired.

5. Penn State 26, Florida State 23, 2006 Orange Bowl -- Jan. 3, 2006: The spotlight was on the sidelines as college football's two winningest coaches, Penn State's Joe Paterno and FSU's Bobby Bowden, faced off in Miami.

6. Michigan 27, Penn State 25 -- Oct. 15, 2005: Penn State was 6-0, but Wolverines QB Chad Henne led his team to the Penn State 10-yard line with one second left, before finding Mario Manningham for the winning touchdown in a game that featured four lead changes.

7. Northwestern 54, Michigan 51 -- Nov. 4, 2000: The Big Ten ditched its reputation for stingy defense and smashmouth football as league co-champs Northwestern and Michigan combined for 105 points and 1,189 yards in a thrilling contest at Ryan Field.

8. Michigan State 26, Michigan 24 -- Nov. 3, 2001: The "Clock Game" ended in controversy after Michigan State's Jeff Smoker threw a touchdown to T.J. Duckett as time expired, giving the Spartans a 26-24 win. Michigan contended that the clock should have run out before the final play, but the result remained.

9. Wisconsin 20, Purdue 17 -- Oct. 16, 2004: Purdue came in undefeated at 5-0 and boasted the Heisman Trophy front-runner in QB Kyle Orton. The Boilermakers held a 17-14 lead late in the fourth quarter when Orton fumbled trying to lunge for a first down. Wisconsin's Scott Starks returned the ball for a touchdown, giving the Badgers a 20-17 win.

10. Illinois 28, Ohio State 21 -- Nov. 10, 2007: QB Juice Williams and the Illini beat a No. 1 team for the first time since 1956, upsetting top-ranked Ohio State 28-21 in Columbus. Williams threw four touchdown passes and converted a crucial fourth down after convincing coach Ron Zook to go for it.

Big Ten's Top 10 Teams Of BCS Era
Big Ten's Top 10 Moments Of BCS Era

1. 2002 Ohio State: Led by reliable quarterback Craig Krenzel, hard-hitting safety Mike Doss and a dynamic freshman running back named Maurice Clarett, OSU won its first national championship since 1970, beating Miami in a controversial national title game.

2. 1998 Ohio State: The preseason No. 1 team had its sights on a national title before falling at home to Michigan State in November. The Buckeyes beat Texas A&M in the Sugar Bowl and finished No. 2 in the BCS standings.

3. 1999 Wisconsin: After two early losses, the Badgers rode running back Ron Dayne to an outright Big Ten title and a second straight Rose Bowl appearance. Dayne won the Heisman Trophy and captured the NCAA career rushing record, while the team won its final eight games.

4. 2006 Ohio State: Led by Heisman Trophy winner Troy Smith and a stingy defense, the Buckeyes maintained the No. 1 ranking throughout the regular season, beating No. 2 Michigan in one of the most anticipated games ever.

5. 1998 Wisconsin: Criticized for their schedule and underestimated before the season, the Badgers won a school-record 11 games and their second Rose Bowl in the 1990s. Dayne rushed for 246 yards in the Rose Bowl -- a yard shy of the game record -- and scored four touchdowns.

6. 2005 Penn State: Coming off consecutive losing seasons, Penn State won its first Big Ten title since 1994 and silenced critics clamoring for coach Joe Paterno to retire. The Nittany Lions outlasted Florida State in three overtimes in the Orange Bowl.

7. 2007 Ohio State: Despite losing the core from the outstanding 2006 team, Ohio State won another Big Ten title and returned to the national championship game, where it once again flopped.

8. 2006 Michigan: A high-octane offense led by QB Chad Henne, RB Mike Hart and WR Mario Manningham helped Michigan win its first 10 games and maintain a No. 2 national ranking.

9. 2002 Iowa: The Hawkeyes went undefeated in Big Ten play and won a share of the league title for the first time since 1990. QB Brad Banks, the Davey O'Brien Award winner and Heisman Trophy finalist, was named Associated Press Player of the Year.

10. 2003 Michigan: The Wolverines won their first outright Big Ten title since 1997 after beating Ohio State in Ann Arbor. Running back Chris Perry led the Wolverines back from two early losses as they won their final six regular-season games before falling to USC in the Rose Bowl.

1. "The Call" saves Ohio State in 2003 Fiesta Bowl -- Jan. 3, 2003: Miami players celebrated a national championship after Craig Krenzel's fourth-down pass to Chris Gamble fell incomplete, but a belated pass interference flag gave Ohio State new life in overtime. The Buckeyes went on to win in the second overtime.

2. Ron Dayne breaks NCAA rushing record -- Nov. 13, 1999: The Heisman Trophy winner leapfrogged Ricky Williams to become the NCAA's all-time leading rusher with a 31-yard run in the second quarter of Wisconsin's win against Iowa.

3. Appalachian State stuns Michigan -- Sept. 1, 2007: Quite possibly the biggest upset in NCAA history became a reality when Appalachian State's Corey Lynch blocked a 37-yard field-goal attempt on the final play.

4. Joe Paterno breaks Bear Bryant's coaching wins record -- Oct. 27, 2001: Thirty-five years after his first victory as Penn State's coach, Joe Paterno passed Bear Bryant for the top spot on the all-time coaching wins list following a 29-27 triumph over Ohio State, the 324th of his career.

5. The deaths of coaches Randy Walker and Terry Hoeppner -- June 29, 2006: The Big Ten community was stunned when Northwestern coach Randy Walker died suddenly of a heart attack. Tragedy struck again nearly a year later as Indiana coach Terry Hoeppner died of complications from a brain tumor.

6. Carr gets carried away at the 2008 Capital One Bowl: After announcing his retirement in the wake of another loss to rival Ohio State, Michigan coach Lloyd Carr went out on a high note after the Wolverines beat Florida. Carr, who finished with a 122-40 record and led Michigan to at least a share of five Big Ten titles, was carried to midfield after the final seconds ticked away.

7. Minnesota pulls a miracle in Happy Valley -- Nov. 6, 1999: The unranked Golden Gophers faced fourth-and-16 trailing unbeaten Penn State by two points in the closing minutes. Quarterback Billy Cockerham's pass deflected off Ron Johnson's hands but into those of Arland Bruce for a first down. The incredible conversion set up Dan Nystrom's 32-yard game-winning field goal as Minnesota won the Governor's Victory Bell and ruined Penn State's national title chances.

8. Paterno breaks leg on sideline -- Nov. 4, 2006: Weeks shy of his 80th birthday, Penn State coach Joe Paterno sustained a broken leg and a damaged knee ligament when two players ran into him in the third quarter of a game at Wisconsin.

9. John L. melts down at halftime -- Oct. 15, 2005: Leading Ohio State 17-7, Michigan State rushed a field-goal attempt and had it blocked and returned for a touchdown. As he ran off the field, Spartans coach John L. Smith exploded in an interview with ABC, screaming, "The kids are playing their tail off and the coaches are screwing it up!" MSU lost 35-24, finishing the season 5-6.

10. Alvarez gets bowl win in final game -- Jan. 2, 2006: The man who made Wisconsin football relevant went out a winner as the Badgers beat Auburn 24-10 in the 2006 Capital One Bowl. Barry Alvarez finished his career with the second-best winning percentage in bowl games (.727) and an all-time record of 118-73-4.
Adam Rittenberg covers college football for ESPN.com. He can be reached at espnritt@gmail.com
College Football
ESPN.com Big Ten reporter.
Joined ESPN.com in 2008.
Graduate of Northwestern University.
SPONSORED HEADLINES
MORE COLLEGE FOOTBALL HEADLINES
MOST SENT STORIES ON ESPN.COM
The BCS at 10
With 10 years of college football's life under the Bowl Championship Series in the books, ESPN.com takes a look back at the BCS decade. We'll tackle everything this week from the memorable games, plays and teams to the BCS vs. playoff debate to the possible landscape in 2018.
Monday
•
Maisel: Paradox found
•
Low: Best BCS bowl games
•
Miller: Best BCS bowl performances
SportsNation
•
Rank 'em: Best BCS bowl games
•
Rank 'em: Best BCS bowl performances
•
Chat wrap: Chris Low

•
Chat wrap Ted Miller

Tuesday
•
Maisel: Say yes to the BCS
•
Forde: Say no to the BCS
•
Miller: Biggest BCS bowl slights
SportsNation
• Rank 'em: Biggest BCS bowl slights
• Chat wrap: Ivan Maisel


• Chat wrap: Pat Forde

Wednesday
• Schlabach: Ranking the BCS champions
• Schlabach: Defining coaches of the BCS era
• Rittenberg: Memorable BCS bowl coaching moves

SportsNation
• Rank 'em: Which BCS champion is the best?
• Rank 'em: Which coach defines the era?
• Chat wrap: Adam Rittenberg


• Chat wrap: Mark Schlabach

Thursday
Conference Breakdowns
ACC
Dinich: ACC has been a dud in BCS era
Big 12
Griffin: Big 12 becomes superpower in BCS era
Big East
Schlabach: Big East thriving in BCS
Big Ten
Rittenberg: BCS system has been good to Big Ten
Pac-10
Miller: USC dominates Pac-10 in BCS era
SEC
Low: SEC successfully navigates BCS system
Indies/Non-BCS
Rittenberg: No complaints from South Bend
SportsNation
• Chat wrap: Tim Griffin

Friday
• Schlabach: The future is now
• Griffin: Defining players of the BCS decade
• Dinich: Memorable BCS bowl moments

SportsNation
•
Rank 'em: Defining players of the BCS era?
•
Rank 'em: Memorable BCS bowl moment?
•
Chat: Heather Dinich, 2 ET