Commentary
Trojans had no BCS peer once Carroll arrived
Originally Published:
May 22, 2008
By
Ted Miller
| ESPN.com
Tom Hansen wants you, college football fans of the United States, to know that he reads your e-mail. The Pac-10's longtime commissioner has reviewed your myriad proposals for a Division I-A playoff, whether they include highly detailed narratives with supporting visual aids or briefly sum up their positions with colorful expletives.
He hears you. But he's not biting. Or cowed.
[+] Enlarge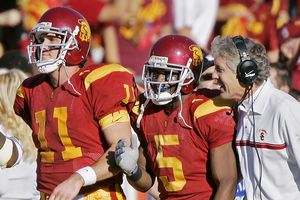 AP Photo/Kevork DjansezianUSC has been the beacon of success in the Pac-10.
Hansen called the Bowl Championship Series an "amazing success," even while acknowledging the well-documented glitches.
He supports the bowl system, particularly the Pac-10's cherished relationship with the Rose Bowl. He believes any playoff, whether it be a "plus-one" four-team model or something more extensive, will do more harm than good.
And, yes, he realizes that many fans see him, one of the most affable gentlemen in college sports, as a villain on the matter.
"Yes, I get very tired of debating the whole subject, but it's part of what I'm supposed to be doing," he said.
Hansen's position might seem curious because his Pac-10 has experienced a bumpy ride with the BCS over the past 10 years.
On the one hand, no team has lorded over college football like USC. The Trojans have won two national titles -- though one was split with LSU -- and played for a third. They've gone 5-1 in six consecutive BCS bowls and finished ranked in the top four each of those seasons.
That's the one-team upside. The downside is the conference hasn't earned two BCS berths -- the gold standard payday in major conferences -- since 2002, and it's suffered a handful of notorious shaftings by the system, even one to the magisterial Trojans.
• Immediately after joining the BCS in 1998, fifth-ranked Arizona, at 11-1, was passed over during the selection process, most notably by the Orange Bowl, which tapped No. 7 Florida, loser of two games, to play Syracuse.
• In 2001, BCS math failed Oregon, ranked No. 2 in both polls, and Nebraska was selected to play No. 1 Miami in the national title game, even though the Cornhuskers had lost their season finale to Colorado, 62-36. The decision looked even worse when the Ducks buried Colorado 38-16 in the Fiesta Bowl.
• USC finished the 2003 season No. 1 in both polls. Yet the BCS computers chose Oklahoma and LSU to play for the championship, even though the Sooners were coming off a four-touchdown defeat in the Big 12 title game.
• California lost only one game in 2004: a 23-17 nail-biter to USC. But Texas coach Mack Brown launched a public campaign to convince poll voters to promote his sixth-ranked Longhorns, whose only loss came to No. 2 Oklahoma, ahead of the No. 4 Bears. It worked. Cal, which hadn't played in a Rose Bowl since 1959, ended up sucking lemons in the Holiday Bowl while the Rose Bowl was forced to select Texas, due to BCS rules.
"The one that was particularly bitter was Cal, because Cal was the apparent victim of what I would term to this day unethical voting in the coaches' poll," Hansen said.
For Cal, it wasn't just about missing a BCS bowl. It was about missing the Rose Bowl. The Pac-10's and Big Ten's obsessive dedication to the Granddaddy of Them All -- both conferences were the last to join the BCS -- is a big reason both presently lead the anti-playoff charge and are so supportive of the "double-hosting" format, which added a fifth bowl as the championship game and further insured the Rose Bowl will match the two conferences.
As for the perception that the Pac-10 has become USC and the nine dwarfs during the BCS Era, that's a recent phenomenon. From 1995 to 2001, seven different teams went to the Rose Bowl as Pac-10 champions (or co-champions). In 2000 and 2002, the conference produced two BCS participants.
Of course, 2002 was the first year one of those teams was USC, which was enjoying coach Pete Carroll's second season. The Trojans dynasty emerged and has yet to face a consistent challenge, even though six of its eight losses over the past six seasons have come against conference foes.
This dominance has made USC a national villain, and Hansen is quick to point out that the BCS has advanced college football from a regional to a national fascination, where every game in the regular season is meaningful. Therefore, every contender follows -- or roots against -- the progress of every other contender across the country.
Consider the bitter USC-LSU rivalry, which inflames passions even though the programs haven't played since 1984 (hint, hint). Tell an LSU fan USC fell just short of three-peating in 2005 and then watch the boiled crawfish spew from his ears.
Such passion is healthy. And, in sum, Hansen believes the BCS is healthy and good for the Pac-10.
But he's not counting on that opinion staunching the flow of e-mail clamoring for a playoff.
Pac-10's Top 10 Players Of BCS Era
Pac-10's Top 10 Games Of BCS Era

1. Matt Leinart, USC: Leinart won a Heisman Trophy, went 2-1 in BCS bowls -- throwing for 1,024 yards and nine touchdowns -- won a national title, split another and finished second his senior year. His 99 career touchdown passes is a Pac-10 record.

2. Reggie Bush, USC: He won the 2005 Heisman Trophy and recorded more spectacular plays than any other athlete during the BCS era, producing 99 plays of 20-plus yards in three seasons.

3. LenDale White, USC: Thunder to Bush's lightning, White established Tailback U's career rushing touchdowns mark with 52. He finished with 3,159 yards and averaged 5.9 per carry over three years.

4. Carson Palmer, USC: Won the 2002 Heisman Trophy and was the leader of the USC team that began the present Trojans dynasty. He finished as the Pac-10's career passing leader with 11,818 yards.

5. Joey Harrington, Oregon: Harrington led Oregon to consecutive top-10 finishes in 2000 and 2001, when the Ducks finished No. 2. He finished fourth in the 2001 Heisman Trophy voting and was an Academic All-American.

6. Marques Tuiasosopo, Washington: Tuiasosopo, who finished eighth in the 2000 Heisman Trophy voting, was a pass-run threat who was at his best when the game was on the line. He finished with 7,374 yards of total offense, but is most remembered for the the eight comeback victories he engineered in 2000.

7. USC defense: It's impossible to narrow this list to a single player -- there have been six first-round draft picks from Pete Carroll's defenses. But the biggest difference between the Trojans and the rest of the Pac-10 isn't offense, it's their annually elite defense.

8. Cade McNown, UCLA: One of eight Pac-10 quarterbacks to pass for over 500 yards in a game, McNown finished with 11,285 total yards, which ranks second on the Pac-10 list.

9. Jason Gesser, Washington State: Gesser led the Cougars to consecutive 10-win seasons and top-10 rankings and finished seventh in the 2002 Heisman Trophy race. He also shared 2002 conference offensive player of the year honors with Carson Palmer, the Heisman winner.

10. Terrell Suggs, Arizona State: The only player on this list who didn't play in a BCS bowl game, Suggs merits note because he terrorized a number of the players on this list while he set NCAA records for sacks -- career (44) and season (24, in 2002).

1. USC 34, Notre Dame 31 -- Oct. 15, 2005: One of the most thrilling regular-season games in recent memory, it featured Matt Leinart's 61-yard pass to Dwayne Jarrett on fourth-and-9 and the infamous "Bush Push."

2. USC 23, California 17 -- Oct. 9, 2004: The Trojans overcame 23 consecutive completions from Cal QB Aaron Rodgers, which tied an NCAA record, to win with a late goal-line stand and keep their perfect season alive.

3. Washington 33, Oregon State 30 -- Oct. 7, 2000: This barn burner stretched into the wee hours of a Sunday morning on the East Coast and featured nearly 1,000 yards of offense and four lead changes. The Beavers' only loss, it wasn't decided until Ryan Cesca's 46-yard field goal attempt sailed wide.

4. USC 55, Oklahoma 19, Orange Bowl -- Jan. 4, 2005: The game was over by halftime and was boring for everyone but USC fans, but it was an overwhelming show of might for the repeat national champions.

5. USC 28, Michigan 14, Rose Bowl -- Jan. 1, 2004: Again, not much of a thrill ride, though Leinart hauling in a reverse pass from receiver Mike Williams for a touchdown was fairly entertaining.

6. Washington State 30, USC 27 -- Oct. 5, 2002: With a pair of 35-yard field goals, WSU kicker Drew Dunning tied it in regulation and won it in overtime, a critical victory for the Cougars' Rose Bowl run.

7. Oregon State 33, USC 31 Oct. 28, 2006: Oregon State jumped to a 33-10 lead and then withstood a furious USC comeback, the game not decided until Jeff Van Orsow batted down a John David Booty pass on a 2-point conversion attempt.

8. Oregon 38, Colorado 16, Fiesta Bowl -- Jan. 1, 2002: Joey Harrington threw for 350 yards and four touchdowns as the second-ranked Ducks routed No. 3 Colorado, inspiring howls of protest that Oregon should have been in the BCS title game instead of Nebraska.

9. Washington 34, Purdue 24, Rose Bowl -- Jan. 1, 2001: Washington dominated at the line of scrimmage, rushing for 268 yards to win its first Rose Bowl since NCAA sanctions crippled the program in 1993. Washington finished ranked third in the final polls.

10. Oregon State 41, Notre Dame 9, Fiesta Bowl -- Jan. 1, 2001: Only a late touchdown prevented it from being the Irish's worst loss in their previous 24 bowl games. A year after the Beavers ended an NCAA-record streak of 28 consecutive losing seasons, they outgained college football's most storied program 446-155 and finished ranked fourth in the nation.

Pac-10's Top 10 Teams Of BCS Era
Pac-10's Top 10 Moments Of BCS Era

1. 2004 USC: The undisputed national champions went 13-0, beat three top-10 teams in the process and outscored their opponents 496-169. The Trojans' 55-19 bludgeoning of unbeaten Oklahoma in the national title game was one of the most dominant performances of the BCS Era.

2. 2005 USC: This version of the Trojans was touted as perhaps the greatest college football team in history. On offense, that might have been true, thanks to the 638 points they scored. But the defense was a couple of ticks down from most USC units under Pete Carroll, and it was exposed by Vince Young in the national title game.

3. 2003 USC: The consensus No. 1 at season's end, the Trojans didn't get to play in the BCS title game because the computers picked LSU and Oklahoma. But when they had little trouble with No. 4 Michigan in the Rose Bowl, they were crowned national champions by the AP and the Football Writers.

4. 2001 Oregon: Led by quarterback Joey Harrington, the Ducks rolled to an 11-1 finish and stomped Colorado 38-16 in the Fiesta Bowl to finish ranked No. 2 behind an otherworldly Miami team.

5. 2000 Washington: This 11-1 team was hardly dominant -- it won seven games by a touchdown or less and trailed in eight of its 11 victories.

6. 2002 USC: This is where the dynasty started, with Carson Palmer finally realizing his talents under offensive coordinator Norm Chow. By season's end, capped by a 38-17 pummeling of No. 3 Iowa in the Orange Bowl, this might have been the nation's best team.

7. 2000 Oregon State: The best team no one has ever heard of, the Beavers, led by future NFL All-Pro receivers Chad Johnson and T.J. Houshmandzadeh, went 11-1 and crushed Notre Dame in the Fiesta Bowl.

8. 2006 USC: This talented but inconsistent team that finished ranked No. 4 is probably best known for overseeing the breaking of multiple streaks: (1) end of record 27-game Pac-10 winning streak; (2) end of seven-game winning streak versus UCLA, a loss that knocked the Trojans out of the national title game.

9. 2007 USC: Another "what could have been" Trojans squad, this one was victimized by one of the biggest upsets in college football history when it fell at home to Stanford, a 41-point underdog. Still, it won the Rose Bowl and finished ranked No. 3 (No. 2 in the coaches' poll).

10. 1998 Arizona: Sad to say this great team was the last Arizona squad to play in a bowl game. A lone home defeat to UCLA prevented the Wildcats from realizing their Rose Bowl dreams.

1. USC hires Pete Carroll, Dec. 15, 2000: Carroll's hire by athletic director Mike Garrett was immediately and universally hailed as brilliant. Or, er, not. In fact, after failing to lure Mike Bellotti, Dennis Erickson or Mike Riley to Heritage Hall, Garrett was widely mocked, as was his deep backup plan with Carroll.

2. The Rick Neuheisel Saga, Dec. 1998 to present: NCAA violations at Colorado and Washington. His participation in an NCAA basketball tournament pool. His Rose Bowl MVP. His Rose Bowl coaching victory. His glib personality. His record of fourth-quarter comebacks. His firing at Washington. His vindication in court. His ultimate coaching legacy hangs on his record at UCLA, both on and off the field.

3. Heisman University: The Heisman Trophy has practically been parked at USC during the BCS Era. It started with quarterback Carson Palmer in 2002, continued with Matt Leinart in 2004 and concluded with Reggie Bush in 2005.

4. Washington's Curtis Williams injury, Oct. 28, 2000: Curtis Williams suffered a spinal cord injury that paralyzed him from the neck down. A little over two months later, he sat in a wheelchair in the press box and watched the Huskies win the Rose Bowl and dedicate the victory to him. On May 6, 2002, he died due to complications associated with the injury.

5. The NCAA and Reggie Bush: Reggie Bush allegedly received money and gifts from two men trying to convince him and his parents to start a sports marketing firm with them, a violation of NCAA rules. In addition to thousands of dollars, one of the men claims Bush was given a car while his parents lived rent-free in a $750,000 San Diego-area home.

6. The refs did it: Oregon "beats" Oklahoma 34-33: This was a wild final 72 seconds. As Oregon fans see it, their Ducks rallied from a two-touchdown deficit to win 34-33. From the viewpoint of Oklahoma fans -- and all other objective observers -- the Ducks were falsely rewarded possession on an onside kick.

7. Price is wrong: Washington State coach Mike Price couldn't resist the big-money, big-program temptation when Alabama came calling. Price did not sign his contract after his hiring, and after getting drunk and cavorting with exotic dancers, he was fired.

8. Pac-10 vs. SEC: Scoreboard, baby!: Speaking of Pac-10 and SEC intersections … those have gone badly for the SEC in other ways, such as on the field. Since the beginning of the BCS Era in 1998, the Pac-10 is 9-6 against the SEC and 5-2 in games played on the West Coast.

9. The Northwest rules: USC hasn't always nested atop the Pac-10, even during the BCS Era. In 2000, the Northwest dominated the conference in a way it hadn't before (or since), with three teams ranked among the top seven of the final AP poll.

10. The missing kicker, Sept. 1, 2007: In tribute to USC kicker Mario Danelo, who was found dead at the bottom of a cliff near his family home on Jan. 6, 2007, the Trojans lined up without a kicker for the point-after attempt that followed their first touchdown of the season. USC was assessed a delay-of-game penalty before David Buehler came on the field to kick the extra point.
Ted Miller is a college football writer for ESPN.com. Send your questions and comments to Ted at tedmillerespn@gmail.com.
College Football
ESPN.com Pac-12 reporter.
Covered college football since 1997.
Graduate of the University of Richmond.
SPONSORED HEADLINES
MORE COLLEGE FOOTBALL HEADLINES
MOST SENT STORIES ON ESPN.COM
The BCS at 10
With 10 years of college football's life under the Bowl Championship Series in the books, ESPN.com takes a look back at the BCS decade. We'll tackle everything this week from the memorable games, plays and teams to the BCS vs. playoff debate to the possible landscape in 2018.
Monday
•
Maisel: Paradox found
•
Low: Best BCS bowl games
•
Miller: Best BCS bowl performances
SportsNation
•
Rank 'em: Best BCS bowl games
•
Rank 'em: Best BCS bowl performances
•
Chat wrap: Chris Low

•
Chat wrap Ted Miller

Tuesday
•
Maisel: Say yes to the BCS
•
Forde: Say no to the BCS
•
Miller: Biggest BCS bowl slights
SportsNation
• Rank 'em: Biggest BCS bowl slights
• Chat wrap: Ivan Maisel


• Chat wrap: Pat Forde

Wednesday
• Schlabach: Ranking the BCS champions
• Schlabach: Defining coaches of the BCS era
• Rittenberg: Memorable BCS bowl coaching moves

SportsNation
• Rank 'em: Which BCS champion is the best?
• Rank 'em: Which coach defines the era?
• Chat wrap: Adam Rittenberg


• Chat wrap: Mark Schlabach

Thursday
Conference Breakdowns
ACC
Dinich: ACC has been a dud in BCS era
Big 12
Griffin: Big 12 becomes superpower in BCS era
Big East
Schlabach: Big East thriving in BCS
Big Ten
Rittenberg: BCS system has been good to Big Ten
Pac-10
Miller: USC dominates Pac-10 in BCS era
SEC
Low: SEC successfully navigates BCS system
Indies/Non-BCS
Rittenberg: No complaints from South Bend
SportsNation
• Chat wrap: Tim Griffin

Friday
• Schlabach: The future is now
• Griffin: Defining players of the BCS decade
• Dinich: Memorable BCS bowl moments

SportsNation
•
Rank 'em: Defining players of the BCS era?
•
Rank 'em: Memorable BCS bowl moment?
•
Chat: Heather Dinich, 2 ET