Commentary
Notre Dame has been treated well during BCS era
The BCS has taken fire from all corners of the country during the past 10 years, but in South Bend, Ind., they've kept their weapons holstered.
[+] Enlarge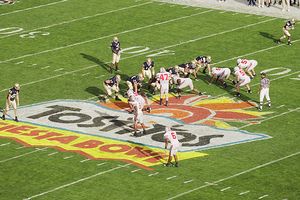 Icon SMINotre Dame has put most of its good teams into a BCS game.
Notre Dame has had little, if anything to gripe about regarding its position with the BCS. Though the Fighting Irish have fallen behind several of their major-conference counterparts on the field, they remain an equal in the BCS boardroom. The school no longer receives a full BCS share, as it did when it reached the Fiesta Bowl in 2001 and 2005, but Notre Dame is guaranteed $1.3 million in years it does not make a BCS bowl. And if and when the Irish return to glory, a $4.5 million BCS payout will be waiting, one they won't have to share. Despite nine consecutive bowl losses and only one top-10 finish since 1993, Notre Dame has, for the most part, seen its good teams reach a choice destination. Of the four Irish teams that qualified for BCS selection since the system's inception, only the 2002 squad didn't end up in a BCS bowl. "We certainly have had our fair share of access, despite the fact that we have not had a great competitive run," Notre Dame athletic director Kevin White said. "It's fair to say the structure has been most accommodating to the needs and interests of Notre Dame. "It's exactly what we signed up for. No surprises." Non-BCS schools might not be as content with the BCS setup as Notre Dame, but things have improved dramatically during the past four seasons. After no non-BCS team reached a BCS bowl for the first six years, Utah earned an at-large berth to the 2005 Fiesta Bowl and stomped Pitt to complete a perfect season. The Utes did it the hard way, finishing in the top six of the final BCS standings to earn automatic selection. The path for the non-BCS bloc became easier in 2006 when the BCS changed its rules, allowing those teams to automatically qualify if they finished in the top 12 of the final BCS standings. Had the top-12 rule been in place from the start, five other non-BCS teams would have earned BCS bowl berths, including two undefeated squads (Tulane 1998 and Marshall 1999). Boise State capitalized on the new rule in 2006, finishing eighth in the BCS standings and earning a berth in the Fiesta Bowl. The college football world was thankful as the Broncos and Oklahoma played one of the greatest games in the sport's history. Another WAC school busted the BCS last season as Hawaii, despite a diluted schedule, went to the Sugar Bowl. "The biggest plus has been the guaranteed access slipping from six to 12," Mountain West Conference commissioner Craig Thompson said. "It gives people a real chance and people have taken advantage." Despite the recent success, non-BCS teams are still hurt by semantics. "The labeling that has come with the BCS is an unintended consequence, but it's out there," Thompson said. "Either you're BCS or you're not. You can say 'not,' you can say 'without automatic qualification,' label it however you want. "That's a real frustration." The gap could be bridged, Thompson said, by adding a seventh guaranteed BCS bowl spot for a non-BCS team every year. The spot could be decided in a playoff between top non-BCS teams -- perhaps the champions from the Mountain West, WAC, Conference USA and Sun Belt -- or given to the non-BCS team ranked highest in the final BCS standings. Thompson understands why commissioners from the big six would oppose such an idea, especially with non-BCS teams already qualifying for BCS bowls, but he thinks it's important to push for guaranteed access. Playoff proposals are nice, but Thompson hasn't seen one that has a guaranteed spot for a non-BCS team. "Can [a non-BCS team] play on the field? Do they look like a BCS automatic qualifying participant? Do they sell 25,000 tickets? The answer to all those is yes," Thompson said. "We're traveling, we're bringing something to the enterprise of college football. … I would love to see, minimally, one of the 54 of us playing every year in one of those five bowl games." Notre Dame has no such worries. The Irish earn an automatic BCS berth by finishing in the top eight of the BCS standings and are considered for selection with a top-12 finish -- a virtual guarantee, given the school's brand and fan base. "Notre Dame continues to be a significant part of the BCS," White said. "What's happened to this point has been most predictable."
Indies & Non-BCS Top 10 Players Of BCS Era
Indies & Non-BCS Top 10 Games Of BCS Era

1. LaDainian Tomlinson, TCU: The dynamic running back led the nation in rushing in his final two seasons, helping TCU become relevant again. Tomlinson won the Doak Walker Award, and he set the NCAA single-game rushing record with 406 yards against UTEP in 1999.

2. Alex Smith, Utah: Utah became the first non-BCS team to crash the BCS party, and Smith was the biggest reason why. A natural fit for Urban Meyer's spread offense, Smith went 21-1 as the starter and led Utah to a perfect season in 2004.

3. DeAngelo Williams, Memphis: The three-time Conference USA Player of the Year holds NCAA records for career all-purpose yards (7,573) and 100-yard rushing games (34 in 44 games). He ranks fourth on the NCAA career rushing list (6,026) and was the only back with fewer than 1,000 carries to amass more than 5,500 yards.

4. Colt Brennan, Hawaii: Brennan set NCAA records for career touchdown passes (131) and total offense (387.9 ypg) and led the Warriors to an undefeated regular season in 2007. Brennan broke or tied 18 NCAA records, 17 WAC records and 41 school records.

5. Dante Culpepper, Central Florida: An athletic marvel, Culpepper set virtually every passing record at the school and still holds the NCAA mark for single-season completion percentage (73.6 in 1998). Culpepper became just the third player in NCAA history to record 10,000 career passing yards and 1,000 career rushing yards.

6. Brady Quinn, Notre Dame: Quinn started all four seasons but did most of his damage in the final two, as he blossomed under coach Charlie Weis. He set 36 school records, including those for career passing yards (11,742), completions (929) and touchdowns (95).

7. Brian Urlacher, New Mexico: Playing the linebacker-safety hybrid position known as "Lobo-Back," Urlacher became a dominant defender at New Mexico, earning Mountain West Player of the Year honors in 1999. A first-team All-America selection, Urlacher finished third on the school's tackles list with 442 and also returned punts and kickoffs.

8. Chad Pennington, Marshall: His career started alongside star wideout Randy Moss and ended with an undefeated senior season in 1999. Pennington led Marshall to a perfect 13-0 mark and finished fifth in Heisman Trophy voting.

9. Shaun King, Tulane: King guided Tulane to an undefeated season in 1998 and set the Division I-A single-season record for pass efficiency (183.3). He also became the first player in NCAA history to pass for more than 300 yards and rush for more than 100 yards in the same game.

10. Ryan Dinwiddie, Boise State: The most efficient passer in NCAA history (168.9 rating) helped Boise State become a non-BCS powerhouse in three seasons as the starting quarterback. Dinwiddie's school records include career passing yards (9,819), single-season passing yards (4,356 in 2003) and career touchdown passes (82).

1. Boise State 43, Oklahoma 42, Fiesta Bowl -- Jan. 1, 2007: The Broncos won behind an intrepid series of play calls by coach Chris Petersen. After sending the game to overtime with a hook-and-lateral touchdown, the Broncos won with a Statue of Liberty run by Ian Johnson on a two-point conversion attempt.

2. USC 34, Notre Dame 31 -- Oct. 15, 2005: Trailing 31-28, the Trojans connected on 61-yard pass on fourth-and-9. Moments later, Matt Leinart got a push from Reggie Bush for the game-winning touchdown. Despite the loss, Notre Dame earned national respect and received production from its famous trio of Brady Quinn, Jeff Samardzija and Tom Zbikowski.

3. Marshall 64, East Carolina 61 (2 OT), GMAC Bowl -- Dec. 19, 2001: East Carolina built a 38-8 lead but Marshall stormed back behind Byron Leftwich, who matched Ty Detmer's bowl game passing record with 576 yards. It marked the highest-scoring bowl game in NCAA history as the teams combined for a bowl-record 16 touchdowns.

4. Navy 46, Notre Dame 44 (3 OT) -- Nov. 3, 2007: Having lost 43 consecutive contests to the Irish, Navy scored a touchdown and a two-point conversion in the third overtime. Notre Dame answered but Travis Thomas was stuffed on the two-point try, giving Navy its first win in the series since 1963.

5. BYU 33, Utah 31 -- Nov. 25, 2006: BYU appeared headed for its fifth straight loss to Utah after falling behind 24-14 after three quarters. But the Cougars rallied as John Beck threw an 11-yard touchdown to Jonny Harline with no time left.

6. Louisville 44, Boise State 40, Liberty Bowl -- Dec. 31, 2004: The teams delivered with the highest-scoring Liberty Bowl ever. Boise State scored two defensive touchdowns, but ultimately Louisville's defense sealed a 44-40 win as safety Kerry Rhodes intercepted a pass in the end zone as time expired.

7. USC 50, Fresno State 42 -- Nov. 19, 2005: Fresno State nearly derailed USC's trip to a third consecutive BCS title game. Led by quarterback Paul Pinegar, the Bulldogs rallied from a 13-point fourth-quarter deficit to claim a 42-41 edge with 9:47 left. USC wound up winning 50-42 behind Bush, who set a Pac-10 record with 513 all-purpose yards.

8. UNLV 27, Baylor 24 -- Sept. 11, 1999: Leading 24-21 on the UNLV 8-yard line, Baylor needed only to take a knee. But Baylor coach Kevin Steele, in an attempt to "create an attitude," ran a handoff to Darrell Bush. Bush fumbled and Kevin Thomas ran 101 yards the other way for the game-winning touchdown with no time left on the clock.

9. Hawaii 54, Houston 48 (3 OT), Hawaii Bowl -- Dec. 25, 2003: Unfortunately, most remember the postgame fight between the teams, but the game itself produced plenty of drama. Quarterbacks Kevin Kolb of Houston and Timmy Chang of Hawaii headlined an offensive explosion that featured 1,158 total yards.

10. Boise State 69, Nevada 67 (4 OT), Oct. 14, 2007: The teams set a record for most points in a Division I-A game (136) since official record-keeping began in 1937. The Broncos prevailed, but arguably the biggest story was Nevada quarterback Colin Kaepernick, who accounted for five touchdowns in his first career start.

Indies & Non-BCS Top 10 Teams Of BCS Era
Indies & Non-BCS Top 10 Moments Of BCS Era

1. 2006 Boise State: Other non-BCS teams have gone undefeated, but none did so by knocking off a BCS powerhouse on a grand stage in one of the greatest games ever played.

2. 2004 Utah: Led by quarterback Alex Smith, the Utes beat Texas A&M, Arizona and North Carolina in nonleague play and pounded an overmatched Pitt team in the Fiesta Bowl. The season helped Smith become the No. 1 overall selection in the 2005 NFL draft, while Urban Meyer moved on to coach Florida.

3. 1998 Tulane: National champ Tennessee was the only other team to go undefeated in 1998, as Tulane won a school-record 12 games, most in dominating fashion. The Green Wave won all but one game by a touchdown or more, setting a single-season school scoring record with 538 points.

4. 2004 Louisville: A 3-point road loss at Miami was the only thing separating Louisville from a BCS bowl berth in its final season in Conference USA. The Cardinals led the nation in total offense (539 ypg) and scoring (49.8 ppg) as they went 11-1, finishing with a Liberty Bowl victory over Boise State.

5. 1999 Marshall: In just its third season as a Division I-A program, Marshall went a perfect 13-0 and knocked off BYU in the Motor City Bowl. Quarterback Chad Pennington, who finished fifth in the Heisman Trophy voting that year, led the Thundering Herd to a season-opening win at Clemson.

6. 2007 Hawaii: The Warriors tried to beef up their schedule and got no takers, so they destroyed almost everything in their path. A strong defense complemented superstar quarterback Colt Brennan and his fabulous foursome of receivers, and the result was a spotless regular season.

7. 2004 Boise State: After winning their last 11 games to close the 2003 season, the Broncos continued the streak in 2004, posting a perfect regular-season record. Quarterback Jared Zabransky led the nation's second-ranked scoring offense as Boise State notched wins against Oregon State, Fresno State and Hawaii before falling to Louisville in a thrilling Liberty Bowl.

8. 2003 Miami (Ohio): A season-opening loss to Iowa turned out to be the only blemish for the RedHawks, who won their final 13 games, setting a school record and reaching their first bowl game since 1986. Ben Roethlisberger rebounded from a four-interception performance at Iowa to pass for 4,486 yards and 37 touchdowns.

9. 2005 TCU: The Horned Frogs opened with a bang, beating Oklahoma, then followed with a thud, losing to SMU. But they recovered nicely to win their final 10 games, including the Houston Bowl against Iowa State.

10. 2005 Notre Dame: After a rocky coaching transition, the Irish returned to relevancy under Charlie Weis, setting 11 team records, including points (440) and yards (5,728). Quarterback Brady Quinn thrived in Weis' offense, and Notre Dame notched victories against Michigan and Purdue en route to a Fiesta Bowl appearance.

1. Ian Johnson, Fiesta Bowl -- Jan. 1, 2007: Down 42-41, the Broncos went for two and the win. Quarterback Jared Zabransky faked a pass before making a behind-the-back handoff to running back Ian Johnson. The sophomore sprinted to the end zone for the win. As the cameras continued to roll, Johnson proposed to his girlfriend, Chrissy Popadics.

2. Bush Push -- Oct. 15, 2005: After being stopped on first-and-goal, USC QB Matt Leinart reached the end zone, thanks in large part to a push from running back Reggie Bush. Though the push was illegal, no penalty was called and USC won 34-31.

3. Leftwich gets an escort -- Nov. 2, 2002: Marshall quarterback Byron Leftwich injured his leg against Akron and went for X-rays. When he returned, the Herd trailed 27-10. Despite a broken left tibia, Leftwich returned to the field and passed for more than 200 yards in Marshall's loss.

4. Notre Dame fires Tyrone Willingham, Nov. 30, 2004: Three days after a 31-point loss to rival USC, Notre Dame fired Willingham, sparking a backlash against the school. Willingham was the first black football coach at Notre Dame and served the shortest tenure (three years) of any full-time Notre Dame coach in 70 years.

5. Tomlinson's record, Nov. 20, 1999: LaDainian Tomlinson became the first Division I-A player to eclipse 400 rushing yards in a game when he went for 406 and six touchdowns against UTEP.

6. Florida International brawls with Miami -- Oct. 14, 2006: Eight Florida International players were ejected following a sideline-clearing brawl with Miami in the third quarter. A total of 31 players -- 18 from Miami, 13 from Florida International -- were suspended for their roles in the brawl.

7. O'Leary's rise, fall and rise again, 2001: Five days after being hired as Notre Dame coach, George O'Leary resigned from his post Dec. 14, admitting he had lied on his résumé. It was a low point for both O'Leary and Notre Dame, but the coach got back on his feet at Central Florida, winning Conference USA Coach of the Year honors in 2005.

8. Dillingham saves the day -- Sept. 21, 2002: Quarterback Pat Dillingham had never thrown a pass for Notre Dame, but the former walk-on was thrust into the fire against Michigan State. Notre Dame trailed 17-14 with 1:41 left. But Dillingham fired a short pass to Arnaz Battle, who ran 60 yards for the winning touchdown.

9. The MAC makes a statement -- Sept. 20, 2003: The best weekend in recent MAC history took place in late September, as three teams notched wins against ranked opponents. Marshall stunned No. 6 Kansas State in Manhattan, Toledo upset ninth-ranked Pittsburgh and Northern Illinois beat No. 21 Alabama at Bryant-Denny Stadium.

10. Troy stuns Missouri -- Sept. 9, 2004: In just its fourth season as a Division I-A member, Troy established itself as a budding program by upsetting No. 19 Missouri. The Tigers were the first BCS-conference school to visit Troy, which was entering its first season in the Sun Belt Conference.
Adam Rittenberg covers college football for ESPN.com. He can be reached at espnritt@gmail.com
College Football
ESPN.com Big Ten reporter.
Joined ESPN.com in 2008.
Graduate of Northwestern University.
SPONSORED HEADLINES
MORE COLLEGE FOOTBALL HEADLINES
MOST SENT STORIES ON ESPN.COM
The BCS at 10
With 10 years of college football's life under the Bowl Championship Series in the books, ESPN.com takes a look back at the BCS decade. We'll tackle everything this week from the memorable games, plays and teams to the BCS vs. playoff debate to the possible landscape in 2018.
Monday
•
Maisel: Paradox found
•
Low: Best BCS bowl games
•
Miller: Best BCS bowl performances
SportsNation
•
Rank 'em: Best BCS bowl games
•
Rank 'em: Best BCS bowl performances
•
Chat wrap: Chris Low

•
Chat wrap Ted Miller

Tuesday
•
Maisel: Say yes to the BCS
•
Forde: Say no to the BCS
•
Miller: Biggest BCS bowl slights
SportsNation
• Rank 'em: Biggest BCS bowl slights
• Chat wrap: Ivan Maisel


• Chat wrap: Pat Forde

Wednesday
• Schlabach: Ranking the BCS champions
• Schlabach: Defining coaches of the BCS era
• Rittenberg: Memorable BCS bowl coaching moves

SportsNation
• Rank 'em: Which BCS champion is the best?
• Rank 'em: Which coach defines the era?
• Chat wrap: Adam Rittenberg


• Chat wrap: Mark Schlabach

Thursday
Conference Breakdowns
ACC
Dinich: ACC has been a dud in BCS era
Big 12
Griffin: Big 12 becomes superpower in BCS era
Big East
Schlabach: Big East thriving in BCS
Big Ten
Rittenberg: BCS system has been good to Big Ten
Pac-10
Miller: USC dominates Pac-10 in BCS era
SEC
Low: SEC successfully navigates BCS system
Indies/Non-BCS
Rittenberg: No complaints from South Bend
SportsNation
• Chat wrap: Tim Griffin

Friday
• Schlabach: The future is now
• Griffin: Defining players of the BCS decade
• Dinich: Memorable BCS bowl moments

SportsNation
•
Rank 'em: Defining players of the BCS era?
•
Rank 'em: Memorable BCS bowl moment?
•
Chat: Heather Dinich, 2 ET