Commentary
SEC success a constant during BCS era
Originally Published:
May 22, 2008
By
Chris Low
| ESPN.com
The advent of the Bowl Championship Series a decade ago was greeted in the Southeastern Conference much the same way as a speed limit would be for the fastest cars at a race track.
Given the overall balance and ruggedness of the SEC coupled with the fact that the champion had to survive a league title game, many of the coaches feared that the BCS system would be bad for business in the SEC.
[+] Enlarge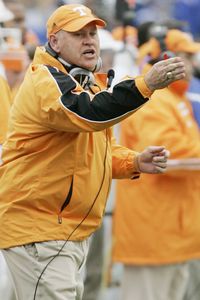 Mark Zerof/US PresswireFour SEC teams have national titles during the BCS era, including Phil Fulmer's Tennessee squad in 1998.
"I think most of us thought that the championship game and the BCS setup, at that particular time, would not be beneficiary for the SEC," said Tennessee coach Phillip Fulmer, whose Vols promptly shot down that notion by winning the first BCS national title in 1998. "I think a lot of people felt that way, that we'd beat up on each other and that teams that didn't play quite the schedule we do in the SEC would have more of an advantage."
Granted, the BCS has been tweaked, tightened and altered during its first 10 years of existence. But the one constant during that time has been the SEC's success.
Four SEC teams have won BCS national championships -- Tennessee in 1998, LSU in 2003, Florida in 2006 and LSU in 2007. No other conference can claim more than two BCS national titles.
And when it comes to overall records in all BCS bowl games, the SEC blows away everybody else with an 11-4 mark. The Pac-10 is 8-4, and the Big East 6-4. The other three major conferences -- Big Ten (8-9), Big 12 (6-8) and ACC (1-9) -- all have losing records in BCS bowl games.
Roy Kramer, the former SEC commissioner who created the BCS, isn't one to say he told you so. But he believed all along that the SEC would be just fine.
"I heard a lot of that, that it was the end of the championship era in the SEC," Kramer recalled. "Even a number of media wrote articles suggesting as much. But I felt the [SEC] championship game would give our teams a shot to move up at the end of the year in the BCS standings that they might not have had otherwise.
"Obviously, there's a risk if you lose that game. But if you're a team that's good enough to play for the national championship and deserving, you're going to win that game. At least, that was my argument to the coaches. It didn't go over very well, but I really believed that we could earn a bonus there at the end of the year by winning that game that somebody who finishes their season in November is not going to get.
"And as it's turned out, it's worked out that way several times."
That doesn't mean it's been all smooth sailing for the SEC, either. Just ask Tommy Tuberville and Auburn.
In ESPN.com's rating of the best SEC teams during the BCS era, the 2004 Auburn team came out on top. That team had everything -- four of the first 25 picks in the ensuing NFL draft, the two best running backs in the league in Carnell "Cadillac" Williams and Ronnie Brown, eye-popping speed up and down the roster and a nasty defense that yielded just 134 points all season long.
Yet, the Tigers (13-0) never got a chance to play for the national championship. They finished third in the BCS standings behind USC and Oklahoma, which were also unbeaten. The Trojans shredded the Sooners in the Orange Bowl to win the national championship.
Tuberville remains a playoff proponent, and who could blame him?
Whereas the system might have been unkind to Auburn in 2004, it couldn't have been better to LSU and Florida the past two years. Both won national championships despite losses during the regular season (two for LSU), but were able to make up valuable ground in the final BCS standings thanks to SEC championship game victories.
The Gators, after beating Arkansas in the SEC championship game, passed Michigan by a hundreth of a point in the final 2006 BCS standings in large part because the Wolverines were idle on that final weekend. There was also a little help from UCLA upsetting USC earlier in the day.
The miraculous thing for LSU last season was that the Tigers were even in position to play for the national title. They lost at home to unranked Arkansas on Thanksgiving weekend, their second loss of the season, but were thought of highly enough by the voters to remain in striking distance in the BCS standings.
"Even after the Arkansas game, I thought we were one of the best teams in the country, and I told our team that," LSU coach Les Miles said.
So, in retrospect, maybe the SEC is getting more benefit of the doubt in the BCS-controlled world of college football than anybody ever envisioned when Kramer first unveiled this unconventional system of polls and computer rankings 10 years ago.
Fulmer, the dean of SEC coaches, has a simpler theory.
"I guess you could say we've gotten the benefit of the doubt, but I think it's more a show of respect, personally," said Fulmer, entering his 16th full season at Tennessee. "When people talk about wanting to have a playoff, we basically have a playoff in our league … every week."
SEC's Top 10 Players Of BCS Era
SEC's Top 10 Games Of BCS Era

1. Darren McFadden, Arkansas: Using a rare blend of speed and power, McFadden finished his Arkansas career with 4,590 rushing yards, second all-time in the SEC. McFadden won Doak Walker Award twice and was twice the runner-up for the Heisman Trophy.

2. Glenn Dorsey, LSU: One of the most dominant defensive linemen the SEC has produced the last decade, Dorsey was a driving force in the Tigers' 2007 title run. He won the Outland Trophy, the Lombardi Award and the Bronko Nagurski Trophy in '07.

3. Champ Bailey, Georgia: Considered the most versatile modern-era player at Georgia, Bailey starred at corner, receiver and returned kicks. He took part in more than 1,000 plays and won the Bronko Nagurski Trophy in 1998.

4. Tim Tebow, Florida: The '07 Heisman winner put up jaw-dropping numbers in his unique single-wing style of running over defenders and also passing over them. He's the first player in NCAA history to rush (32) and pass (23) for 20 TDs in the same season.

5. Jevon Kearse, Florida: Nicknamed "The Freak" for good reason, Kearse ran like a DB and hit like a DT. The explosive defender who picked up 34½ tackles for loss in three seasons was named as the SEC's defensive player of the year in 1998.

6. Al Wilson, Tennessee: The linebacker was the face of the Vols' 1998 national championship team. The consensus first-team All-America selection made one big play after another on the field and was the quintessential leader off the field.

7. Eli Manning, Ole Miss: The SEC's pre-eminent passing QB of the BCS era, Manning left Ole Miss in 2003 with a school-record 10,119 passing yards and a school-record 81 TD passes. He guided the Rebels to a share of the SEC's West title in '03.

8. Shaun Alexander, Alabama: The 1999 SEC player of the year led the Crimson Tide to the SEC title. He set three SEC rushing records and 15 school records. As a senior, he rushed for 1,383 yards and 19 TDs. His 24 TDs that season remains an SEC record.

9. Carnell "Cadillac" Williams, Auburn: A two-time All-SEC selection, Williams finished as Auburn's all-time leader in rushing attempts (741), rushing touchdowns (45) and scoring (276 points). He's second all-time in career rushing yardage (3,831 yards) to only Bo Jackson.

10. David Pollack, Georgia: Known for his relentless style, Pollack joined Herschel Walker in 2004 as Georgia's only three-time first-team All-America selections. Pollack set the Georgia record for career QB sacks (36) and was named the coaches' SEC player of the year in 2004.

1. Arkansas 50, LSU 48 (3 OT) -- Nov. 23, 2007: Houston Nutt's last game at Arkansas was memorable. Darren McFadden put on a show for the ages, running for 206 yards and three TDs as the Razorbacks upset No. 1 LSU in Tiger Stadium.

2. Alabama 40, Florida 39 (OT) -- Oct. 2, 1999: Shaun Alexander's fourth TD and a missed Gator extra point allowed Alabama to snap No. 3 Florida's 30-game winning streak at the Swamp on its way to the SEC championship.

3. Florida 17, South Carolina 16 -- Oct. 11, 2006: Talk about drama. Florida's Jarvis Moss blocked Ryan Succop's 48-yard field goal attempt as time expired to allow the Gators to escape Steve Spurrier's return to the Swamp as South Carolina's coach.

4. LSU 33, Kentucky 30 -- Nov. 9, 2002: It even has its own name, the Bluegrass Miracle. No. 14 LSU escaped with a 74-yard Hail Mary TD pass from Marcus Randall to Devery Henderson with no time left on the clock in Lexington.

5. Tennessee 20, Florida 17 (OT) -- Sept. 19, 1998: Tennessee snapped a five-game losing streak to Florida when Collins Cooper's 32-yard field goal attempt in OT missed, setting off a wild celebration at Neyland Stadium.

6. West Virginia 38, Georgia 35, Sugar Bowl -- Jan. 2, 2006: The Bulldogs come back from 28 points down, but the Mountaineers held on to give the Big East Conference some legitimacy against the SEC champion.

7. Michigan 35, Alabama 34 (OT), Orange Bowl -- Jan. 1, 2006: It was Tom Brady vs. Shaun Alexander in an offensive show, but Bama's Ryan Pflugner missed an OT extra point in a stunning end to what was a thrilling game.

8. Georgia 24, Auburn 21 -- Nov. 16, 2002: Georgia rallied to clinch its first SEC East championship in heart-stopping fashion. Michael Johnson caught a 19-yard TD pass from David Greene with 1:25 left to lift the No. 4 Bulldogs.

9. Tennessee 52, Kentucky 50 (4 OT) -- Nov. 24, 2007: Kentucky fought back from a 31-14 deficit to tie the game at 31-31 at the end of regulation. Erik Ainge's 40-yard touchdown pass on the first play of the fourth OT and 2-point conversion pass won it for the Vols.

10. LSU 17, Ole Miss 14 -- Nov. 22, 2003: No. 3 LSU held off Eli Manning and Ole Miss in the biggest game at Vaught-Hemingway in 30 years when Manning tripped over one of his own linemen and fell on fourth down.

SEC's Top 10 Teams Of BCS Era
SEC's Top 10 Moments Of BCS Era

1. 2004 Auburn: The 13-0 Tigers are living proof that you don't have to win a title to be considered the best, at least not in the BCS era. Auburn had Cadillac Williams, Ronnie Brown and speed everywhere on defense. They were truly a national title team that never got a chance to play for one.

2. 1998 Tennessee: The only unbeaten SEC national champion of the BCS era beat four top-10 opponents en route to the title. It was a team built on defense and complemented by big-play stars Jamal Lewis, Travis Henry, Peerless Price, Tee Martin and Shawn Bryson on offense.

3. 2003 LSU: One of the most well-rounded defensive teams you'll ever see, LSU won in vintage Nick Saban style -- with a suffocating defense and a disciplined offense that had a way of wearing down its foes. The Tigers beat No. 3 OU in the Sugar Bowl to win their first national title in 45 years.

4. 2006 Florida: The Gators used a two-quarterback system with Chris Leak and Tim Tebow to perfection, mastered the art of pulling out the close ones and then put it all together in the BCS National Championship Game with a 41-14 drubbing of Ohio State.

5. 2007 LSU: Even though the Tigers lost two games (both in triple OT), they were easily one of the most talented teams in the SEC over the past decade. It was a team that found different ways to win and got a late-season reprieve to reach the national title game, which was bad news for Ohio State.

6. 2002 Georgia: The Bulldogs were painfully close to playing for a national championship in 2002, but an upset loss to Florida kept them out of the national title chase. The Bulldogs regrouped to win their first SEC title since 1982 and ended the season ranked No. 3 in the polls.

7. 2007 Georgia: The 2007 Bulldogs didn't get a chance to play for the national title, nor did they get a chance to play for the SEC title. But when the bowl season rolled around, few teams in the country were playing any better. Georgia beat Florida and Auburn down the stretch and drilled Hawaii in the Sugar Bowl.

8. 2001 Tennessee: The Vols went into the Swamp and beat Florida 34-32 to put themselves in position to face Miami in the Rose Bowl for the national title. But they were upset by LSU in the SEC title game. They still managed to finish No. 4 in the polls after routing Michigan in the Citrus Bowl.

9. 2001 Florida: It's probably Steve Spurrier's best team that didn't win an SEC championship. The Gators lost to the Vols in the regular-season finale, but finished with a bang, ripping Maryland 56-23 in the Orange Bowl in what turned out to be Spurrier's last game at Florida.

10. 2006 LSU: The sheer talent on the 2006 LSU team would suggest that the Tigers deserved to be ranked a little higher. The Tigers' only losses that season were on the road to No. 3 Auburn and No. 5 Florida. LSU hammered Notre Dame 41-14 in a Sugar Bowl mismatch.

1. Croom becomes SEC's first black coach: On Dec. 1, 2003, Mississippi State made an historic announcement. Longtime NFL assistant and former Alabama player Sylvester Croom had been hired as the Bulldogs' new coach, becoming the first black head football coach in SEC history.

2. Kramer unveils BCS formula: SEC commissioner Roy Kramer introduced the college football world to the BCS standings just prior to the 1998 season. Kramer, now retired, devised a formula utilizing the polls, computer rankings, quality wins and win total to determine the national champion.

3. Unbeaten Auburn left out: Despite going a perfect 13-0 in 2004 with one of the best SEC teams years, Auburn never got a chance to play for the national title. The Tigers finished third in the BCS standings and could only watch helplessly as USC routed OU in the Orange Bowl for the national title.

4. Stoerner's stumble paves way for Vols: Arkansas was on the verge of upsetting No. 1 Tennessee in 1998 at Neyland Stadium. But in the final minutes, Arkansas QB Clint Stoerner stumbled and fumbled. The Vols, miraculously pulled out a 28-24 win and went on to win their first national championship in 47 years.

5. The Head Ball Coach starts over in the SEC: Steve Spurrier, who won six SEC titles at Florida, returned in 2005 to the league he revolutionized in the 1990s with the passing game. But instead of coming back to his alma mater, which had an opening after firing Ron Zook, Spurrier landed at South Carolina.

6. Saban returns to SEC as the $4 million man: After stating that he was not going to be the Alabama coach, Nick Saban did just that following the 2006 season and left the Miami Dolphins to return to the SEC as the Crimson Tide's coach for a staggering $4 million per year.

7. Alabama placed on NCAA probation, fans blame Fulmer: Alabama is placed on NCAA probation for five years on Feb. 1, 2002, for violations involving boosters and the illegal recruitment of Albert Means and Kenny Smith. Tennessee's Phillip Fulmer became Public Enemy No. 1 in Alabama for his role as a secret witness in the NCAA's investigation.

8. Tebow ends SEC's Heisman drought: Florida quarterback Tim Tebow became the first SEC player since Florida's Danny Wuerffel in 1996 to win the Heisman Trophy. The first sophomore in history to win the Heisman Trophy, Tebow finished the season with an SEC-record 4,181 yards of total offense.

9. Georgia gets out "hobnail boot" in epic win over Vols: In one of his more memorable calls in a career full of memorable calls, Georgia legendary play-by-play announcer Larry Munson bellowed in 2001 that "We just stepped on their face with a hobnail boot," after David Greene tossed the winning TD to upset Tennessee, 26-24.

10. LSU shows its mettle: With hurricanes ravaging the Louisiana coast in 2005, the LSU football team was a symbol of hope for the rest of the state. The Tigers' players and coaches helped in the relief effort, as the LSU campus became a medical triage and safe haven for evacuees. The Tigers persevered to finish 11-2 and No. 5 in the polls.
Chris Low is a college football writer for ESPN.com. Send your questions and comments to him at espnclow@aol.com.
The BCS at 10
With 10 years of college football's life under the Bowl Championship Series in the books, ESPN.com takes a look back at the BCS decade. We'll tackle everything this week from the memorable games, plays and teams to the BCS vs. playoff debate to the possible landscape in 2018.
Monday
•
Maisel: Paradox found
•
Low: Best BCS bowl games
•
Miller: Best BCS bowl performances
SportsNation
•
Rank 'em: Best BCS bowl games
•
Rank 'em: Best BCS bowl performances
•
Chat wrap: Chris Low

•
Chat wrap Ted Miller

Tuesday
•
Maisel: Say yes to the BCS
•
Forde: Say no to the BCS
•
Miller: Biggest BCS bowl slights
SportsNation
• Rank 'em: Biggest BCS bowl slights
• Chat wrap: Ivan Maisel


• Chat wrap: Pat Forde

Wednesday
• Schlabach: Ranking the BCS champions
• Schlabach: Defining coaches of the BCS era
• Rittenberg: Memorable BCS bowl coaching moves

SportsNation
• Rank 'em: Which BCS champion is the best?
• Rank 'em: Which coach defines the era?
• Chat wrap: Adam Rittenberg


• Chat wrap: Mark Schlabach

Thursday
Conference Breakdowns
ACC
Dinich: ACC has been a dud in BCS era
Big 12
Griffin: Big 12 becomes superpower in BCS era
Big East
Schlabach: Big East thriving in BCS
Big Ten
Rittenberg: BCS system has been good to Big Ten
Pac-10
Miller: USC dominates Pac-10 in BCS era
SEC
Low: SEC successfully navigates BCS system
Indies/Non-BCS
Rittenberg: No complaints from South Bend
SportsNation
• Chat wrap: Tim Griffin

Friday
• Schlabach: The future is now
• Griffin: Defining players of the BCS decade
• Dinich: Memorable BCS bowl moments

SportsNation
•
Rank 'em: Defining players of the BCS era?
•
Rank 'em: Memorable BCS bowl moment?
•
Chat: Heather Dinich, 2 ET
MORE COLLEGE FOOTBALL HEADLINES